Totally Ass-tounding: Buena Vista Pack Burro Race Recap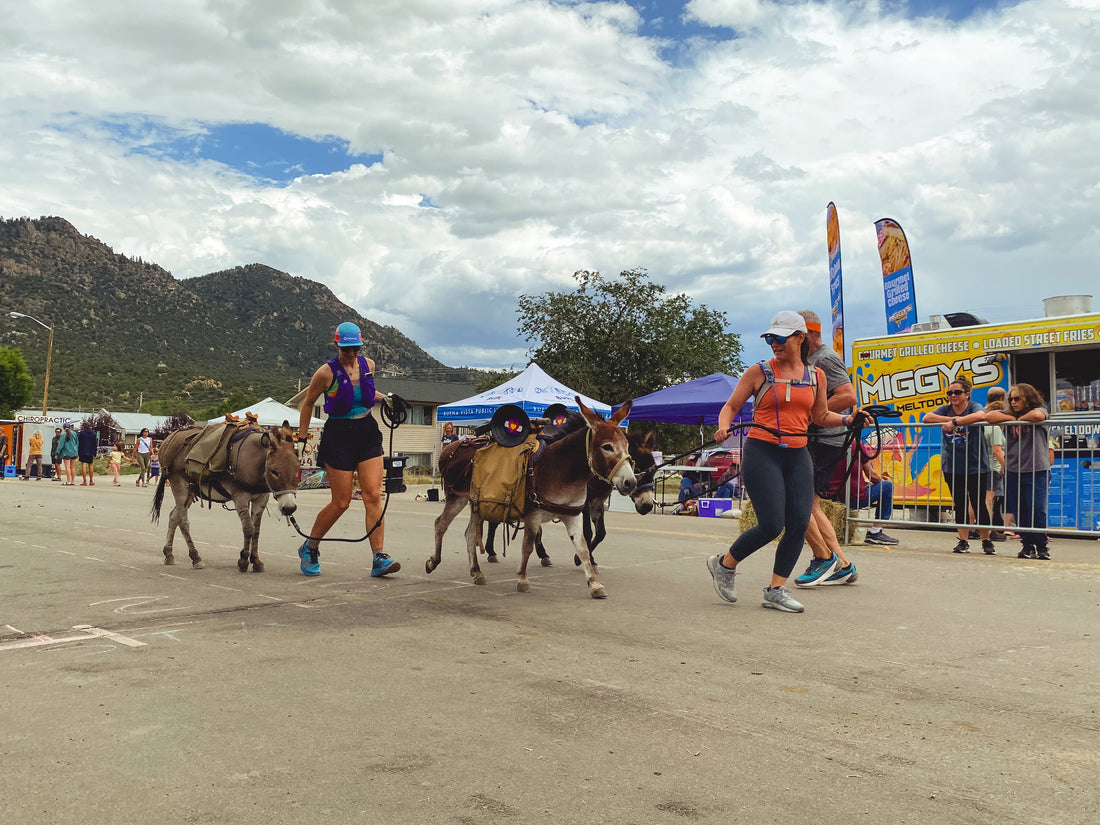 Trail running usually consists of tackling either smooth, flowy trail or rocky, rooty, technical trails. Some run with a friend while others run by themselves or with a four-legged friend (trail dogs!) 
What some people might not know is the summer heritage sport of Colorado: pack burro racing! This sport dates back to 1949 (75 years!) of running with donkeys. From the legend of the origins of this sport, pack burro racing started when two miners found gold at the same location at the same time and needed to beat the other to the claims office while managing a fully packed burro (who were either too small and/or too packed to carry the human) raced them to the claims office- thus the sport was born! 
Recently, two of our employees: Megan and Michelle, took part in this historic sport and shared their experience with us! 
Okay, please tell us how in the world you heard about this sport and what made you decide to do it? 
Michelle: It was 2018 and my husband showed me a Salomon running YouTube Video of Max King and Ryan Sandes running and training for Fairplay and I instantly thought "I need to do this!" From there I was able to talk to Max the following year and get connected to renters to do my first race! 
Megan: I ran the 2017 Snowmass Ragnar and met someone at the charging station who was part of a running group called Rosco's Runners in Colorado Springs. Right around the time I joined, they were being featured in Runner's World for being a group that runs with donkeys. I've been familiar with the sport, but this was my first time racing one! I really try to keep my hobbies fun so I thought it would be perfect to try it out.  
How do you train for something like this? 
Michelle: If you rent a donkey, you are at the will of being available for training runs which typically happen the day before the actual race. Thankfully I have had a few training runs and races in the past with various buddies as well as a local burro racer that I train with. I think being comfortable running and walking with a donkey, no matter who you are paired with, is the biggest key!
Megan: The people I rent my donkey through have training runs starting in early spring through the summer. I attended a couple of those to get comfortable running with my burro. I think everyone should have at least two training runs with their specific burro on the same race terrain. It's good to know what could spook them, etc. I prepared myself by being ready to run the full distance of the race (~13 miles) but not setting that as an expectation, I just wanted to enjoy it. 
What are the main differences between a trail race and a burro race? Are there any similarities? 
Michelle: In a trail race or run, you are responsible for yourself. During a burro race, you are responsible for the health, safety, and overall well-being of your buddy! It's their race, not ours! We just get to share the experience with them. 
Megan: I forget about the running part of a burro race because I am so focused on my next move. You typically want to be ahead of your burro on the downhill in case your burro likes to speed up (mine does) and behind them on the uphill. For me it's navigating the terrain and how we can work together to create a good system that keeps us both safe! 
Do you own burros or do you rent them? 
Michelle: I rent! I've rented from two different friends of mine and have run with a variety of buddies (I do tend to have favorites) but overall it's really fun to try out a new buddy, even if it is for one training run, they all have such different personalities and it's a great feeling when you find the one that clicks!
Megan: I also rent! I've only ran with one burro so far but we have a nice bond. Someday I hope to rescue a few! 
How did this event go for you? What is something you took away from this event? 
Michelle: On Friday, I got a text saying Lola was available (who is usually booked out for races due to her popularity among runners) I contemplated ALL day because I had never run with her before and didn't know if I should be burro brave as they say or stick to good boy Loki. With a lot of encouragement, I decided to run with Lola. She was fast on the first 4 road miles and I was having a really hard time keeping up with her. After that section, we got into a groove until the long, steep downhill section. The thing with donkeys is they can outrun us anytime they want, so keeping them behind you on a downhill is a skill! While running down the downhill miles, I got a stabbing pain in my side and I couldn't straighten out. Thankfully some volunteers were by some shade and I stopped for 20 min or so to recoup and figure out what was going on. A volunteer walked with me the rest of the downhill to make sure I could keep going and I think I needed some cooling off and some water. I was able to connect with another duo to the turnaround and an even bigger group once we picked up a jogging pace again. Lola is a fast donkey, but also a very understanding one! They're smart animals! It was a huge improvement for me not only on a new course this year but with a completely different donkey! Last year I got 'last ass award' for coming in last place with Tuck Everlasting. It was a great day and I am so happy with how it went! You really never know how a donkey day is gonna go! 
Megan: It went great! One of my goals was to let go of what I wanted the race to look like and I feel like I enjoyed it more because of that. I ran with Dominick and we have trained together a few times so I know him pretty well. I was a little nervous at the start because he was pretty stubborn at the trailer, I think he just wanted to be near some of his buddies. At the start line he was telling me where he wanted to go and who he wanted to be around so I let him choose and I ended up running in a pack of 6 of his burro pals for nearly the whole race. He can be pretty fast on the downhill which I really enjoy but he didn't ever want to get too far ahead of his buddies so he always pulled back. I had a lot of fun just letting him enjoy his race and he finished 30 minutes faster than his race last year so we will consider it a win! 
What advice would you give to someone looking to do this for the first time? 
Michelle: Have fun and be patient with your buddy and most importantly, never get mad at them. They know. 
Megan: Do the training runs, bond with your buddy as much as you can and just enjoy it.
Any other burro races you have planned for the rest of the year or ones you are eyeing in the future? 
Michelle: Yes! I plan on being at Alder, Fredrick and Rollinsville! After that, I plan on continuing to run with them for training. I am hoping next year to have a buddy of my own to build a relationship and consistently train/race with! 
Megan: I do have my eye on another burro race but am training for a human-only run in October. I hope to do more burro races next year and try running with new buddies.