You Booked An Overseas Bikepacking Trip… Now What?!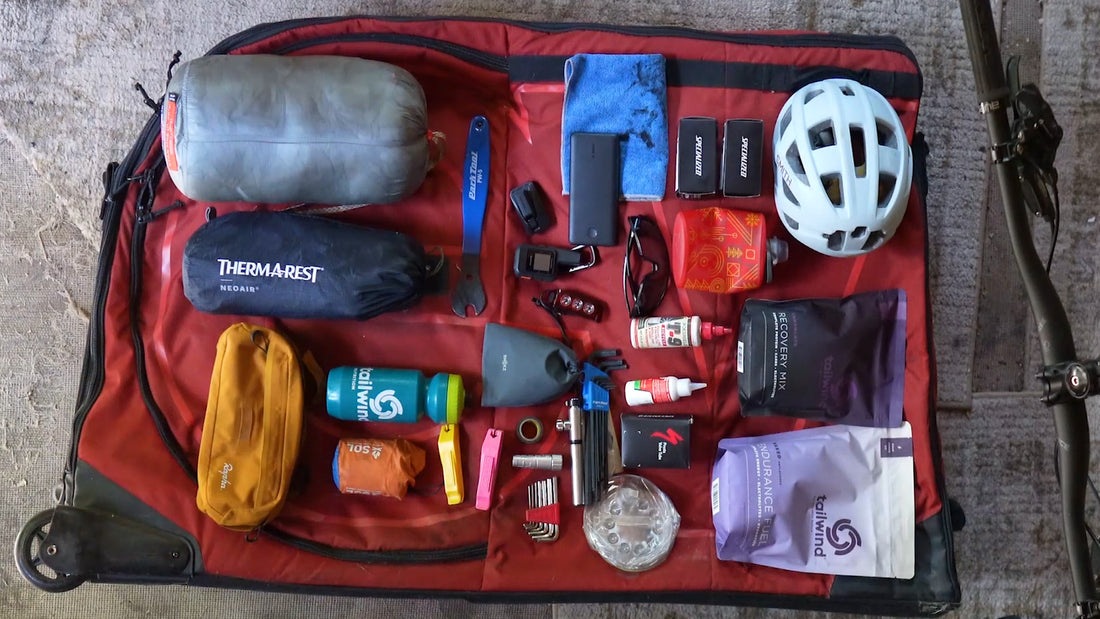 End of summer means time for an adventure! Picture this: pedaling through picturesque villages, taking in coastal views, and camping beneath a canvas of stars. Aka let's go on a bike tour around Newfoundland!
But before you hit the road, it's crucial to ensure that you're well-equipped for the adventure that lies ahead. Packing for a bike packing or bike touring trip isn't just about throwing a few essentials into a bag; it's an art (read struggle) that requires careful consideration of both necessities and luxuries. Below are the items Lexi, our Marketing Manager, will be taking along with her for 500 coastal miles in Newfoundland. As well as some advice on how to make the most of it. 
Choosing the Right Bike: Your Companion for the Journey
First things first, let's talk about your trusty two-wheeled best friend. Selecting the right bike for your adventure is paramount. For my trip I chose to take my Specialized Diverge that offers a little bit of suspension to save my wrists and a slick but high volume tire to keep the miles fast but the comfort present. Since majority of my trip will be on paved roads I did not need a mountain bike for this journey but if you are looking to ride the iconic T'Railway you will certainly be wanting a very high volume tire. 
Essentials: Packing Smart, Packing Light
When it comes to packing, remember the golden rule: pack light, but pack right. Space and weight are at a premium, so prioritize essential gear that will keep you safe and comfortable. 
Here's a quick rundown:
Clothing: Opt for moisture-wicking, quick-drying clothing that can be layered for varying weather conditions. Don't forget a waterproof jacket, warm gloves, and a hat for protection against the elements.
Camping Gear: A lightweight tarp, an ultralight sleeping bag, and a compact sleeping pad are essential for a good night's rest. Choose gear that's easy to set up and pack away, saving you valuable time on the trail.
Tools and Spare Parts: A basic toolkit, tire repair kits, spare tubes, and a reliable multi-tool are your best friends in case of a mechanical mishap.
Navigation: Bring a reliable GPS device and/or smartphone app (Ride GPS is great for mapping the uncharted). If you are going more remote a physical map can be a great backup to include. 
Hydration: Stay hydrated by carrying a water bladder and/or bottles. Plan your water stops based on your route's accessibility to freshwater sources.
Personal Items: Sunscreen, insect repellent, a first-aid kit, and personal hygiene products are non-negotiable. I also opt for my heavy item to be a book to curl up with at night. 
Mindset: Embrace the Journey
As you embark on this epic bike packing adventure, remember that the journey is just as important as the destination. Embrace the challenges, savor the breathtaking scenery, and relish the camaraderie of people you're bound to meet along the way.
Bikepacking Pack list
Clothes: 
1 x Shorts
1 x Leggings
1 x comfy sleep clothes
1 x shirt
1 x small light weight shoes 
2 x Sports Bra
Bike Clothes: 
1 x Bibs
2 x jersey
1 x thermal jersey
1 x rain jacket
1x socks
Bike:
Gravel Bike
Handlebar bag
Frame Bag
Tail light
Bike Maintenance:
Shifting charger
Tail light charger
Chain lube
Tubes
Hand pump (no CO2 when flying!)
Plugs
Body Maintenance: 
Chamois Cream
First aid kit
Endurance Fuel 
Recovery Mix
2 x bike bottles 
1 x Hydrapak bladder
Camp:
UL Sleeping Bag
Hyperlite tarp 
UL Sleeping Pad
Headlamp
Miscellaneous
Book
Portable charger
Garmin inReach