What To Drink Before A 5k Race Using Proper Nutrition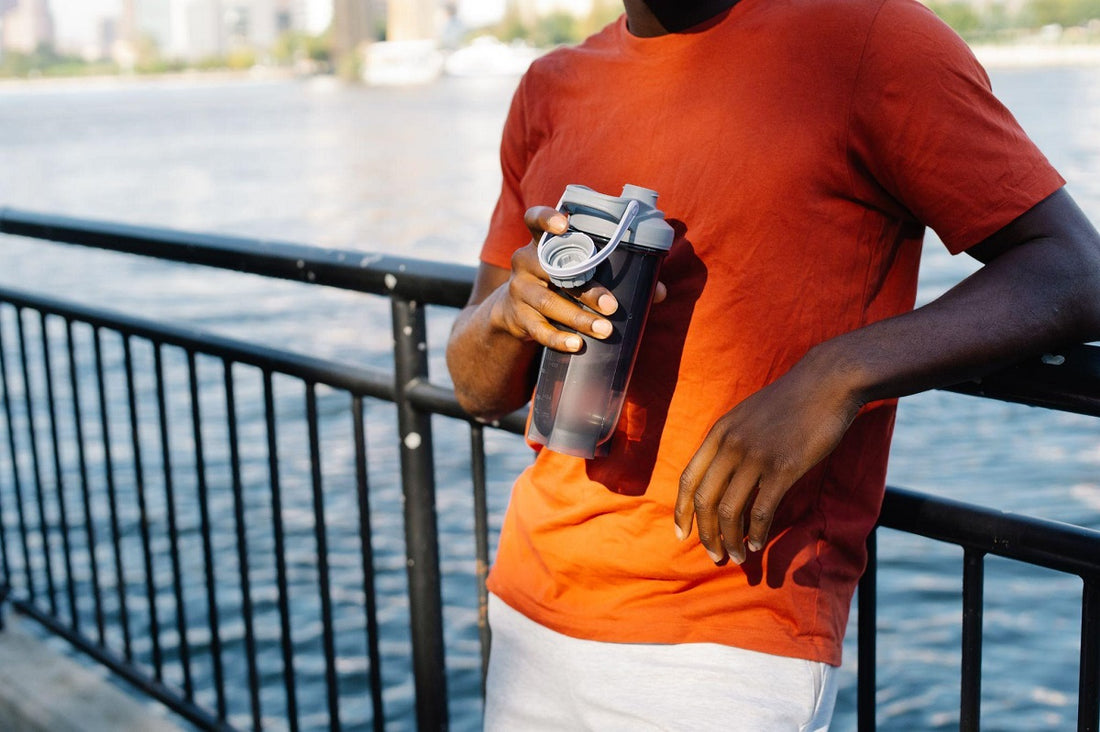 While training for a 5k doesn't take as much time and preparation as running a marathon, you should still make sure that you are in great shape. The moment you sign up for race day, we recommend that you start to think about a nutrition plan so that you can give your best performance on the day of the run.
Good nutrition is about more than what to eat right before a 5k. It's also about the hours leading up to the start of the race. What are you drinking? How much water are you getting? Are you getting enough carbohydrates for energy?
These are all questions you must ask yourself to create a nutrition plan for your upcoming run.
If you aren't sure where to begin, we recommend that you keep reading. In this article, we'll cover:
The Importance of Hydrating with Your Pre-Race Meal 5k Training
How Much Water to Drink for Best Breakfast Before a Run
What to Eat the Day Before a 5k
What to Eat After a 5k
Race Day Breakfast Ideas
Foods to Avoid for Race Day Breakfast
Best Drink to Accompany Runners' Breakfast Race Day Morning
Prioritize Hydration
No matter how many training run workouts you do, you're going to sweat quite a bit throughout the race. Therefore, you must drink enough water to stay well hydrated. While the exact amount of water differs from person to person and the climate you're running in, you should carefully plan your water consumption to ensure that you don't become dehydrated.
What happens if you don't drink enough water before a 5k?
Dehydration will drastically affect your performance and may even cause injury or illness. While it's easy to get distracted by the task at hand, you should always look for the initial signs of dehydration while you run:
Thirst
Fatigue
Dry Mouth
Headache
Confusion
Muscle Cramps
GI Issues
Fortunately, all of these problems can be avoided if you make sure to drink before, during, and after your race. You shouldn't drink just any beverage, however.
What to Drink Before Running a Race?
If you want to get the most hydration benefits, you need to choose your beverage wisely. While there are plenty of options, you'll want to avoid unhealthy drink options like sugar-packed sodas and alcohol.
Instead, we recommend that you stick with:
Water

Water is one of the best natural options you can drink. There is no added sugar to upset your stomach, and it helps to replenish your body's water lost in sweat. Water also has trace amounts of electrolytes which will benefit your body as you run.

Sports Drinks

If you're looking for something that has more electrolytes or flavor, you might want to consider a sports drink. However, be mindful of the ingredients included in these beverages. Ensure you find something easily digestible and with clean ingredients.

Electrolyte Drinks

Another excellent option for many runners is any form of electrolyte drink. These products are available as electrolyte water, powders, and other types of mixes. We suggest that you look for electrolyte powders with good sugars that are easy to digest.
How Much Water Should I Drink Before Running a 5K?
On the day of the race, it's especially important to focus on hydrating before you run. It is recommended that runners drink about 16 ounces of water in the two hours leading up to their run. We suggest that you pair your water consumption with breakfast before 5k race stretching begins.
When you are 15 minutes out from the start of the run, you should have another drink. It should only be about six or eight ounces, however. You want to avoid running with too much water in your stomach as it can make you sick.
Since a 5k is a relatively short distance and doesn't usually last longer than one hour, you can avoid drinking more water throughout the race if you are properly hydrated beforehand. There is always an exception, however. If it is extremely hot or you are sweating excessively, you might need to supplement with a bottle of water. It's essential to listen to your body to notice the first signs of dehydration.
What to Eat Before Running a 5K
Just as it is important to drink the right beverages, you must learn what to eat before a 5k run. In the days leading up to your race, a well-balanced diet can make the difference between simply running a race and winning it. All the training in the world won't mean much if you end up eating high-fat foods that are difficult to digest. Instead of eating hamburgers or pizza before running, you might want to consider light and healthy foods as a pre-race snack that won't affect your digestion.
As we mentioned, a 5k is a short race compared to a half marathon or full marathon, so you won't need to start carb loading as much. However, you'll still want to incorporate them into your diet in the form of easy-to-digest sugars. Blood sugar (glucose) is the main sugar found in our blood. These sugars are absorbed into your bloodstream and stored in your muscles as glycogen. Glycogen is what your body will burn for energy as your make your way toward the finish line.
How to Eat for a 5k Training Plan
Again, training for a 5k is much different from preparing for an endurance run. Therefore, you won't have to make any significant adjustments to your meals leading up to your run. In general, you should stick with a balanced meal & diet and avoid anything that is going to cause stomach cramps as you train.
Since it is unlikely that you will have to eat any snacks on your run, you also don't have to worry about practicing with food.
What to Eat for Your Night Before Race Meal
Carbohydrates are crucial, but you don't want to go all out for your pre-race dinner. 5k races don't require you to carb-load like marathons because you won't need to store up as much energy. If you're eating carbs in excess, you could feel bloated, tired, or nauseous.
The best pre-race meal the night before should be a normal and well-balanced dinner with a healthy amount of complex carbohydrates, fats, and protein. It's recommended that you make a plate with about 50% carbs. The other half should be equal parts protein and healthy fats.
While it might be tempting to look up recipes for the best food to eat the night before a race, you shouldn't try anything new. You run the risk of having a reaction or getting an upset stomach. You will also want to avoid foods you know will cause GI issues. These foods could include items with too much fiber.
Some examples of good meals to eat the night before a race include:
Veggie Stir Fry with Brown Rice
Greek Grain Bowl
Grilled Salmon, Steamed Greens, and Brown Rice
Best Pre-Race Meal – 5K
Are you wondering what to eat on race day? 5k runners should try to consume a carb-rich meal with a little protein about 1-2 hours prior before the race begins. The best breakfast for runners before the big race provides you with long-lasting energy to push through the whole race without needing a snack.
That's one of the reasons that oatmeal is such a popular option. It takes longer to digest since they are whole grains. Therefore, the energy is spread out over an hour of exercise. We recommend that you try hot oatmeal in the colder months and overnight oats when it's hot out.
In addition to the oatmeal, you should consider milk or nut butter that will provide you with a little bit of protein and fat. The protein is especially important as it will assist with restoring muscles after your run.
Here are a few meal ideas for inspiration:
Coconut-Milk Oats and Fruit
Baked Banana and Peanut Butter Oats
Fruit Smoothie Made with Yogurt
Hard-boiled Eggs and Apple
What to Eat After a 5k Run
The nutrition planning doesn't stop after you finish your run. 5k runners should also consider their post-race meal. Your body won't need a huge meal right away so a smaller meal is perfectly fine. With this small meal though you must provide it with the nutrients it needs to recover. We recommend:
Protein Shakes
Chocolate Milk
Salted Nuts
Granola
Tuna or Salmon
What You Shouldn't Eat for Pre-Race Food 5K
While there are plenty of options from which you can choose, there are some pre-race foods you try to avoid.
If you are striving for peak performance, we recommend avoiding:
High-Fat and Fried Goods
Spicy Foods
Foods that Cause Bloat
Foods that You're Sensitive To
What Sports Drink Helps with Hydration and Nutrition?
If you are looking for a great way to combine hydration and nutrition, Tailwind Nutrition has a product for you. We have specially formulated an oral rehydration solution for athletes that provides you with all the key nutrients you need.
Our powders are perfect for the morning of your race because you can drink them with your runner's breakfast. We know that race day preparation can be chaotic as you travel to the location and find the registration table, but our powders are easy to drink on the go.
We currently offer two different formulas: Endurance Fuel and Recovery Mix. Endurance Fuel is the perfect solution if you want to know what to eat before a run. 5k runners will also like the Recovery Mix after they finish.
Athletes love these products because we at Tailwind Nutrition only use natural ingredients. That means you never have to worry about artificial sweeteners or colors. Best of all, our powders are vegan and dairy-free so that they can be enjoyed by many different people.
When you add our two different hydration powders to your diet, you can expect several nutritional benefits because they provide you with:
Carbohydrates

We've carefully made our powders with the right amount of carbohydrates to properly fuel you and help with recovery. More importantly, we use the right kind of carbs—dextrose and sucrose. These sugars are easier for your body to absorb into your bloodstream. That means they won't sit in your stomach and make you feel sick.

Protein

Our Recovery Mix comes with complete protein made from organic rice protein and nine essential amino acid supplements. As a result, we can create a more efficient recovery drink. Our formulas offer three times as much complete protein than whey protein, so your body can restore itself faster.

Electrolytes

You can be sure that our powders offer the right balance of electrolytes to replace what you lost in sweat. These electrolytes include sodium, potassium, calcium, and magnesium.
Summary
Whether you've already signed up for your next 5k or plan to do so in the future, you should have a better idea of how to prepare through your nutrition plan.
We hope you know more about:
What to Drink Before Running a 5k
What to Eat Before a 5k Race
The Best Pre-Race Dinner
What to Eat for Breakfast
Food for After a Race
What You Should Avoid Eating
The Best Drink for Hydration and Nutrition
If you want to try our Endurance Fuel or Recovery Mix before your next race, we recommend that you order one of our sample packs right away. We have a Starter Kit or a Best Sellers bundle which provides you with a few of our favorite flavors.
You can also try out any of our other flavors or caffeinated options when you order single servings of any of our products. We hope this answers the popular question of "
what to drink before a 5k race
". Tailwind Nutrition is here to help!