Toni's Burpee World Record Attempt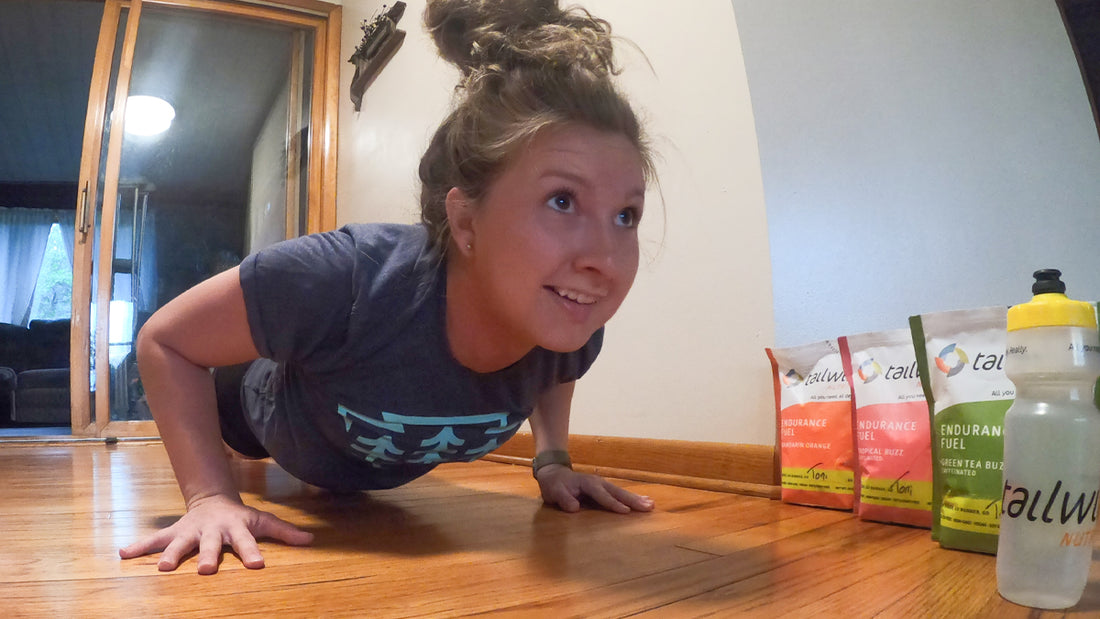 On August 1st, Toni Kramer will be attempting to break the women's world record for most chest to ground push up burpees in 24 hours. To be honest, we can't think of anything much harder than that, so we couldn't pass up the opportunity to chat with her!
Tailwind: This is a pretty crazy endeavor. Where do you find the drive/motivation to do something like this?
Toni: My journey with endurance hasn't been a very successful one, at least not until now. Again and again I have registered for races and tackled obstacles that I thought would quench the thirst of whatever it is I'm looking for through fitness. I love to be outside, to explore this world with the healthy vessel that I've built myself into. I love every adventure that I rope myself into, however my body doesn't always return the affection.
In high school I was diagnosed with Crohn's disease, a case severe enough to make finishing a 5k without getting sick basically a miracle. For a while running seemed like more of a punishment than a release, and I couldn't stomach most of the food that I had eaten growing up. My doctor told me that exercise was only stressing my body out more, and that I shouldn't. (Can you believe that??) I lost a lot of weight, slept all the time and felt sorry for myself. Thank God that's over
Fueling myself well through nutrition was not a lifestyle fad for me, it was a saving grace. Over time I realized that not only could I have health and wellness, but that I could be GREAT at it. I can not only get through my daily life with this disease but I can conquer things in the physical realm that I never thought possible, even before my diagnosis. The drive behind breaking the 24 hour burpee world record is the 18 year old me, thinking she was too weak to finish a cross country season. Finding and using Tailwind to fuel my life has been truly life changing. I dive headfirst into every endurance event I can find. Yes, I know what I am capable of, but with Tailwind? I'm feeling pretty limitless.
Tailwind: Why burpees (which is potentially everyone's least favorite exercise)
Toni: At first I didn't like them at all, but it was with the pain and sweat that burpees bring that I saw myself, my endurance, and my mindset really change. For me, it'll always be burpees. They've taught me a lot about life.
Tailwind: What is the current record?
Toni: The current record for the most chest to ground push up burpees in 24 hours by a female is 5,555.
Tailwind: How do you train for something like this?
Toni: I honestly have no idea how an individual is supposed to train for a sufferfest like this, so I'm probably doing it wrong. For me I've basically kept up with my regular workouts (mostly running after my boyfriend while he mountain bikes.) Every few weeks I'll lock myself in a room at a gym with some fuel and just do burpees for 4-5 hours at a time. I'll do one more of these sessions before the attempt for about 8-10 hours to give me a better feel for pace and how much fuel I'll actually go through. I've done the smaller versions of burpee fest 5-6 times now, so I feel pretty good about getting my body into the 4 digit rep counts
Tailwind: So it sounds like you'll be using Tailwind during the challenge. Can you elaborate on your fueling strategy?
Toni: HECK YES. With having Crohn's and putting my body through something like this, I can only imagine how I would do this without Tailwind. I've been using it to train so far and I will continue to do so through the attempt. As of now I do a few scoops of Endurance Fuel every hour, I change the flavor every hour for fun, and every 2 hours I'll down some Rebuild Recovery on top of that. So far so good!
Tailwind: Thanks so much for chatting with us Toni! Good luck! We'll be posting updates on Tailwind's Instagram on August 1st during the world record attempt, so be sure to tune in. If you have any questions for us, feel free to reach out atsupportcrew@tailwindnutrition.com.