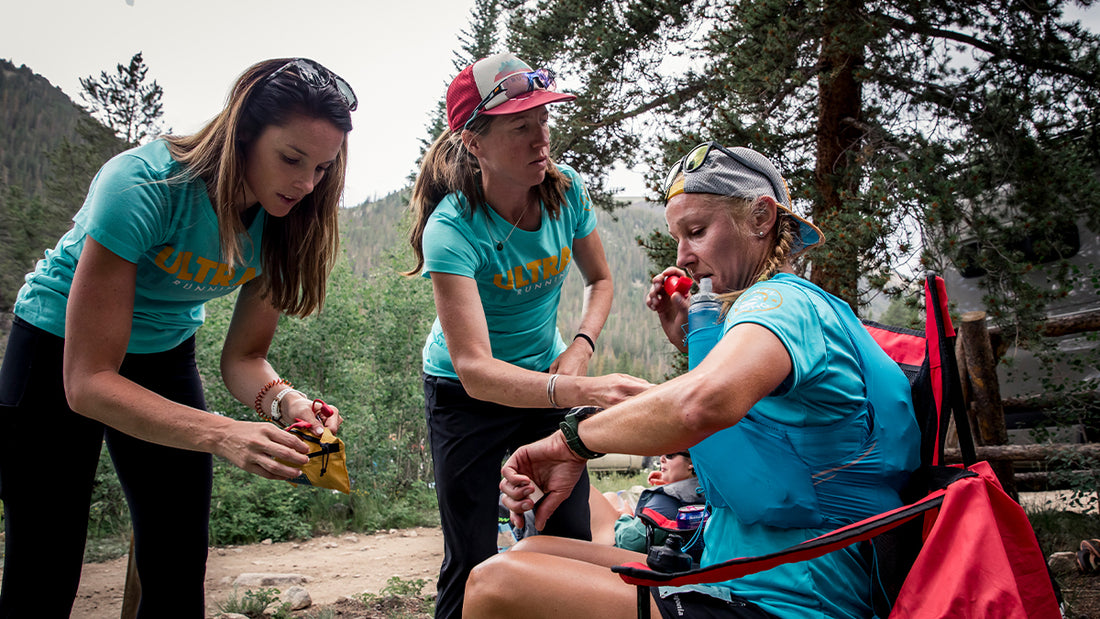 So you've been asked to crew… now what? 
That is precisely how I felt when Maggie asked me to crew her for High Lonesome 100. I have been following Maggie's races for the past couple of years but have never been in charge of making sure she is successful. Well, that isn't true. During COVID, she attempted the 7 summits here in Durango. We met her at various trailheads around town to get her fueled for her next climb. I mistakenly concentrated her Endurance Fuel not realizing the size of the flask. So, to say I was nervous about a 100 mile attempt was an understatement. But turns out, we did a great job with a few helpful tips and tricks we learned along the way! 
Be prepared and train your crew!
Maggie did a great job prepping me leading up to the race. The day before, we looked at the exchanges, calculated how long each one was going to take to drive to, wrote down what items she would be needing, what fuel she was going to be taking, and if she was picking up a pacer and who that was. We had a spreadsheet that had each aid station listed, her expected time/splits to reach each one, a list of fuel she was going to take and a list of food she may eat while there. She also had all fuel/food in a baggie labeled with the aid station she would be needing it at. This made it really easy to look in the bag and know what to put out. 
Pro Tip: we laid out a mock aid station so I could understand what she would need, how best to lay it out, and snapped a pic so I could refer to that day-of to be sure I didn't miss anything.
Prep what you can in advance!
Leading up to each aid station, we would review the spreadsheet and see what fuel she was going to need at the next stop. We had extra soft flasks that we would fill up prior to the stop and keep them in a cooler. Typically, she would take one caffeinated and one non-caffeinated Endurance Fuel with her, so we would get those ready and have them waiting for her to roll in. If she wanted anything warm, we would heat up water and keep it in a thermos. She may use this to make hot Rebuild Recovery or pour into some soup to eat. We didn't want it to be cold and not knowing exactly when she would arrive, it was best to keep in a thermos until she got there. Some aid stations you were by your vehicle but one we biked into and others we walked into and didn't have access to your car. Look in advance to know what the exchanges look like and be prepared to walk/hike in if needed.
Know the gear!
Maggie's race required certain things to be with her and/or her pacer at all times so we made sure to note that so we didn't send her off without anything that was required. For example, she was required to be able to carry a certain amount of water so she always had to have three soft flasks on her at all times. She was also required to carry a whistle. She packed all of her night gear together in one small bag so when we got to the exchange where she was going to need it, it was easy to pull out for her to show the volunteers checking gear and it didn't take us a lot of time to track it down. We also had extra shoes and socks available at each of her exchanges in case she needed it. She kept a bag of batteries, extra headlamps, etc. that we also always had on hand in case she needed to switch something out.
Go with the flow!
Things are not going to go as planned. Your runner may be faster/slower than they thought so be sure you get to the exchanges with plenty of time. They may have a hard time consuming food or liquids. Be prepared for different options if things start to go south. Tailwind is a great option for liquid calories and easy on the stomach! But even that can sometimes be hard to consume. Be ready with bubbles (think coke, ginger ale), broth, potato chips, etc. Calories are so important so be sure to have numerous options. Tums, ginger chews and other digestive tablets are good to have as well. You don't know what the athlete is going to be experiencing so you have to just be as prepared as you can and go with the flow. Always have first aid items on you as well!
Get sleep when you can!
Let's be honest, crewing is exhausting. I had so much fun and loved getting to see all of the beautiful areas they were able to explore but it was tiring. You are up with your athlete when they take off and with them through the end. If you can, get to an exchange early and take a nap! At one point, I fell asleep at an exchange in the grass waiting for her to arrive. Not really ideal but hey, you do what you can!
Have fun!!!
I was lucky enough to crew with some really awesome people and they made my first experience an absolute blast. I would hands down do it again! They had crewed before so that was nice to take some nerves off but they also let me lead as I was the one who had briefed with Maggie prior to the race. They were always there to offer help and support which I greatly appreciated. Get yourself some bada** friends and enjoy the ride. 
Hope to see some of you out there at our next crewing extravaganza!