Spartan Race Ultra Beast Lake Tahoe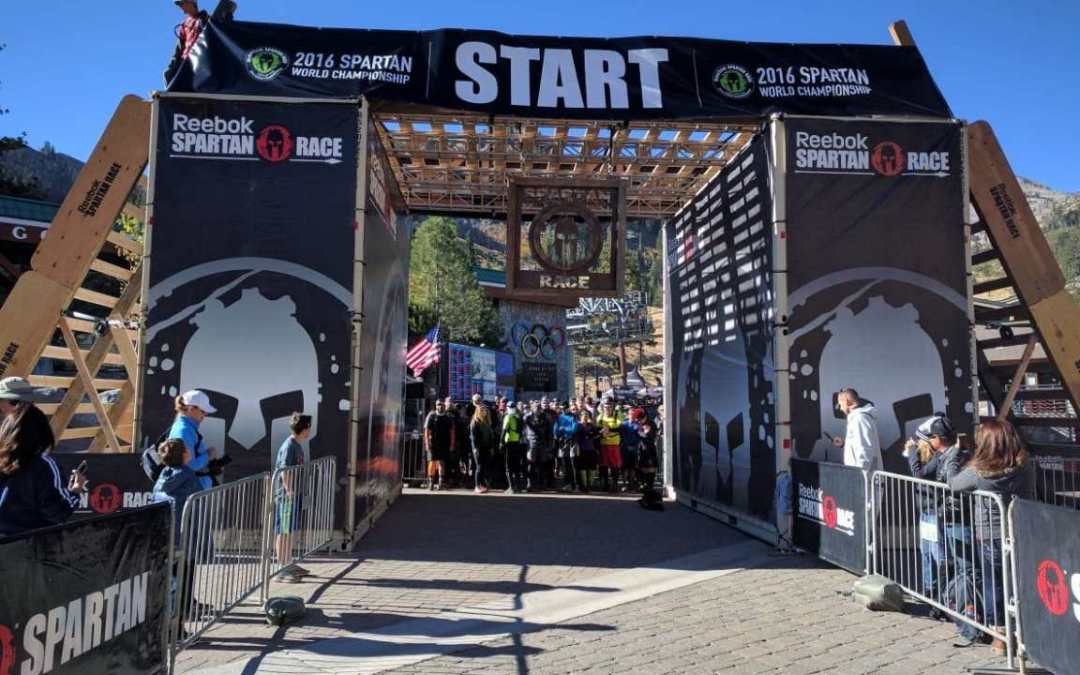 Two years ago, I started running obstacle course races regularly and about one and a half years ago I actually started to train to improve my running specifically. No wonder that my participation in the 2015 Spartan Race World Championship Beast was nothing to brag about; I finished as 171st male athlete in the elite coin holder heat. Not even thinking about competing in the Ultra Beast.
A lot has happened since then but I will keep it short: The time I spent running increased steadily while my chiropractor Dr. Justin Brink of
Premiere Spine & Sport
made sure my shin splints were somehow kept in check. In June, I finally pulled the trigger and got on board with
Richard Diaz
for professional guidance on my running form and regimen. Meeting Richard to get a VO2max analysis done and then later having him and my chiro come out for a running clinic at the
Savage Barn
made all the difference; for about eight weeks prior to the Tahoe race, I have had no pain in my body anywhere while my speed and endurance have significantly improved. So why then did I not toe the line for the 2016 Spartan Race World Championship to show how much better I can do this year? Simple: I checked my ego. I knew I could not hang with the Pros – the truly elite – of the sport. I also knew Squaw Valley and had an idea about the mileage, elevation gain, and temperature that was waiting for us out there. Looking back at how much fun and success I had at BattleFrog Xtreme
San Francisco
and
Los Angeles
, I liked the thought of finally taking on my first Ultra Beast.
Clothing
I chose rugged yet light gear which would keep me warm but not weigh me down. While I have had only little experience with ultra running I do have experience with hiking in cold mountains so I felt pretty comfortable with my choices.
Ultimate Direction AK Mountain Vest 3.0
REI Elements wind breaker
Billabong Solution neoprene cap 2mm
NRS Paddling neoprene gloves 1.5mm
Under Armour Heatgear long sleeve
Quicksilver Heater Poly Fleece long sleeve
CW-X Expert Tights
Injinji OTC 2.0 Compression socks
Trailtoes on everything not covered in tape
Leukotape on 8 out of 10 toes
Salomon S-Lab Sense 5 Ultra Soft Ground
Race Vest
I usually train with a light Salomon race vest, however, since I was planning to stow away some clothing during the swimming obstacles, I went for an Ultimate Direction vest. The additional storage pockets helped keeping everything in its own place.
Misc. items
Small lube packet (for quick anti-chafe fixes)
Larger lube packet
Dude wipes (manly wet wipes I guess)
Face/lip balm with SPF
Bandage (outside 1st aid = disqualification for elite racers)
2 glow sticks (mandatory gear)
Black Diamond Spot head lamp (not for long though…)
8L dry bag (for the swims)
A long strip of duct tape (emergency repairs)
Hydration/Nutrition
2 Salomon soft flasks 0.5l
Run Gum
Salt pills
Tailwind/Cellucor refill powder
4 gels
Drop Bin
My drop bin had basically a replacement/repair option for every piece of gear down to the shoes.
2 Salomon soft flasks 0.5l with Tailwind/Cellucor mix to restock the vest
4 x gels to restock the vest
SPF 30 spray on sunscreen
Additional misc. items and food items
Salomon S-Lab Sense 5 Ultra Soft Ground (half a size bigger than normal)
Injinji OTC 2.0 Compression socks
Injinji Trail socks
Wet wipes
Headlamp
Headlamp batteries
Glowstick
Microfiber towel
Gallon of water
Complete change of clothes (incl. shorts, beanie)
Heavy duty emergency blanket
2 lightweight emergency blankets
Hand warmers
Duct tape
Sports legs pills
Salt pills
Tailwind
Aleve
Race Experience
My Saturday was spent studying the race course, observing the new obstacles, monitoring the weather, taking note of the finisher times, and encouraging friends on the course, as well as meeting friends off of the course. It was especially great to finally meet several people who would also be taking on the World's Toughest Mudder course in November, considering I had only seen/known them on social media before. Watching the top athletes finish was also exciting: Hobie made his impressive come back and Zuzana outclassed all other female athletes with an impressive lead before Lindsay and Faye battled it out in a burpee race to the finish line.
Race Morning
First and most importantly: Every volunteer and Spartan staff member I encountered on race day was phenomenal! Everyone can show up and stand around but those people on and off the course were positive, motivational, encouraging, and just amazing. All of that in strong winds and cold temperatures! On a last minute judgement call, I decided to wear the Under Armour heatgear long sleeve on top of the Quicksilver poly fleece shirt. This would turn out to be the best possible decision that day. I also applied anti wind/cold balm to face and lips before the start after the abrasive experience on Saturday while watching the race. The strong wind kicked up a lot of dust, and over an expected 8 hours on the course, this can take its toll on your face. I had started basically every race at 7:30am this year, and somehow I had a 6:30am start time in my head because of it. Imagine the shock when I showed up to the start line at 6:15am and realized that the elite heat started at 6am already! I thought I had already missed the Elite heat going off! Thinking the crowd in the corral was the next heat, I jumped the fence at the back to at least make it out on the course as soon as possible. I never realized the 6am wave got delayed and I was exactly where I was supposed to be, in part because so many people were not wearing their green Ultra Beast wristbands visibly. All those windbreakers must have covered them up, but I simply wore mine on top since I did not expect to take it off before the swim on top of the mountain… As it turns out, the swim on top was canceled! I had mixed feeling about this. On one hand, I know the top runners tend to have very little body fat, and I remember how even Robert Killian was shaking at last year's OCR WC because of the cold. Introducing a freezing cold swim could slow down people who typically would be much faster than me, which would in turn benefit me. On the other hand I could not rule out that the water could possibly affect me negatively as well, even though I was confident in my ability to bounce back if I could keep on moving. Seeing a lot of people in wetsuits or neoprene shirts had made me question my clothing choice a little bit initially. However, no swim meant that this was anyone's game.
Lap One: 3hrs 17min
As we took off through Squaw Valley Resort I realized that the neoprene cap would be too warm and quickly took it off… and smashed the headlamp which was sitting on top of it into pieces. This was the second headlamp I immediately killed at first use after murdering another one at the dunk wall in Phoenix during the Hurricane Heat. The Black Diamond Spot apparently is not supposed to be with me… I feel like a kid whose pet gold fish keep on dying one after the other?! I picked up the pieces from the ground and threw them in a garbage can along the way as we left the resort. No littering! Fortunately, the sun came up early and I could use the headlamps of other racers during the dash through the forest trails. I knew sunrise was at 6:55am so I was not worried about the destroyed light. Still feeling too warm because of the lack of wind, the neoprene gloves came off before we made it to the water moats 0.3mi into the race and I never used them again. The buff came on and off a few times during lap 1, but it turned out that the windbreaker offered enough protection against the wind, so I stopped using the buff. I kept my running pace relaxed, and during the initial climb I quickly got used to the altitude and the different breathing pattern that comes along with it. Strong uphill hiking ability proved to be one of the biggest assets on this course very early on and I wondered why I kept on passing so many people and even when I would see the back end of the elite heat. It is funny now, but back then I was so utterly confused and had already made my peace with making this a fun run due to my "missed†start time. As I hammered down the mountain and then started an easy jog back up the long climb I kept on reminding myself that this is still a very long race. I resisted the urge to chase people ahead, and when I saw the 30+ mph winds carry my spear past the hay targets, I was happy that I had enough reserves in the tank to knock out 30 burpees and then jog on. Doing a penalty so early in the race gave me a good indication of how my body is holding up. The new Olympus obstacle was a fun change and brought back some fond BattleFrog memories.
Ape hanger was fortunately equipped with an easy to grip ladder, however, the distance and the upwards climb on the ladder made it challenging. I was not a fan of dropping into the water from this height because I had heard that the water is only ankle deep in some areas. Cold water like this does not faze me much but I am always concerned about injury with obstacles like these.
The log carry reminded me painfully how dumb it is to just grab a log quickly when running into this obstacle. I was with a group of others and rushed it instead of looking at the logs carefully. The result was a painfully heavy log, which forced me to stop walking three times. I did lose ground to the others, burned energy unnecessarily, and had to mentally fight the frustration of watching them marching through this obstacle with ease. Fortunately, there was another kick in the face waiting: The double sandbag carry. Here I did not really have the excuse of choosing the "wrong†sandbags. I had to watch the others pick up their bags and kill this obstacle while I was taking frequent breaks to fight for every step. Being someone who takes satisfaction in heavy carries this was a tough pill to swallow. However: Still a long race, still a long day. The fact that others might beat you in this specific battle, but have not yet beaten you in this war is a very important one to continuously repeat to yourself in situations like this. Stay in the fight, stick to the plan, and trust your training. In fact, with not much left on top of the mountain, I was able to break away from the group and descend down the mountain with a good lead. As a former non-runner, it was extremely motivating to feel smooth and strong to conquer technical terrain at solid speed. The
hercules hoist
was definitely one for the books. I am not sure how heavy they made it, but I had to focus and put in way more effort than usual in order to handle this obstacle efficiently. Kudos to everyone completing this obstacle alone! Since Ultra Beast racers did not do the rope climb and rig on the first lap, I had only the dunk wall and slip wall left before I could enter the transition area. The pond around the dunk wall felt incredibly refreshing and pleasant and I could not enjoy it more, considering that the sun was out and the sky was bright and blue.
Transition
My game plan was to dump whatever gear I considered unnecessary, restock, and leave. It was nice to see Missy in the transition area and I yelled at her that I had missed my start time and that this was a fun run now. I can only assume that she either did not understand me (good ol' German accent) or thought there must be a language barrier… After all, what is this dude talking about?! I had finished lap one in 3hrs and 17min, which put me around the Top 10 of men and ahead of all women. Clearly it made absolutely no sense that I thought I had missed the elite heat start, but at the time it did not click for me. Having no time to talk, I got rid of the neoprene hood and gloves as well as the buff. I dropped it next to my bin, applied sunscreen to my face and neck, shoved full soft flasks and gels into my pockets and left immediately. I could have dumped the dry bag and glow sticks as well but I did not want to take off the vest to get them out of the back compartment. Having dumped gear and knowing what was coming ahead of me I felt light footed and motivated. It was especially nice to see some familiar faces running out of the Squaw Valley resort. Nothing makes a race more enjoyable than positivity around you.
Lap Two: 4hrs 00min
My second lap would turn out to be 43 minutes slower than the first one, which shows that my pacing needs improvement. On the inclines I could tell immediately that I would not be able to muster much running on either the small or the big climbs, but I could still get a good pace going for anything somewhat level and I felt very strong coming down the climbs as well. The wind had picked up significantly, and since I was soaked from the dunk wall, I had to focus on keeping up a strong hiking pace up the mountain to the spear throw – where the wind once again gifted me with 30 burpees. Having warmed up and knowing that the somewhat boring climb was over, I could now focus on the more technical climbing ahead. At this point one of the runners of the pack I had left behind in lap one came back and passed me. The race was back on! I stayed right behind him most of the time until I could surge ahead during atlas carry and the plate drag – only to feel my hands give out at the Tyrolean traverse! Initially feeling upset with myself for a second, but calmed down as I was doing burpees; I had rushed into the obstacle instead of taking a second to let my hands recover from the plate drag. Rookie mistake. Since you only need big muscles for burpees, I knocked them out reasonably quickly and caught back up with my rival at the double barbed wire. He was halfway through, but my rolling was much more aggressive… The problem was that I just had failed the simple Tyrolean traverse and now the ape hanger was coming up! While rolling under the barbed wire I made my peace with 30 more burpees. As I stand up from the dust kicked up by the gusts of wind, the volunteer tells me the ape hanger is closed and I should just run past it – what a gift! Having caught a lucky break I ran to the log carry and this time looked around for a log with my name on it. I had paid for my sins at the log carry in lap one and was not going to torture myself again. Having found a comparatively small log and (somewhat) cheerfully completed the obstacle I continued to the sand bag carry. Bear in mind, I had missed the entire start line briefing, so I was under the impression I would need to carry two sand bags this time again… The volunteer told me double sand bags were for lap one only and I should pick up only one this time. Rarely was I so happy to carry a single sandbag! Committed and motivated I powered through the obstacle, did the "rubber hot dog†flip with ease and started the descent down the mountain again. It is hard to explain but after approx. 25 miles it is a special feeling to be in a place exactly where you want to be and enjoy every single step you are taking. Flying down the mountain I ran down the checklist of obstacles ahead and what I need to consider when doing them. My objective was: No matter if I fail the rig at the end or not, my lead to my rival needs to be strong enough so he would not be able to catch me. Thanks to the brilliant course designer Steve Hammond, my biggest asset was still ahead. The 0.5mi bucket carry was exactly what I needed as a fail-safe to ensure I had enough distance to whoever was behind me. My grip strength was completely shattered but for the bucket I knew I did not need any finesse. Right as I was about to finish the bucket carry I saw my opponent starting the obstacle.
Once again motivated by seeing the plan fall in place, I surged ahead, knowing that my legs only need to hold up a tiny bit longer. Across the
balance beam
and to the Hercules hoist, I knew this would take everything I had; my lead would not hold up if I failed more than the multi rig since I had to assume my rival would not fail anything and is possibly a faster runner than I am. Fighting the weight with every pull I managed to get it to the top without too much trouble. Bringing it down was a different story though and gravity was not my friend. The rope started to slip through my fingers so I braced it between my arm and my chest, then I put my foot on top of the rope on the ground. With the very last bit of energy my hands had left, I managed to complete the Hercules hoist. The dunk wall was out of commission due to the high winds as you can see: