Road Cycling Training Tips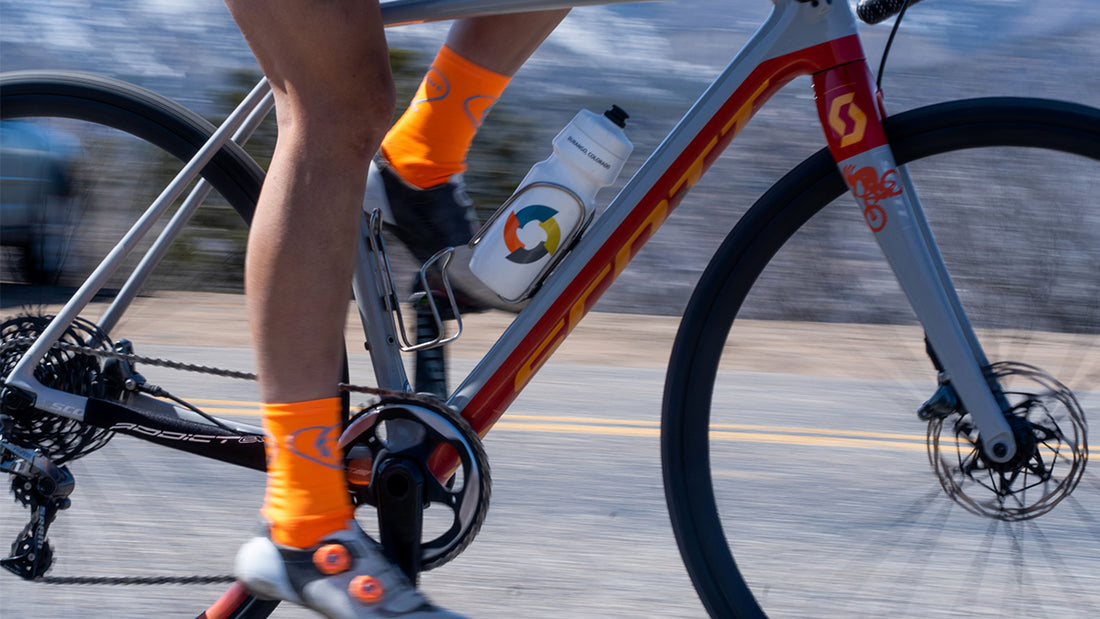 By Shannon Hahn, Tailwind Employee & Avid Biker
Meet Shannon
I'm Tailwind Nutrition's Wholesale Account Coordinator, and I'm training to race the Coca-Cola Road Race at the Iron Horse Bicycle Classic here in Durango, CO. The road cycling race covers 47 miles from Durango to Silverton, climbing Coal Bank Pass (10,640') and Molas Pass (10,910').
My Upcoming Race
I'm from Durango, and the Iron Horse Bicycle Classic is a local tradition celebrated for its inspiring scenery and intense climbs. The race takes place relatively early in the riding season. I've gotten more committed to becoming a better rider over the past few years and this year will be my second year racing, but third time riding in the Iron Horse.
I began getting reacquainted with my bike when daylight saving time began in March. Earlier this spring, conditions were more favorable for road riding than mountain biking. Even though the Iron Horse is a road cycling race, mountain biking is excellent training - it's fun and it gives you power on the climbs.
I've put in a lot of training and dialed in my nutrition and I feel like I have a strong chance of making the podium this year!
Bike Training Tips
Before each ride, I think through my ride and make a plan before I head out. That way I have something to stick to, so when it gets hard, I don't wear myself down contemplating whether I should keep going or turn back.
Riding with other people will also get you to push your limits and improve your riding.
Also, make sure you get a feel for the grades and note landmarks before your race. For the Iron Horse Bicycle Classic specifically, it's helpful to familiarize with the Shalona, Coal Bank and Molas climbs - in this race, it's the climbs that matter most.
Nutrition for Bike Training
Tailwind Endurance Fuel simplifies hydration and nutrition - it's an all-in-one fuel. Endurance Fuel's simple sugars are easily digested and converted to energy. The exact combination of sugars, sodium and water results in optimal absorption into the bloodstream.
For training rides less than 2 hours, I mix 200 calories (2 scoops or 1 stick pack) of Endurance Fuel in a 24 oz bottle. After 30 minutes of riding, I begin sipping regularly.
Recovery is Key
The right nutrition promotes recovery, and timing is everything. I prefer Tailwind Rebuild because it contains exactly what my body needs, and all I need is water to mix it - it really doesn't take much thought. Whether at home or at my car, I simply shake up a bottle and drink it within 30 minutes after riding.
Similar to Endurance Fuel, Rebuild contains simple sugars to readily replenish glycogen stores, sodium for efficient absorption, and complete protein for muscle recovery.
Fueling on Race Day
On the days leading up the race, be careful not to undermine your race performance by riding too much or too hard. Taper so you feel fresh and ready for the fight on race day.
About three hours before your race, fuel up with plenty of slow-burning carbohydrates and a little protein. For example, for breakfast, have some whole grain cereal with lowfat kefir. About one hour before your race, top-off with a carbohydrate snack, for example, a banana.
For a 3-hour race, like the Iron Horse, I will mix 250 calories (2.5 scoops or 1.25 stick packs) of Endurance Fuel in a 24 oz bottle. I've found that's the right amount for me, with the cool morning and mountain temperatures, and to minimize losing time (for example, a bathroom break) during hard racing.
After 30 minutes of pedalling, begin sipping Endurance Fuel. When the end is near - the final mile - pick up the pace and go all-out for the finish! Drink a serving of Rebuild within 30 minutes of finishing to maximize recovery.
Best of luck to all Iron Horse riders and bike racers everywhere - from all of us at Tailwind!