Recovery Mix During Exercise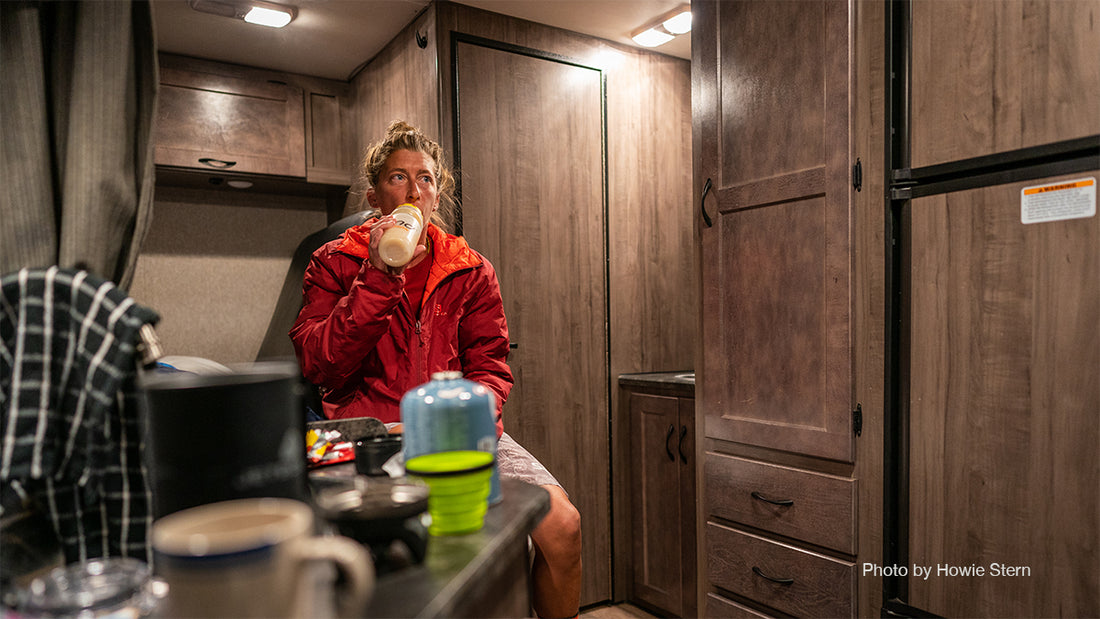 Our nutrition is pretty simple. Endurance Fuel for during exercise. Rebuild Recovery for after. But what about those really long days? Or a multi-day effort? For folks considering incorporating Rebuild Recovery into their races or adventures, we wanted to share a few experiences from our athletes who have had success with this method. It's critical to note that protein can be hard to digest during exercise for some people, so please test this out in training before any race.
Maggie Guterl - Big's Backyard Ultra
When Maggie won Big's Backyard Ultra in 2019, she drank Vanilla Rebuild during the night portions of her 60 hour race. See her excerpt below & read her full nutrition report here.
"The efficient protein in Rebuild has always agreed with me on 100 milers and I saw how well it worked for Courtney Dauwalter at Big's last year.  Rebuild also helped me when I started to become grossed out by food in general. If I ever felt like that between loops, I knew I could just fall back on Rebuild to get in enough electrolytes, carbs and protein to not get into a deficit."
Courtney Dauwalter - Colorado Trail
During Courtney's Colorado Trail FKT attempt, she drank Rebuild every time she met up with her crew. Because she was attempting to cover 500 miles in one go, Rebuild Recovery was a great way for her to get easy carbs, protein, and electrolytes during each rest period. You can read about her Colorado Trail FKT attempt for more information!
Cameron Williams - Moab 240
Cam ran Moab 240 in 2019. Similar to both Maggie and Courtney, Cam consumed Chocolate Rebuild at night, not only for the nutritional benefits but the mental pick-me-up as well. 
"Each moonlit, 20 degree Fahrenheit night, my crew warmed me up with hot Chocolate Rebuild Recovery; it quickly became my motivation to move faster. Throughout the 98 hour journey I didn't bonk once – I had no stomach bombs and felt like my body was being taken care of."
Neil Beltchenko - Bikepacking
Neil Beltchenko is the king of long distance, multi-day bike adventures and races. His method for using Rebuild during an event is quite simple. 
"If I'm sleeping on a trail during a bikepacking race, I'll down some Tailwind Rebuild before I go to bed."
We're Your Support Crew
If you have questions on this or fueling in general, feel free to reach out to us at supportcrew@tailwindnutrition.com!