Recipe: Salted Caramel Rebuild Brownies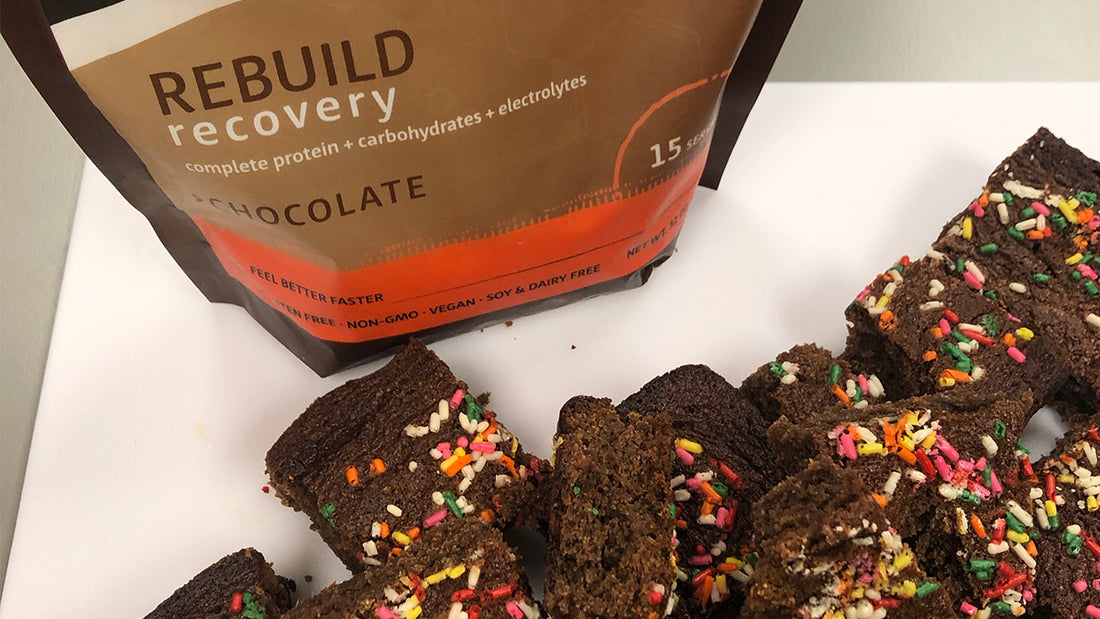 Need a post-workout pick-me-up? Our Salted Caramel Rebuild Brownies are not only tasty, but also easy to whip up. Just grab a mixing bowl, baking dish and the following ingredients (we find it always helps to jam out to your favorite tunes, too)!
Salted Caramel Rebuild Brownies
Servings: Makes approximately 16 brownies
Ingredients:
2.5 sticks butter, melted
1 cup sugar
⅓ cup brown sugar
¼ tsp salt
4 eggs
¼ cup cocoa powder
¾ cup all purpose flour
½ cup Chocolate Tailwind Rebuild
½ bag of caramels
Sprinkles (optional)
Directions:
1. Preheat oven to 350 F
2. Line 9" square dish with parchment paper
3. Melt butter and mix with sugars, salt and eggs
4. Add flour, cocoa powder and Rebuild powder and mix together
5. Transfer half of mixture to prepared baking dish
6. In a separate bowl, cover and heat half bag of unwrapped caramels in the microwave for 45 seconds, or until caramels begin to melt
7. Mix a pinch of salt with melted caramel
8. Drizzle salted caramel over brownie mixture and cover with remaining brownie mixture
9. Bake for 40-45 minutes, or until a toothpick stuck in the center comes out clean
10. Enjoy (and try not to eat the entire pan)!
Notes:
You can switch out the Chocolate Rebuild for Vanilla Rebuild if you prefer, or you can add both for a little twist.
Want to learn more about recovery? Check out our blog post on the 3 keys to recovery.