Race Like Neil Beltchenko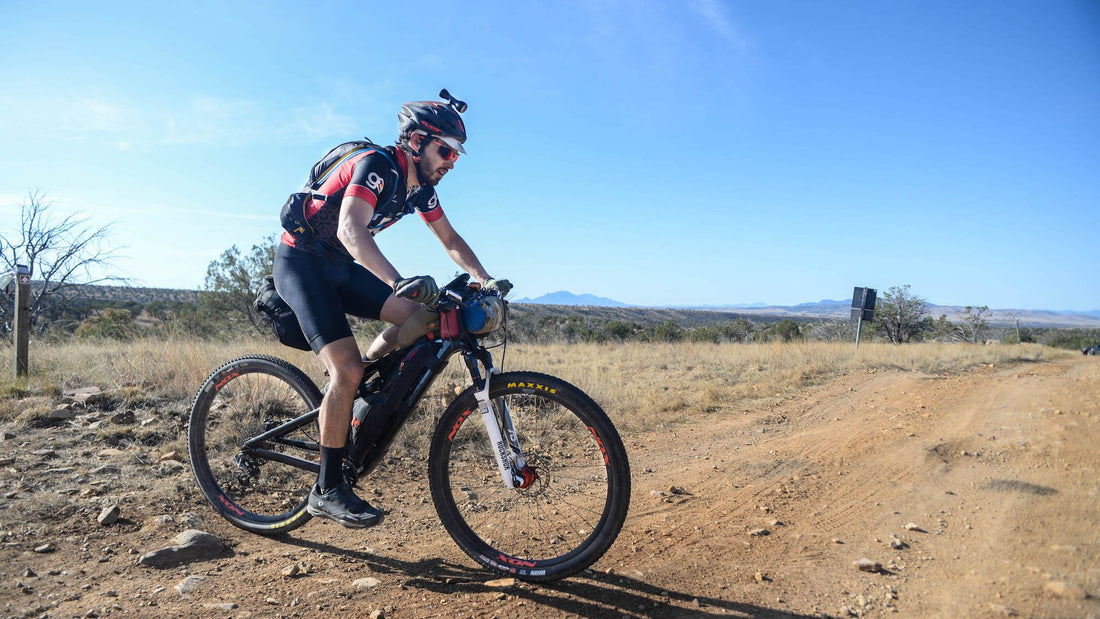 By Neil Beltchenko, ultra endurance and adventure cyclist
How I Get Race Day Ready
Racing is hard, stressful and draining! I'll be the first one to tell you things do not always go as planned, but that's the life of racing.
In an attempt to produce more good than bad, I have found that some gear simply works better than others. Here are some thoughts one what I use, why I use it and some additional tips and tricks to get your past the finish line!
My Race Day Essentials Nutrition: I'll start with some diluted Tailwind Endurance Fuel in my hydration pack and two bottles on my frame, one with Endurance Fuel and another with just water. This way I can get easy calories while hydrating, but when I need to put down some calories by way of food, I wash it down with some straight H2O. I almost always carry some stick packs as well for any resupply spots or for when I filter water from a creek or river. If I'm sleeping on a trail during a bikepacking race, I'll down some Tailwind Rebuild before I go to bed.
Shoes: Five Ten Kestrel Pro Boa. These shoes are stiff, which allows for proper power transfer and they fit my feet well. I have a Greek foot, with my "ring toe" being longer than my big toe. And the shoe simply looks good.
Layers: I use a lot of different jerseys, but when it comes to rain and vest layers, I look no further than Adidas Terrex gear. I've used it for years now, and have always been in awe of is functionality, weight, breathability and durability. If I'm out high in the mountains or riding in the fall or spring, I also carry my knicker rain pants. I basically cut a rain pant just below the knee - this will keep my bibs dry, but allow for breathability. They also double as knee warmers and can be taken on or off over my bike shoes.
Backpack: For long, demanding races, like the Colorado Trail race or a 100 mile mountain bike race, I use my old Camelbak Octane pack. It's super beat up and the bladder has been super glued for leaks, but it's my lucky pack. It's a lumbar pack that keeps most of the weight around my hips. I love it even though it's nearly toast! For longer races, I'll also use a top tube bag where I typically store all of my food. It's a great place for storage as I can access calories with one hand.
Training: I use a WHOOP band for everyday life. This band has completely transformed my training regimen and paired with LWCoaching.com, I feel like I'm in great hands.
How I Pack for Efficiency
Whether racing for one day or five days, it's important to prep your bike a few weeks before and ride like you would on race day. Pack and know where all of your tools and tubes are for mechanicals and pack your food and layers where you have the best access to them. Simply riding with your gear will help you understand what needs to be packed where, making for a better experience on race day.
How I Prep for Race Day
Typically a week before, I'll put in one more solid training effort, this could be anywhere from 2-5 hours depending on how hard or how far I go. For longer, multi day races, I may do this effort 10 days before race day. For shorter one day races, I may do it 6 days before race day.
Over the course of the next few days, I focus on banking sleep and calories and resting as much as I can. I put in a few high cadence efforts and some quick burst efforts, but I make sure my heart rate does not go too high for a long period of time.
The night before race day, I set aside all the things I need to streamline my morning: clothes, water bottles, backpack if necessary, breakfast, etc. Less stress is best, but to be honest race prep is something I'm still working on as I develop as a cyclist.
My Recovery Tips
I'm working on honing my recovery. It's super important especially if you have a stack of races back to back. I'm not an expert in this field and that's why I love Tailwind. They know what they are doing and I trust that their Rebuild will help me recover.
While I will have a beer or two after a race, I think the most important thing is to rehydrate first. Make sure you pee clear and then enjoy that IPA. It's tough to do, but important.
Find What Works For You
Every person and every race is different, so finding a good flow that works for you is the most important thing. Don't rely solely on my advice, but use some of my tidbits and make your own routine. It's all part of the experience.
It can be frustrating and rewarding, but make sure you are still having fun because that's what it's all about in the end!