Celebrating 9 Years: Q&A with the Tailwind Founders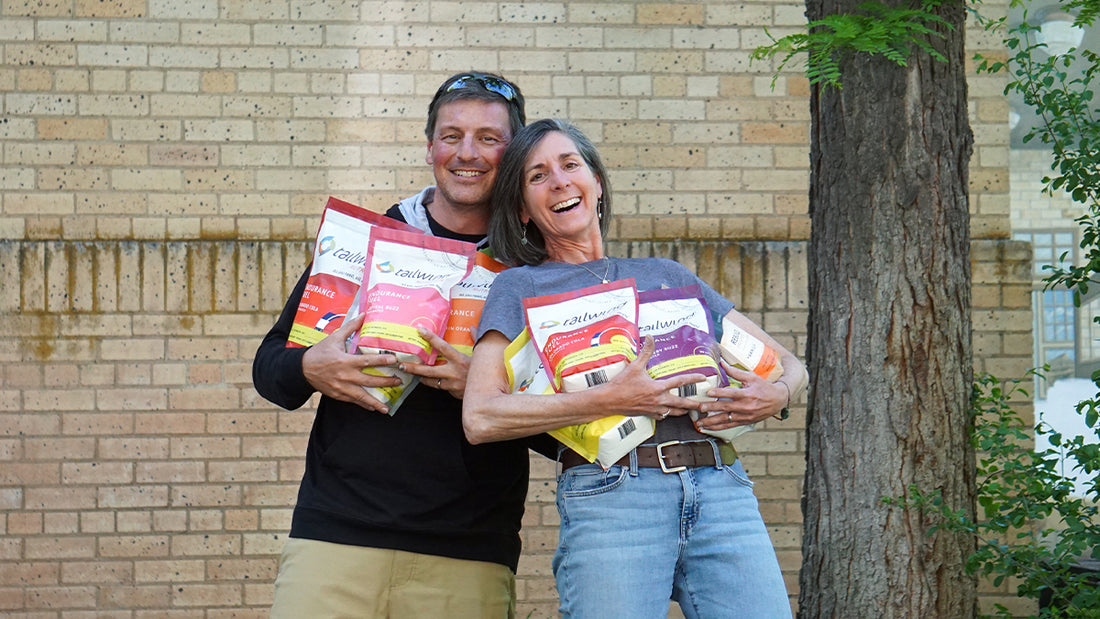 To celebrate our 9th anniversary, we caught up with Tailwind founders Jeff & Jenny Vierling to get their thoughts on the past and future of the company!
We all know the story of how Jeff started Tailwind, so we'll skip that question. When you first nailed the Endurance Fuel recipe, did you have any sense how far you could go with it?
Jeff: I had this training ride that started with a 2800' climb from my house to the top of Jones Creek, up Missionary Ridge on a fire road for 3200', then on to Mitchell Lakes which is hideously steep and loose. 2850' of granny gear and some hike-a-bike. Sometimes I'd add another Missionary Ridge ascent at the end. I'd do it all with just Endurance Fuel and never run out of energy. I figured that was a good test!
When Jeff first started playing around with the old Kitchen Aid, what were your first thoughts? Be honest! ;) 
Jenny: Every time I walked into the kitchen, I felt like I was entering the Pixie dust factory! It smelled amazing, and our two daughters (2 and 4 at the time) kept asking where the Pixie Stixs were being stashed. At first I had my doubts - so much so that I used my old sports drink during the Leadville Silver Rush, but midway through the ride, my stomach turned south. At the midway point I couldn't eat/drink anything, and the rest of the way back I was riding on fumes - over mountain passes, through a hailstorm, and the freezing cold. It was horrible! I decided at that point to use it for the Mountains to Desert Ride (a century ride from Telluride to Gateway, CO). I was an absolute convert after that!
If you could go back in time to the beginning, what is one thing you would tell yourself? Any tips? Any words of reassurance?
Jeff: Things have a way of working out, even if you don't know how. Our awesome customers always come through in unexpected ways!
Jenny: Get the motorized mixer - but that's a long story! Always know that if you are genuinely trying to help people, you can't go wrong.
What is your favorite product/flavor? We know this is a hard one, like picking a favorite child… 
Jeff: Mandarin Orange Endurance Fuel - it's what I made first, and still my go to. Coffee Rebuild - I love the iced latte and slight coffee bitterness after a hard workout!
Jenny: Caffeinated Raspberry + Lemon (Mixed). Yummy!
You both are avid mountain bikers and hikers. Where is your dream hike or ride destination?
Jenny: Right now Portugal is on our radar for mountain biking. For hiking, at some point I'd love to explore South America or do a hut-to-hut trip in Europe. Too many places to choose just one place!
Jeff: Jenny covered it well, though in our backyard we have the CO Trail. I'd like to backpack the whole thing from Durango to Denver (or vice versa).
Looking forward, what's next for Tailwind Nutrition?
Jeff: I'm excited about new products we're working on and taking a different approach to packaging to reduce the use of plastic, all while helping more people reach their goals and celebrating their amazing accomplishments!
What's your advice for anyone who has a dream or idea and wants to start a business of their own?
Jeff: Don't let perfection get in the way of getting your idea out there. Customers will tell you where to go with it, and it's often not the direction you thought it would take!
Jenny: Listen to your audience - from their emails to events to what they are posting in forums and on social media. There are always little pearls of wisdom I pick up from just listening.