Q&A with Courtney Dauwalter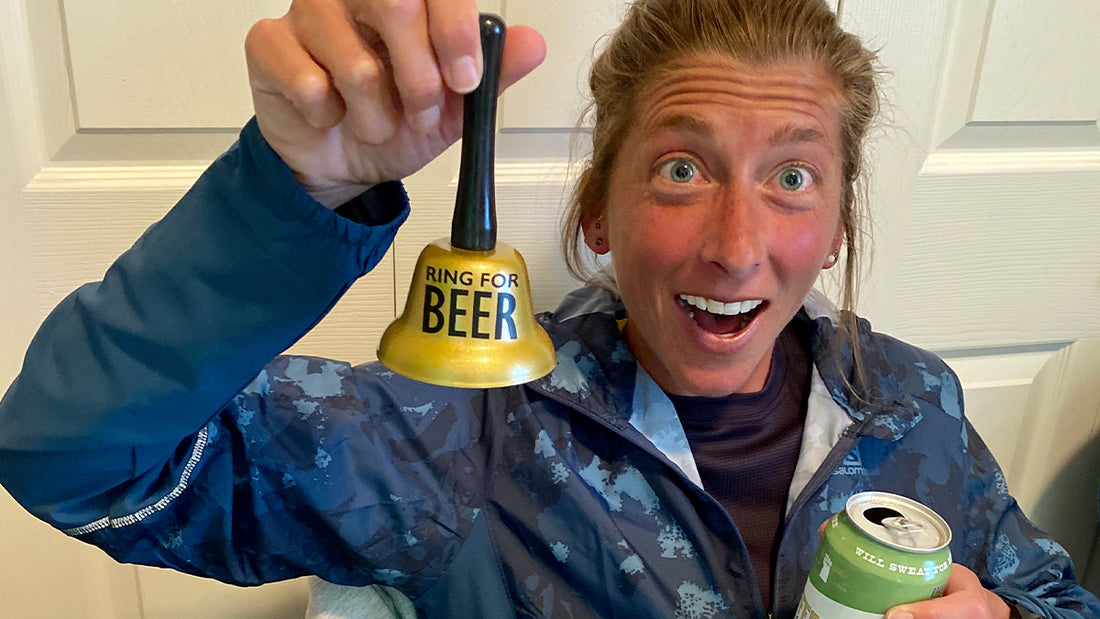 Ultrarunning super star Courtney Dauwalter is best known for her long shorts, vocal love of nachos, and a few impressive finishes at iconic races like Western States 100 and UTMB. We were lucky enough to have her pop over to our Instagram to answer some community-submitted questions.
You can find more here on our Instagram stories!
Question: Favorite ice cream flavor?
Courtney: Favorite ice cream flavor is cookie dough but mostly because I want to find all the cookie dough pieces and Ben & Jerry's Phish food for the marshmallow swirl!
Question: Do you follow a set training schedule or just run however you feel that day?
Courtney: I do not follow a training schedule every day. I wake up and I drink some coffee and then I kind of assess how my body and brain are feeling before I head out the door for my run.
Question: Best race for first time ultra?
Courtney: Best first ultra is the one that gets you the most excited to train for, so look around! There's so many different, cool options; figure out what kind of course you're looking for and what's going to make you train the hardest.
Question: Do you eat any specific foods while running ultras?
Courtney: During an ultra the only things I'm taking in are Tailwind Endurance Fuel, Honey Stinger, and mashed potatoes. Unless it's over 200 miles, and then I might go for a McDonald's cheeseburger, quesadilla, or a piece of pizza.
Question: What is the perfect nacho combination?
Courtney: Pretty much the most important question of all! I think about this on a lot of my runs for many miles, and my conclusion always varies, but it usually includes jalapenos.
Question: Beer or nachos? You can only keep one.
Courtney: What! This question is impossible… I'm going to keep "beer" because I think there's ways around the "nachos", like eating tacos.
Question: When will Courtney do the Barkley?
Courtney: I would love to do the Barkley. There's a lot I have to learn still, specifically about navigation, but I think it would be a really fun challenge to take on. Hopefully soon!
Question: How often do you take rest days?
Courtney: I'd say 10 to 14 days just depending on what I've been up to and how exhausted I'm feeling, but enjoy them! Kick your feet up and relax.
Question: What's your favorite flavor ?
Courtney: Favorite flavor of Tailwind is the Naked flavor, and on really hot summer days I love the Lemon flavor!
Question: If you had to give up beer or candies for the rest of your life, which one would go?
Courtney: Nope. Neither.
Question: Do you do any cross training? If so, what?
Courtney: I do cross country skiing in the winter and road biking in the summer. I used to do zero cross training, but found that this is very helpful to keep my body happy in the long run.
Question: If you couldn't race, would you still run?
Courtney: Yes, plenty of reasons to run still!
Question: How did you get started running ultras?
Courtney: I started running ultras because I finished a few road marathons and I survived them! I wondered how much farther we could travel with our feet
Question: Would you ever come back to Superior 100?
Courtney: It was my first 100 mile finish and I would love to come back!
Question: How do you motivate yourself to run when you are tired and not into it?
Courtney: Lace up your shoes and get out the door. Give it 10 minutes, 15 minutes, a mile. See how it feels after that; usually motivation increases once you're going
Question: Is it important to power hike incline or run them during training? Or both?
Courtney: I like to do a mixture of both!
Question: What trails are you daydreaming about running after staying close to home?
Courtney: Mountain trails!
Question: What are some tips for training for those just getting into running/ultras?
Courtney: If you are just getting into ultra running, I recommend you start small and build your base up patiently but consistently. And have fun with it! It's a really cool world, and you can go a lot farther than you think.
But Wait, There's More!
Because we received so many questions, we are hosting another Q&A with Courtney on 05/28 at 3 PM MT. And this time, it's live! Be sure to tune into our Instagram Stories. At Tailwind, we're always here to help you out. Feel free to drop a comment on this blog post or email us at supportcrew@tailwindnutrition.com if you have any questions!