My "Main" Disability- It's Not What You Think……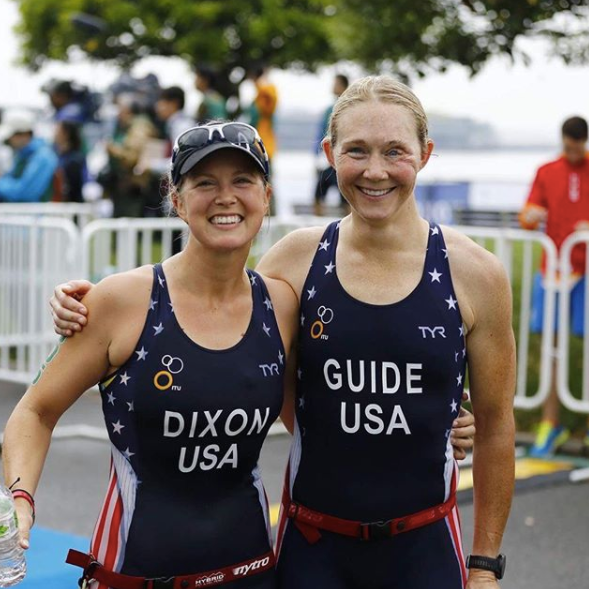 By Amy Dixon Hi Everyone! My name is Amy Dixon and I'm a visually impaired member of the US National Paratriathlon Team, racing and training for the Tokyo 2020 Paralympic Games. I've been training as a triathlete for 5 years, and turned pro two years ago when I received my elite license. Currently, I'm ranked #3 in the world in my sport, and have a lot of racing to do between now and Tokyo to continue accumulating points to get to the start line in Japan. When I swim and run, I am tethered to a female guide who is in charge of navigating and calling out obstacles, changes in terrain or direction, and helps me with pacing and making me aware of where I am in relation to my competitors. When we bike, we race on a custom carbon fiber Calfee tandem and we both provide power to the pedals.
I lost my sight to a rare autoimmune condition that attacks the retina called Multi Focal Choroiditis. Sadly, this disease causes aggressive scar tissue throughout my body as it 'sees' constant inflammation in my eyes, connective tissues, lungs and GI tract and sends cells there to attack them. Years of chemotherapy and 24 surgeries and counting on my eyes has left me with 2% of usable central vision, mostly in just one eye. For my blindness, I now use a white cane and a guide dog to navigate the outside world safely and a female sighted guide to train and compete with internationally. I have a computer and phone that talks to me, and dozens of apps that make solo travel accessible and safe with my dog. However, my greatest challenge in life has not been my blindness... It's my GI tract. Having chronically inflamed intestines is really hard to deal with when training at the elite level, or ANY level for that matter. Some days I'm training up to 5 hours between swim, bike, run and strength training. Finding the right foods, fuel and hydration are KEY to my success when getting ready to compete for the United States team. With my GI tract being uncooperative most days, it's essential that I replenish the electrolytes I'm losing with my multiple potty stops. And further, it's critical that I have the energy to outlast all those hard intervals on the bike after a big swim set. Enter Tailwind. With my GI tract being a massive challenge, and exercise-induced asthma adding insult to injury, I was frustrated trying to get the proper nutrients in while hydrating. Different products were either too sweet, gave me GI distress, or had sugar-alcohols that triggered a coughing spasm and in turn my asthma. I tried everything from plain water with Himalayan sea salt and lemon, to the most engineered products on the market. When I found Tailwind, it was a godsend. I had energy, it tasted great without too much sweetness, it was easy to travel with, and didn't affect my GI tract or my lungs in any way. I had found my 'go-to'. In addition to Tailwind, I do acupuncture, GI massage and lots of breathing exercises to help combat my challenges as an athlete with a rare disease. Tailwind is my start to every day before a swim with my favorite being the Raspberry Buzz for a little boost of caffeine at those 6am Master's Swim sessions, and I then go to Berry or Orange later in the day to keep hydrated before during and after my bike and run. It's in my bottle on my nightstand every night and packs easily when I head overseas to race with the team. Thank you Tailwind for becoming part of my team! Additionally, I coach 30 blind athletes at a Camp called Camp No Sight No Limits for blind and deaf-blind triathletes looking to get faster in the swim bike run. Thanks to the generosity of Tailwind, we were able to offer a scholarship to an amazing new triathlete who lost her vision to MS. She too suffers with many of the issues I do and has had much success with Tailwind's products. I highly recommend this great company and look forward to my monthly box with my hand-written name on the bag and a note in my box! Such a great product and even better people. Thank you Tailwind!