Meghan Hicks: Nolan's 14 FKT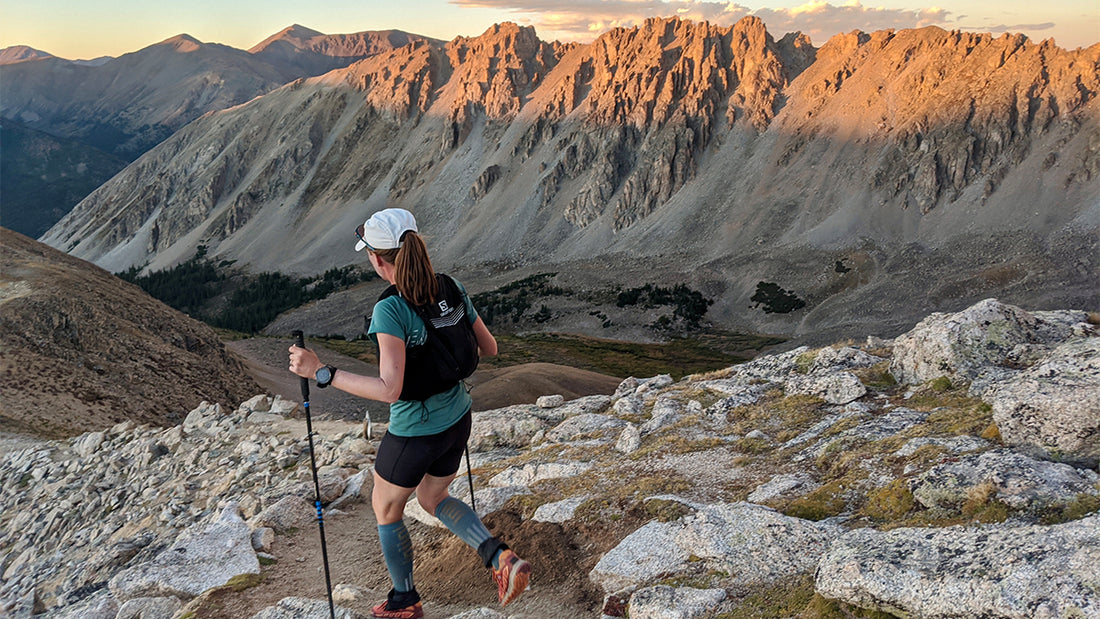 By Maggie Guterl
Who is Meghan Hicks?
Meghan Hicks is a mountain runner who splits her time between Silverton, CO (home of the Hardrock 100) and Moab, UT (not as cold as Silverton in the winter).  She and her husband Bryon Powell are best known as the power duo of iRunFar.  They bring you live coverage of ultramarathon events from around the world as well as daily stories and features in the sport. Meghan's resume includes some of the hardest races on the planet, including multiple finishes of the Hardrock 100 and Marathon des Sables.
What is Nolan's 14?
Nolan's 14 is a notoriously difficult mountain route in the Sawatch Mountains (a sub range of the Rocky Mountains of Colorado).  The route was run as a low key race starting in 1999 but has since become a solo project of many super tough mountain runners looking to challenge more than just their running abilities. The route covers 14 summits of over 14,000 feet. You can choose the direction you go (start north and go south or vice versa) and the exact line you take. This involves navigation skills with your chances greatly improved by many hours spent scouting your best lines prior to your attempt.  The typical mileage is about 90-100 miles with about 42,000 feet of elevation gain. To be an official finisher of the route you must finish from trailhead to trailhead in under 60 hours.  For a while Meghan held the Fastest Known Time for women on this route (and the only official women's finish in 59:36.). This summer, prior to Meghan's attempt, Sabrina Stanley bested her previous FKT (51:15) only to have Meghan take it back a month later in a time of 50:32.*
*Since the time of this interview, Sabrina Stanley went back out and bested Meghan's time in 48:49.  The battle continues as these bad mamajamas push the boundaries of what is possible. 
For your reference the order in which Meghan completed the summits are as follows:
Shavano

Tabaguache

Antero

Princeton

Yale

Columbia

Harvard

Oxford

Belford

Missouri

Huron

La Plata

Elbert (Highest point in CO)

Massive
Maggie: What about Nolan's 14 appeals to you so much?
Meghan: I love the visual aesthetic of Colorado's Sawatch Range, where Nolan's 14 is, and how the mountains line up in an almost straight line that you can see from several directions. I've been visiting the Sawatch since I was in college, so it's a place that I've grown close to. And I like challenges that require both physical ability and intellect to succeed, and the Nolan's 14 line delivers that!
Maggie: In what ways did you improve from your previous completion of Nolan's?
Meghan: Probably most significantly, I trained more specifically for the off-trail, super-steep, and technical terrain! I did some big vert weeks and the strength derived from those for both uphill and downhill travel was pretty palpable out there. 
I've come to know the route better and the line I want to take through it better in the four years in between successful attempts. 
I made plans ahead of time to deal with the challenges I've experienced out there before, namely to cool off during the heat of the day and to fuel with a combination of liquids and solids. 
Maggie: How much of a factor is fueling for such a long, arduous route at very high altitudes?
Meghan: Once any long event is underway, fueling becomes one of the most crucial mid-event tactics.  If you're not intaking enough carbohydrate fuel, your pace will be drastically reduced and you'll feel less energetic. Or, if you take in the wrong quantities at the wrong time, your stomach won't be able to absorb what fuel you do consume and you'll become sick. Staying in the in-between zone becomes one of your main jobs, whether it's on Nolan's 14, a 100-mile race, a century bike ride, or a long open-water swim! 
I do feel that high-altitude travel offers me some extra challenge as I think I burn through energy faster up there while my stomach may not be in a position to absorb all the fuel I need. I think of high altitude as a complexifying variable in the nutrition equation, and the more you can practice being and fueling up there, the better you'll be able to manage it.
Maggie: What was your fueling plan and how did you specifically use Tailwind? 
Meghan: I had a mix of liquid and solid sport fuels, namely Tailwind liquid products and Gu Energy gels and waffles that I planned to consume during Nolan's 14, with a plan to increase my reliance on liquids as time went on. I expected my stomach to become sensitive after a long time out and knew liquids would go down better. Additionally, I saw my crew seven times during the outing, and so I supplemented with "real" food and drink when I saw them. 
How I planned this is basically how it worked out, and I became increasingly reliant on Tailwind Endurance Fuel for my calories when my stomach stopped being able to digest most solids.
I had all the flavors of Tailwind and alternated them to keep my palate interested. I also staged the caffeinated Tailwind to use in the nighttime and incrementally along the way for caffeine pulses when I thought I'd need them most. I used Rebuild Recovery throughout the attempt, especially at night when it was cold. 
Maggie: Did you mix your Tailwind on the go or just grab it at your crew spots?
Meghan: Both! I carried three soft flasks with me during pretty much the entire attempt. One had a water filter and it stayed with me the whole time. The other two my crew would switch out with 2 new flavors of Tailwind already preloaded. They would also give me baggies of Tailwind, one baggie per serving with the caffeine and Rebuild ones specifically labeled, that I would mix at water sources along the way after filtering water. The number of additional servings they sent with me depended on how long the section was until I saw them again as well as the number of water sources available along the way.
I also sometimes used Aqua Mira (water purification drops), which I think is quicker at the water source than filtering but has a detectable taste that I don't love. To keep my palate happy, I basically alternated between Aqua Mira and filtering.
Maggie: Was there any special treat you enjoyed that really boosted your mood? (ahem hot rebuild?)
Meghan: After a long first night out in the dark and cold, two friends crewed me on Mount Belford, my ninth peak, a little after sunrise on the second day. I drank a thermos of warm Rebuild with them! We were laughing and it was beautiful and the Rebuild was like delicious hot chocolate. You taught me this hot Rebuild trick during an overnight camping trip earlier this year, and it was a small piece of magic. I've shared this trick with a few other friends this year and I'm sharing this with anyone who reads this now. You won't regret warm Rebuild when the conditions are right! 
Maggie: What was your most memorable moment?
Meghan: Going over the final mountain, Mount Massive, was an incredible couple of hours. I felt good and was moving faster than I could have imagined at the end of Nolan's. That's a fairly rare experience in these long events, that you mete out your energy and stay fueled and hydrated enough that the gas tank is still full. Every time I tried to push a little more, I found I was able to! Feeling that strong was awesome. 
Maggie: What advice would you give to any women interested in Nolan's 14? Whether they are going for an official sub 60 hour finish, an FKT, or just to complete the route.
Meghan: Do it! Absolutely, positively do it! 
However, consider the homework ahead of time of learning the route to be part in parcel to "doing Nolan's." I can't tell you how much your experience will be improved, no matter the speed you're trying to go, by knowing the route. I think the line will surprise most athletes who haven't spent too much time training off trail or in rugged high alpine environments. It isn't easy in most places and it's positively ridiculous in a few spots.
Also, be safe and move ethically when you're out there. It's challenging and sensitive terrain and it deserves both our full attention so that we don't become injured and so that we don't damage the terrain while we're there. Carry emergency supplies and be familiar with Leave No Trace principles for ethical travel.
One more thing, don't be afraid to dream big. You can do far more than you believe you can!
Support Crew
Big dreams require solid fueling. Have questions for Tailwind about how to plan your next adventure? Don't hesitate to reach out to us at supportcrew@tailwindnutrition.com.