Mario Mendoza's Treadmill Tips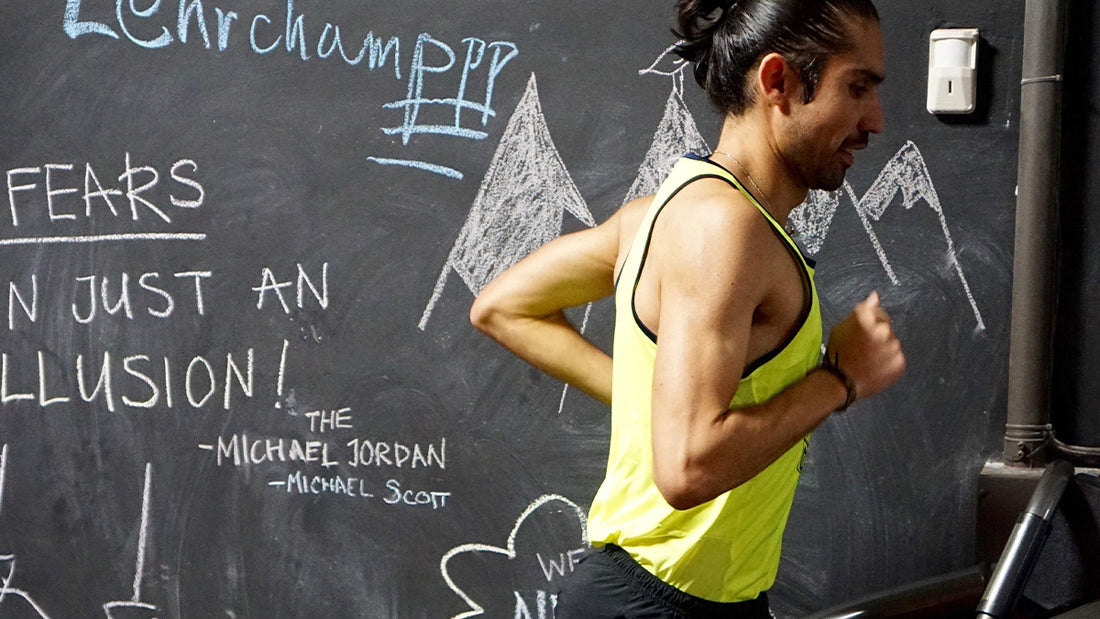 As we take our workouts indoors, now is the time to make peace with the treadmill. We asked Mario Mendoza (current world record holder of the
fastest treadmill 50k
) for his tips and favorite treadmill workouts.
Mario's Warm Up
Taking the first steps on a treadmill is always the hardest thing (this also applies to just getting out of the door). Start by running a half-mile at any pace you want, nice and easy. Mario has found that he feels much more alert and ready to push in a hard workout after a quick warm up.
Mario's Favorite Treadmill Workouts
1. Speed Workout
Mario said consistent speed work made his 50k pace feel a lot more sustainable. This workout is great for anyone who wants to maintain a competitive speed for a flat, fast road race.
Alternating mile intervals:
One mile at 30 seconds faster than goal pace

One mile at 50 seconds to 1 minute slower than previous mile

Aim to do a total of 6-14 miles, alternating back and forth

Do a slow cool down after your intervals
2. Effort Workout
This is a great workout to stay sharp for a race with varying terrain on trails.
(10 x 1 minute)
Run 1 minute at a fast pace with little or no incline

Each minute, increase the incline but lower the speed so as to keep the same effort

Example: 6 min pace at 1%, 6:08 at 2%, 6:16 at 3% (most treadmills only go to 12-15% unless you have a fancy one but people can customize their inclines and pace/effort levels)
3. Incline Workout
Put the treadmill incline to 15% (or the maximum incline of your treadmill) and travel as fast as you can for 15 minutes to see how far you can get. For an easier variation, Mario recommends doing 10% for 10 minutes.
4. Hike Training
Training your hiking muscles is particularly important for those who are training for an ultra. It's also a great way to make gains on an easy day. Mario's suggests hiking around 4 MPH at 15% (or maximum) incline for a full hour.
The Bottom Line
Take advantage of the control that a treadmill offers in regards to speed and incline. Mixing up your workouts will train different muscles and keep the treadmill from becoming too monotonous.
Do you have another favorite treadmill workout? If so, let us know in the comments below or email us at
supportcrew@tailwindnutrition.com
.