Mario Mendoza's Race Day Tips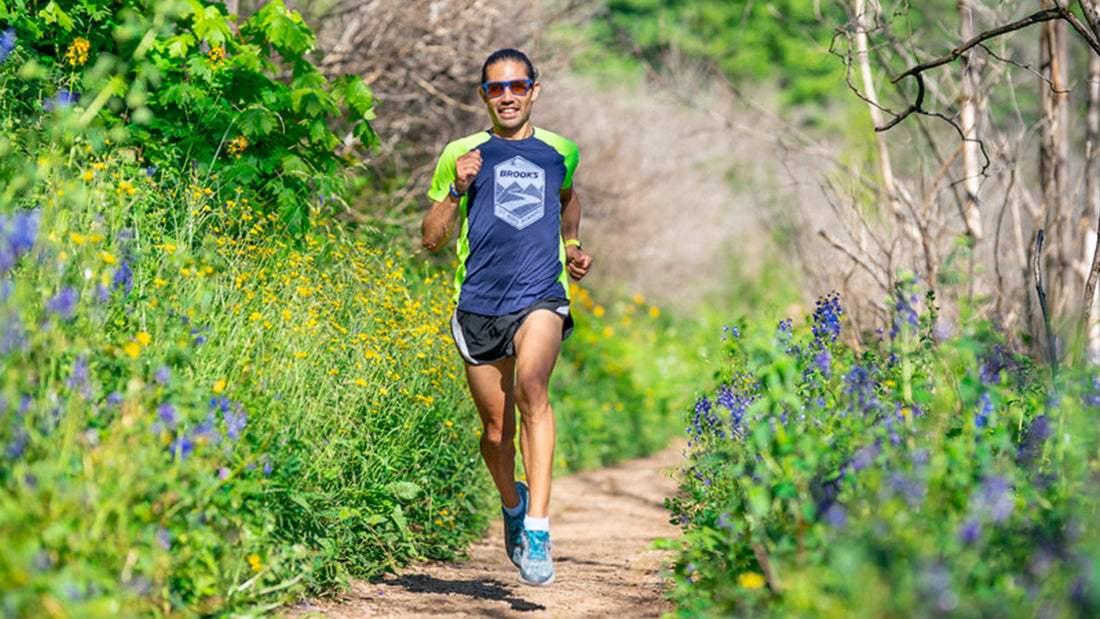 📸: @trailjunkiephotos
How Mario Gets Race Day Ready
To help you get ready for race day, we partnered with ultra runner Mario Mendoza, to get the inside scoop on his routine, what brands he likes most, and how he gets mentally ready for race day.
We wish Mario all the luck as he trains and gets ready to tackle UTMB!
Q&A With Mario
Tailwind: Hi Mario! Thanks for partnering with us and helping our followers prep for race day. For those that might not know you, can you please give a brief intro of who you are and why you love your sport?
Mario: I'm a family man who is very passionate about bringing unity and peace to where it's needed, and lifting up both my American and Mexican cultures. A husband, father, runner, pastor, I love the sport of ultra running because the journey through the mountains reminds me so much of the race of faith.
Tailwind: What are your favorite race day products and brands?
Mario: The night before a race I put a fresh pair of Brooks Caldera's next to my bed, I try on my full race kit to make sure everything is working, and take some Flora beet powder. For race day I have some Backporch coffee ready to be brewed and one or two Honey Stinger waffles to go with it. I like to have my bottles prepped with Tailwind powder so I don't have to spend time doing that during the race. If it's a long race with scarce crewing options, I stock up my pack with Honey Stinger gels and Tailwind packets.
Tailwind: How do you use these products?
Mario: For my Brooks shoes, race kit, and Drymax socks I tend to expect everything to stay on with no gear changes. I've only changed shoes once in an ultra marathon. However, when it comes to nutrition that is ongoing for many hours, I do try to stick to a plan, but stay flexible if something goes wrong. I add a little over a scoop of Tailwind (200 calories) per 16oz of water and then nibble on gels, bananas, and waffles throughout the race. When the weather is hot (over 65 degrees) I will do both Tailwind and water, but if its cool enough (under 65 degrees) i've found that I can stick to just drinking the mix throughout the race. Roughly I stick to about 400 calories per hour with half of that being from liquids since it's easier on my digestion.
Tailwind: How do you pack for efficiency during your training/racing?
Mario: Being light and efficient makes a big difference for ultra running. For races, I like having a plan of what I will be dropping off and picking up at each aid station, and then I tell my crew to have a bag next to them with all the extras needed if something goes wrong. For example, at an aid station I might drop off empty flasks and trash, and pick up new flasks, plus a waffle, two gels, and a new packet of Tailwind. As I'm approaching an aid station, I'm thinking about what I will drop off and what I will pick up. During training I consider whether there are sources of natural water where I can refill, and I take a water filter in my pack. I feel blessed to be able to just take packets of Tailwind and Honey Stinger for nutrition.
Tailwind: Can you please give us a brief overview of how you prep for race day in the days leading up to the race?
Mario: Leading up to a race I like having everything already in place by Wednesday because I don't want to be stressing out about logistics when there will already be enough energy and hype from the race itself. I like to get myself in a place of peace and mentally prepare for the difficulty of the journey that lies ahead. A balance of humility and confidence is what I look for, and I place myself in potential difficult situations so that I practice how I will respond. In places of suffering, we tend to not respond the way we would like, but I've found if I spend time preparing my response, then it is at least closer to what I want it to be.
Tailwind: What are your race day recovery tips?
Mario: I've found my body recovers so much faster when I'm taking in proper nutrition and hydration during the race. So now I don't look at race day nutrition as simply getting enough to get through, but as keeping my body as strong and healthy beyond the finish line.
Tailwind: Any other tips and tricks you want to share?
Mario: Once it's race day I really recommend staying in the moment and saving the analyzing and reflecting until after the race is done. Appreciate the journey, regardless of the circumstances, and be grateful that you get to run.
A special thank to Mario for being such a great sport and lending his knowledge to all of you as you prepare to get ready for race day. Good luck at UTMB, we are all cheering for you!