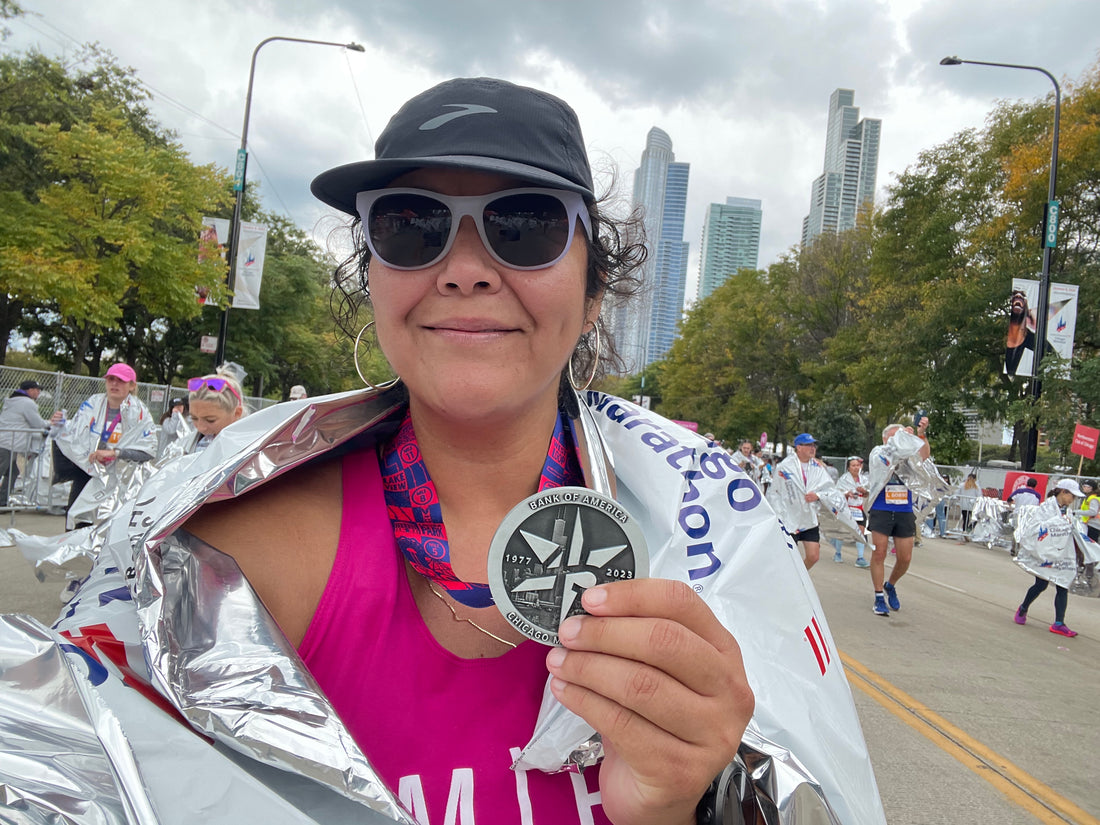 Get ready to be inspired as we introduce you to three Tailwind ambassadors: Sarah Reiter, Priscilla Rojas, and Brenda Hodge - who took the time to share their marathon achievements. Join us in celebrating their incredible accomplishments and the joy of reaching their goals!
Priscilla: 
"My Chicago Marathon experience was better than I could have ever imagined. It was my 1st major marathon, believe the hype about the Chicago Marathon, it was Electric! The energy at the Chicago Marathon is unmatched to any marathon I've run before. The crowds cheering at every mile keep you going. This year there was a world record broken and personal best for many runners, including myself. My goal this year was to run a sub-6 hour marathon. Running a sub-6 hour marathon took almost 2 years of work. I ran my 1st marathon Nov 7, 2021 and I ran the Chicago Marathon Oct 8, 2023. Not only did I reach my goal but I crushed it with a time of 5:45:11. My very 1st marathon was 6:44:16. I almost took an entire hour off. I'm very proud of myself to say the least. The moment I crossed that finish line and looked at the time on my watch I was in disbelief. It happened, it finally happened! All the hard work, all the long runs on trails and roads, paid off. So many thoughts were rushing through my head. I tried to contain my excitement and emotions but rushed to the side of the finish line and had a good cry. It's always wild to me when we accomplish big goals because in the background of that big win is a whole life that is life-ing at the same time, almost taking us out of even showing up. I'm going to enjoy this win for a while. It has inspired and motivated me to keep working to reach new goals and take on new challenges. There really isn't anything like running your 1st Major Marathon and now it's launched a new goal in my life, I'll be chasing those 5 other Major Marathons!"
Brenda: 
"I ran the Berlin Marathon one hour slower than my original goal - and I was happy with that. Why? Because of my mindset - control what you can - let go of what you can't. This became my mantra. Originally I had the goal of completing all of the major marathons under three hours. A couple of years ago I was able to complete New York, Chicago, and Boston all sub 3. I was halfway there and hopeful to add Berlin to the list this year. Unfortunately, I was diagnosed with breast cancer in May. My goal of sub 3 didn't seem to matter. I had to adjust the goal from sub 3 to just finish. Training through the summer for Berlin was difficult especially because I had to have surgery, 5 weeks of radiation, and start hormone blockers (meds). I was tired. There were definitely times when I didn't think I'd even be able to complete the marathon. I had to get to know my body in a different way. I had to baby it. Recovery became more important as did treating each run like like a hard run. I went through a lot of Tailwind this summer! I did everything I could to make each run successful and to make each run count. With what my body endured, I couldn't let fatigue from dehydration or electrolyte imbalance be something to be concerned about. I couldn't control getting cancer or my treatment side effects, but I could control my mindset and fueling properly. Tailwind was a game changer and helped me break 3 hours before; it was a game changer this time too."
Sarah: 
"I was ecstatic to run a personal best of 2:31:58 at Grandma's marathon this past June.  Running a personal best was a great confidence boost going into the Marathon Olympic Trials this coming February.  I had run a qualifying time for the Olympic Trials the December before at CIM, and had felt like the past few marathons I had a little bit too much left in the tank at the end.  The main goal for Grandma's was to go out and commit to the faster pace from the start, as I didn't have anything to lose.  It was one of those days that we strive for as runners, where everything just clicks.  From the start I found a small group that was running at the same pace, and we started clicking off miles.  I got to mile 20 feeling really strong and thought "It's time to pick it up a bit".  I made my way through downtown Duluth and then down to the waterfront where I rounded the corner to the finish line and saw that running sub 2:32 was possible, but I would have to sprint it in.  I snuck in just under 2:32 and as soon as I crossed the finish line disbelief rolled over me, as I couldn't believe I had just run that time.  That is what keeps me coming back.  The combination of consistent hard work and enjoying the process has allowed me to not take myself too seriously, while still chasing after big goals."
Photo by Priscilla Rojas