Maggie's Winter Running Getup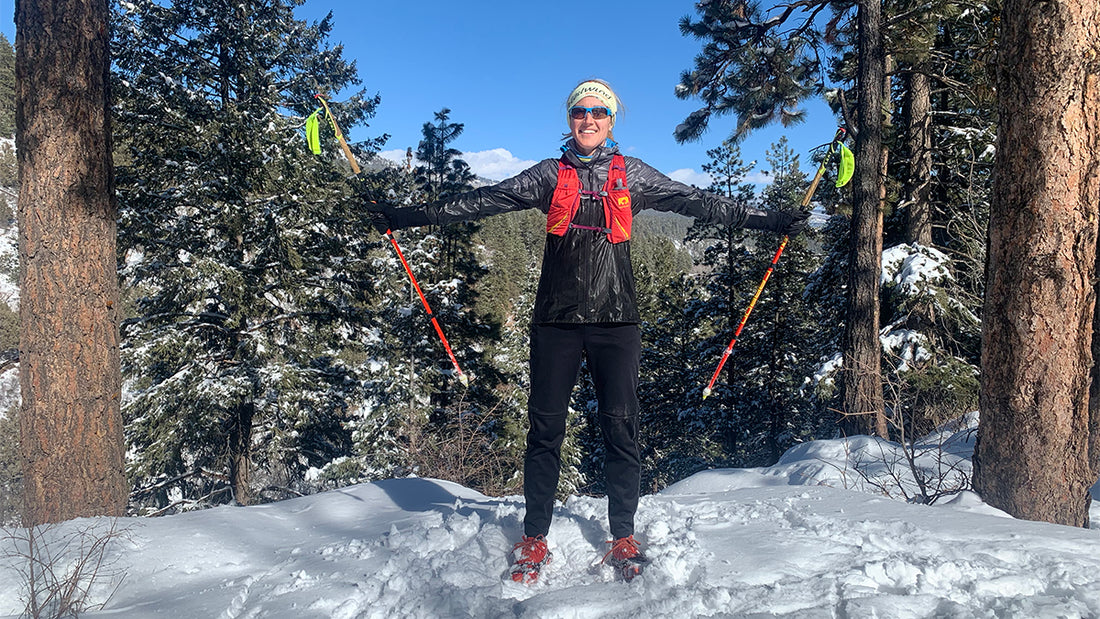 Winter training gear can be tough to figure out. When I started running I would scan articles for ideas on layering and what brands to buy.  A lot of winter gear can be expensive but it doesn't have to be. Sometimes it is worth it to buy one nice pair of winter running pants or tights and the rest can be layered. This is my fourth winter in a row training for the Barkley Marathons and by now I feel I have my gear pretty dialed. This is what I typically wear on a wintery day on my favorite hill.
Go-To Winter Gear
Drymax Cold Weather Socks: I typically run in their hiking socks but in winter I go for the cold weather socks.
Base layer: For really cold weather I go with a merino wool layer. I like looser fitting things but for this base layer, something that hugs your body helps keep that cold wind out.
Insulated wind pants: My regular running tights just don't cut it sometimes. I got a fleece-lined wind-resistant pant from Craft Sportswear. They are actually not insanely stifling. They feel light and airy while keeping me warm enough while running.
Tailwind Tech Hoodie: I throw this layer over top of the base layer. I have 4 of these shirts! I love the option to have a hood. Take it off when you go uphill and throw the hood back on when you go down. The hood is right where you left it. It also has thumb holes to keep the draft from creepy up your sleeves. We have this essential item on our website.
Neck gaiter: One for my neck and one for my head. I typically remove the neck gaiter after 30 minutes of running and wrap it around my wrist. That way if I get chilled again it's right there. It also then makes a grab snot rag!
Gloves: A convertible mitten glove. If you haven't noticed yet, in the cold, I am all about convertibility. My hands are always cold so I love the option to have a mitten for extra warmth. 
Jacket: My outer layer usually consists of a light windbreaker that is water resistant. If snow, sleet, or rain is falling I opt for a waterproof Gore Tex layer.
Shoes: I don't do barefoot running. Winter is no exception.
Accessorize!
Kahtoola MicoSpikes: I never leave home without them. Even if it's not snowy or icy for the whole run I bring them. Because never fail, it will be icy or snowy on some parts of the trail and I hate to have to tiptoe or worse have a debilitating fall just because I was trying to "save weight."
Leki Micro Trail Pro: Winter for me, is all about vert. I want to be comfortable using poles on race day therefore they are an extension of me in training. They also have saved me from biting it hard on the downhill. Sometimes I even use them like I am a pole vaulter to launch over obstacles... if you used two poles in pole vaulting.
Running pack: Vert is real! You heard it here. You know how I know? Because vert takes a long time. I take Tailwind Endurance Fuel in soft flasks. The freezing point of Endurance Fuel is lower than water and the flasks are close to my body so my body heat keeps it from freezing quickly.
Julbo Sunglasses: These work exceptionally well in the winter because they do not fog up when exposed to a sweaty face and cold air like typical sunglasses. Additionally, the lens works great in low light conditions and keeps snow out of your eyes!
Questions for Maggie?
If you found this helpful, you might like our blog on Winter Hydration Tips as well. Want to ask Maggie a question about her running getup? Send us an email at supportcrew@tailwindnutrition.com or drop a comment below.