The Journey of Trying New Things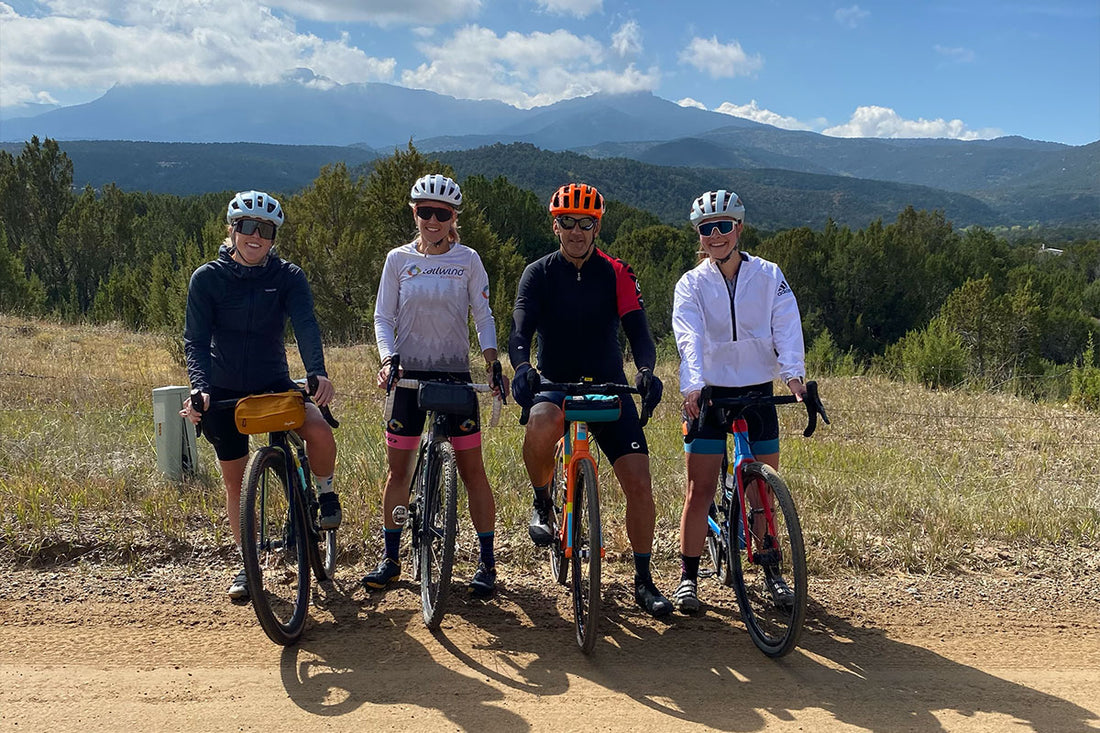 Trying New Things at Lifetime's The Rad Dirt Fest presented by Wahoo Fitness
Written by Maggie Guterl
One day in 2009, I decided to try all new things. Yoga, climbing, CrossFit, and even a major career change. But the one thing that stuck was running. That has been a consistent thing in my life since then. Most of my free time is spent training for the next ultra marathon adventure. But even something I love as much as running can grow stagnant. At the end of this summer, I needed a new challenge or experience where I had no expectations for myself.
Tailwind has sponsored The Rad Dirt Fest since its inception two years ago. It is a low-key gravel race in Trinidad, CO. Trinidad is in the southeast corner of the state and it's a hidden gem. The town's pristine gravel roads and sweeping views of the surrounding mesas make it the perfect setting for a gravel race. The town is artsier than I expected and actually has a lot of great restaurants. The race offers three distances; 165 miles, 99 miles, and a 38 miler. I chose the 38 miler or The Frijole as it was called.
I had heard good things about the event from co-workers during the first year. Plus, I had to work the expo and finish line for Tailwind anyway, so why not sign up to race? My new thing was going to be gravel riding!
As any good ultra runner does, I own a gravel bike. I lack the skills and time to really practice mountain biking. But gravel cycling is just a natural step for someone who likes to go long and just turn off their brain without so many threats of imminent death and bodily harm like in mountain biking.
Leading up to The Rad Dirt Fest on October 8th, I went on several long training rides of 13-21 miles in length. I was surprised to discover that I felt the same endorphins after a long ride as I did after a long run. I even got in one ride where I did a few intervals to see how I could push myself on a bike. To my further surprise, I got in a really good workout! The Rad Dirt Fest came three weeks after a 100 miler I completed called Run Rabbit Run, so this change of pace was welcome and kept me motivated to get outside and get my heart pumping during a time when I was not feeling super inspired to run.
I learned some new things as I prepared for this race; things such as a good chamois and bib make all the difference. Gotta protect your bum! Having comfortable shoes is also a must. For gravel biking, I opted for clipless cycling shoes. Might as well maximize efficiency. I found that I am not confident pedaling with no hands, so liquid nutrition I can take one-handed from a bottle was important. The obvious choice was Endurance Fuel. Most importantly, I learned that I could really love another sport discipline. This is something I want to continue to pursue and keep in rotation even when I am all-in training for my next ultra adventure. I really didn't know I was going to like it this much. This just goes to show you, "Don't be afraid to try new things."
The race went well, and I had a great time meeting new and experienced cyclists along the way. The weather ended up being perfect, and I am very pleased with myself for showing some restraint in the race distance I chose of 38 miles. It was a perfect distance that kept me thinking I could go a bit further and simultaneously happy I did not have to. I might not have enjoyed it as much if I had forced myself to suffer through 99 miles in the saddle. As soon as I was done, I got to set up and hand out Recovery Mix with my coworkers (who also raced The Rad) to all the finishers and share stories throughout the day. 
If you haven't tried gravel before, I highly recommend it, and I strongly suggest you look into The Rad Dirt Fest. We had a blast, and I will surely be back again. Maybe I will try the 99 miler or maybe not.