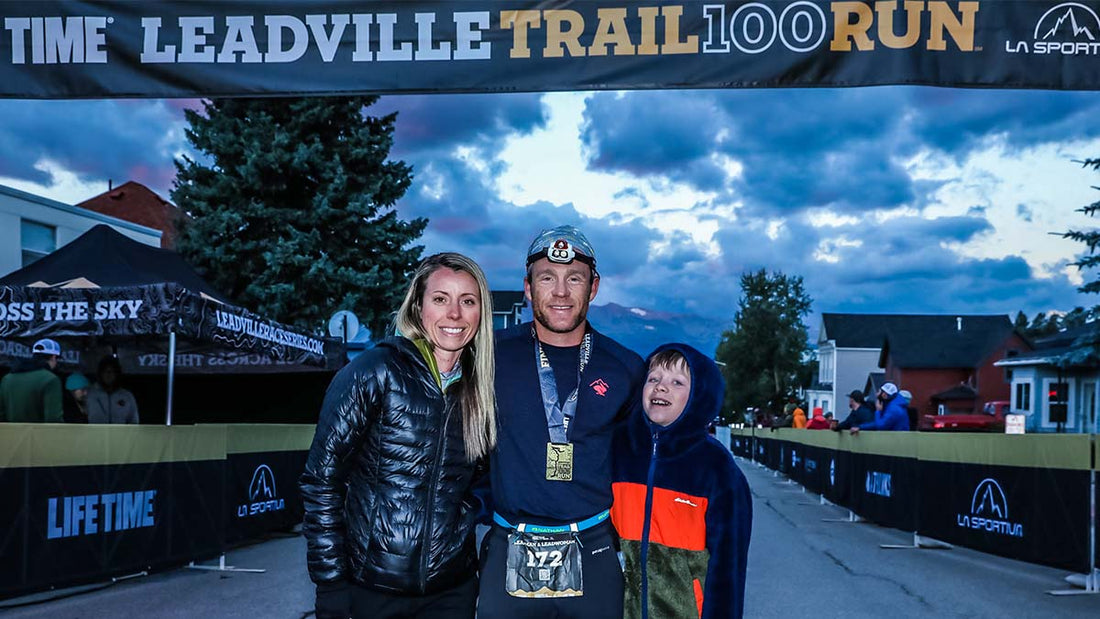 We are stoked to share the passionate and inspiring story and recap of a Tailwind athlete, Jay Hagan, who is officially a Leadman! Jay has graciously shared his experiences from each race he completed to achieve the Leadman title. If you are unfamiliar with this term, you'll be plenty versed in the concept by the end of Jay's recap.
Jay's story of triumph inspires our team and we hope to share that inspiration with the whole Tailwind community. This is not one of our speedy science posts, so make sure to grab a cup of coffee or Rebuild Recovery, or better yet... Coffee Rebuild Recovery and get reading.
What is Leadman?
A high-altitude endurance test of guts, grit, and determination. Cradled in a tough historic mining town nestled in the Colorado Rockies. Leadville. The small mining town sits proudly at 10,200 feet above sea level and is home to the famous Leadville Race Series. A race series that hosts two of the most iconic endurance events has taken elite professional athletes to their knees and countless amateur athletes to the sword. 
The Leadville Trail 100-mile MTB and Leadville Trail 100-mile run. The Leadman or Leadwoman competition takes on two 100-mile races, situated just one week apart, and adds 3+1 additional races (listed below) to round out the competition. To earn the title "Leadman" or "Leadwoman," each athlete must complete every race within the time standard in just 64 calendar days.
Leadville Trail Marathon
Silver Rush 50 Run
Silver Rush MTB
Leadville Trail 100 MTB
Leadville Trail 10k
Leadville Trail 100 Run
Note: During the Silver Rush 50 weekend, Leadman and Leadwoman choose between the two events or can do the SR50 double that weekend. However, only one of the two events will be scored for the competition. I do not have much self-preservation and typically select the most challenging path intentionally, but at times unknowingly. 
Mile Zero
In 2017-2018 I was racing competitively on my bike. Tens of thousands of miles racked up, regular visits to the podium, endless intervals, countless hours on secluded country roads, I was quickly climbing through ranks. Then, taking on additional duties as the President and head coach of a junior development team and UCI women's domestic elite group, I reached a breaking point with it after some internal relationships around bike racing turned sour. My love for pedaling my bike with purpose was softening. 
In the summer of 2018, I attended a retirement party for a close friend of mine. Mingling with guests, some I knew, and some didn't, I stumbled into a conversation about an upcoming trail race—the Pinhoti 100. An ultramarathon is a point-to-point race on the historic Pinhoti trail in Alabama. I was captivated by the conversation, intrigued by the sound of adventure, challenge, the forest, and the course.
A completely different universe than pavement, skinsuits, and carbon bikes. That night the 100-mile race was the last thought I had on my mind; it was also the first thought I had when I woke up the following day. I quickly performed a Google search of the race event and found myself on the web page of Ultrasignup. Reading through the race description I added my name to the bottom of the waitlist, number 25.
I quickly took a picture of the confirmation page and sent it to my buddy, who was registered for the race. His reply, "you're a fool! You had better start running!" his text read. I replied that there were 24 people in front of me on the waitlist. His response was, "I'll fix that; I know the race director." A few hours later, I received notification that I had been moved from the waitlist and entered the race—zero experience. I had never raced any running distance beyond the high school track. The race was just 65 days from now, and I had run ZERO miles so far for the year. "Guess I'd better start running!" 
By the time this year's Leadman competition had arrived, I had completed the Pinhoti 100, Grand Canyon Rim-2-Rim-2-Rim, Silver Rush 50 Run, Leadville Trail 100 Run, Tahoe 200, and the Zion 100k. Mile zero was a crucial element in my quest for Leadman; without it, it would be a quest never even imagined.
Leadville Trail Marathon: June 19th
Distance: 26.2 miles – Elev. Gain: 6,200 feet – Max Altitude: 13,200 feet
Time: 4h 53m 16s – Place: 49 of 473 – Age Group: 14 of 122 – Leadman: 15 of 109
Calories: 3,000 Tailwind Endurance Fuel: Colorado Cola
Race days are special, for it is a day to celebrate all the training investments that have gone into being ready for the race. For me, I was ready to gently rage. 
Arriving at the starting corral, I recognized a few familiar faces. The 109 Leadmen & Women were called to the starting line for a group photo; this would be the last time all 109 athletes would toe the line together. We all know deep down that there are no guarantees for anyone. One miss-step, one bad stomach, one bad day, and the hopes of Leadman or Leadwoman would be vanquished.
The bunch hooted-and-hollered as the photos were taken, anxious energy bubbling over. The National anthem was beautifully performed, and the first corral was off. Due to COVID protocol, wave starts were enforced. For this race, all the Leadmen and Leadwomen started in the same corral. Some elected to start in other corrals. Our corral was called forward at a slow walk, the last few quiet steps. I was at the front, ready to fly. The race started on 6th street, just east of Harrison. We headed straight uphill out of town before the pavement gave way to the gravel. Passing the start-finish line, I immediately lurched into a strong pace as the crowds cheered. I caught a glimpse of my family as I zoomed past, focused; it was time to hunt.
Today was going to hurt, and I was eager. Passing large groups of runners electing for a more conservative effort, I ran my race. Within minutes I was into the wave that started before my wave. I knew I needed to press. I was racing, intending to finish high in the overall competition standings, and this was me firing my first shots. Officially, I was unproven at this distance. Unproven in the competition itself. Technically speaking, this was my first official marathon. Sure, I had completed several ultras by this point, including the Tahoe 200, but this was my first "non-ultra" race distance.
The first 2.2 miles pressed us straight up to 11,000 feet above sea level, gaining nearly 1,000 ft before the first short descent. Tipping into the descent, I knew I had to press downhill hard! Something I normally don't like doing, but today it was a necessary evil. 
The road kicked up hard this time, now pressing to 12,000 feet above sea level. Welcome to racing in Leadville! My breathing was heavy; my effort was deliberate as I attacked uphill, pushing threshold, heart rate for the altitude. "Trust your fitness!" Cresting the top was the first aid station of the day. I was only carrying a single handheld filled with Tailwind and a Maurten gel in my shorts pocket. Endurance Fuel was my predominant fuel source unless I got into trouble. I pressed through that aid station quickly as the volunteers were like a NASCAR pit-crew, ready with the essentials. 
The course tipped and turned for the next 5 miles, winding itself through the historic mining district east of Leadville. Filled with retired mines, wooden trusses, and rusted iron machinery, it's hard not to think of the minors who once inhabited this office. So beautiful, I thought. "Trust your fitness!" I pressed on. 
I zoomed through another aid station; my mind was acutely aware of what huge challenge I was now in the shadow. A 5-kilometer, 2,000-foot technical climb to 13,200 feet above sea level. Feeling strong and well within myself, I pressed, picking off one runner at a time. I ran large sections of this steep ascent, hiking long enough to give my legs a change of pace. Then I'd press again. Approaching the top, the race leaders were flying down at an incredible pace. The upper sections of this climb are VERY chunky. Rocks ranging from golf ball-sized to watermelons or pumpkins. This jeep road was rugged. Trying to pick a very loosely defined line between the rocks, my running motion was reduced to a power hike. 
Reaching the summit high above the treeline, I smiled. At that altitude, the vista was something to behold, top of the world. I was underdressed by the cold and windy conditions at the top. Get what you need and get going, I told myself. I topped off my handheld and turned for the descent.
Just as I was about to step off the summit and back on to the steep descent, I converged with another Leadman, the legend himself, Dave Mackey. We both smiled, he said, "after you!" "No, Dave," I quipped, please, you first! He dropped in, I followed closely behind. We picked our way down the descent carefully. You break your concentration here and take one miss-step; you might find yourself seriously hurt. I was cautious, "don't screw up your race now," I thought. Dave was pressing hard, a savvy veteran of the Leadman competition. It wasn't long, and Dave had a gap on me. I couldn't focus on him in this terrain; I had to focus on foot placement. 
Once out of the technical terrain, it was back through the aid station; I had lost sight of Dave. Now back on gravel roads, I pressed through mile 18. "Trust your fitness!" I uncomfortably surged downhill. A few runners whizzed by, "stay with them," I thought. Uphill for the final climb, I pressed forward with the group. The rolling start left me uncertain in my standing, but I was confident that I was running well.
Gently rage, I thought! I pressed into the hill hard, knowing at the top was just a little more than 2 miles of fast downhill to the finish. Cresting the top, I had a gap on the group as the road turned, allowing me to sneak a peek back down the slope. "Trust your fitness!" I had forgotten that the first part of this descent was very technical. Soon the runners I passed on my climb picked their way past me. 
Finally, onto the pavement, I could see the city of Leadville. A few turns and the finish line were faintly in sight. With heavy legs and a STOUT heart, I could see my son eagerly waiting for me at the start of the barricaded finishing straight. In tradition, we rage together down the red carpet and enjoy the moment together—Vanquishers! Surprisingly, my effort was enough to earn me a golden token for the 2022 Leadville Trail 100 Run. 
Silver Rush 50 Run: July 10th
Distance: 50 miles – Elev. Gain: 7,400 feet – Max Altitude: 12,100 feet
Time: 9h 55m 40s – Place: 91 of 473 – Age Group: 20 of 99 – Leadman: Unknown
Calories: 6,000 Tailwind Endurance Fuel: Raspberry Buzz
A month later, we returned to Leadville for the Silver Rush 50 weekend. The Silver Rush 50 weekend features a footrace on Saturday and an MTB race on Sunday. The two events share the same course. Only one of the two events will be used to score for the Leadman competition. However, I elected to do the double! Athletes who finish both races within the time standard are crowned Silver Kings or Silver Queens. A feat I have never attempted before. A feat that proved to be very challenging yet so rewarding to experience. 
For this Silver Rush weekend, we elected to camp on sight in the campgrounds. It was just a short walk from the campsite down Dutch Henry Hill to the start. Race morning, I arrived at the starting line 15 minutes before the start. Standing a few feet from a familiar face, I looked up, and there was Courtney Dauwalter with her husband Kevin and a few others. A steady stream of athletes approached her, asking for a quick selfie. A gracious champion, she took the time with each of them. I didn't bother, but I pointed her out to my son, who is an aspiring runner himself. I noticed Jim Walmsley was also in attendance, crewing his partner Jessica for the weekend. Both athletes are now on my sons' radar to talk to at some point during the day. 
Just moments before the National Anthem, I found my way to the start line, somehow managing to start on the front row. This was not my first Silver Rush 50 race. I took on this monster in 2019, vanquishing just my second ultra in as many tries. I knew the challenges that waited for me. There are no flat spots on this course as it pitches up over 12,000 feet 4 times. I had a race plan, and once again, I was ready to gently rage. 
Ken fired off that double-barrel shotgun, and we were off, scrambling up Dutch Henry Hill. A steep sledding and tubing hill in the winter. With no defined routes, it's truly a scramble, a free-for-all, and for some, a chance at a Golden token. A treasure bestowed upon the first male and female to reach the top. The only requirement then for them is to finish the race within the time standard. I was not interested in the Golden token, rather trying to hold my position within the bunch as we crested. Roughly a 1-minute effort that left a sting over the top. I settled into my pace. 
Unlike the marathon, I did not think much about being passed or passing runners. It was going to be a 9-hour day in the mountains. I kept my effort intentionally conservative early on. Chatting with a few ultra-friends on the trail and making a few new ones was a very gentle rage. Soon the first climb and descent of the day were made, and the first aid station was coming into view; time to see my crew, I thought! 
Printer Boy aid station sits on a paved section of the course perched atop a punchy climb. A ruckus environment and a welcomed sight for all runners. My crew had two new handhelds ready to go with a small bit to eat, and I was off again, signing off with a few high-fives and a "see you at the turn!" Back onto the single track in the Woodline, a long flowy descent, a mountain biker's dream.
Soon I found myself atop the mountain, 12,000 feet, well above the treeline. The gravel roads up here are smooth and fast. "Let's go, I thought!" The long descent plunges through the old, rough, and tough abandoned mining district. This part of the course circles the aid station at the turnaround point from high above. At times in view and well within earshot depending on the wind, easily luring you into thinking you're closer to it than you are. 
With a few miles to go to the aid station, mile 23 or so, I was starting to feel the effort. My energy was low, and I started to notice the temperature of the day. "You're fine, almost there!" I reminded myself and pressed on. Arriving at the aid station feeling a little squeezed, I greeted my wife, my crew chief, with a smile and positive energy. I didn't want to show weakness. "You look terrific!" she offered. I took a few minutes with my crew, downing water and taking on a few more calories. With my handhelds topped off I yelled, "See you at the next one!" 
The climb back to 12,000 ft. from the turnaround point is long and steady. I still had not climbed out of my low; I hiked some of the steeper pitches. "Come on, Jay, let's go!" I said aloud to myself. Eyes up, I picked a spot way up the road, "run to that," I thought. I started doing intervals up the steep gradient, looking to find my legs again and climb out of this low moment. It worked. Over the top of the climb, I was starting to find my way again. My gentle rage was back, 20 miles to go! Rolling past the crew before the finish. I took a few minutes, ensuring I was charged up again. "See you at the finish!" I boomed as I began my final 12-mile push towards home. 
The next 10 miles were shared with a few other runners. We would yoyo on the climbs, sometimes shoulder to shoulder, sometimes nose to tail. The mood was light as we pressed on. The conversations were genuine and friendly, the miles ticked by. With all the major climbs behind us, the small rolling hills felt bigger than they were. Soon the conversations faded as energy reserves were low for everyone. The small rolling hills separated the once jovial bunch. I found myself running alone. I could hear the familiar sounds of motorcycles in the distance, almost home, I thought. A motocross track is not far from the finishing area, a landmark I use to confirm the remaining distance on my COROS Vertix. Finish strong, Jay; you're on A-goal pace! 
Soon the final twist and turns of the course were upon me. I could hear the finish line announcer's voice and the cheering crowd. "Focus, no bad steps now!" I reminded myself. The course has a very steep drop into the finishing corral. Making the final turn, I was greeted once again by my son. It's time to enjoy the spoils of another red carpet together—Vanquishers! 
During the race, my son found Jim and Courtney at one of the aid stations. "Excuse me but are you Jim Walmsley?" my son asks. "Why yes, Sir, I am!" Jim replies. "Excuse me but are you, Courtney Dauwalter?" my son asks. "Yeah, buddy, what's your name?" Courtney replies. In two separate moments, both Champions graciously chatted with my son. He was proud to inform them that he too runs, and ran over 600 miles last year. When Kevin, Courtney's husband, heard that, he quickly turned and said, "Geeze buddy, I don't think I did that until I was in my 30s; how old are you" he asked? "I am 11," my son replied. Two weeks after meeting Jim and Courtney, my son ran his first half marathon, fueled by the vision of his father running 50 miles and the privilege of meeting two of the best Ultra Trail Runners on the planet. A moment in time he will never forget. After the race, I immediately downed some Tailwind Recovery and got my legs into the Normatec compression boots. At sunrise, we do it all over again on the MTB; some humor just may be required. 
Silver Rush 50 MTB: July 11th
Distance: 50 miles – Elev. Gain: 7,400 feet – Max Altitude: 12,100 feet
Time: 5h 46m 13s – Place: 203 of 512 – Age Group: 70 of 152 – Leadman: 39 of 104
Calories: 2300 Tailwind Endurance Fuel: Naked
The next morning, I woke up a little earlier than I would normally have for the race. I knew I would need a long warm-up to get my body going again. After a cup of coffee, I swung a leg over my MTB and pedaled away from camp. I spent the next 20-30 minutes progressively pressing on the pedals. With each minute that passed, my legs began to come to life. 
Freewheeling back into camp, my crew was up sipping on coffee. "How do you feel?" they asked. I felt surprisingly well, considering the pounding the legs took yesterday. But I knew deep down that the real indicator would come an hour or two into the race. The MTB race has the same start-up Dutch Henry Hill as the running race did. A true "Hike-a-Bike" start. Once again, I found myself in the front row, this time under the starting inflatable. Next to me was a young man with a huge engine. He would find himself atop the podium by the day's end. Ken pointed that double-barrel shotgun skyward, and we were off, grunting our bikes up Dutch Henry. I smiled and laughed as the effort reminded me of yesterday, except now with shoes made for pedaling. 
Over the top, heart rate surging hard, I quickly mounted my hardtail and pressed. I was focused on holding the position early on. Having done a 9-hour race the day before, I knew there was some opportunity for traffic jams as the road narrowed. Soon the race was starting to string out, and I found myself dangling off the back of the lead pack. My caution lights flickering, I knew this wasn't a good sign. I glanced down at my computer. My power number didn't agree; the numbers still looked good. I just felt empty. I pressed upward. Nearing the top of the first big climb, the trail sharply pitched into technical terrain. Riders in front of me were off and pushing; I rode past a few before dismounting at the rider's disappointment behind me. The first descent is a fast with some baseball-sized, sharply formed rocks. Reaching speeds of 40+ MPH, I smiled. I welcomed the task considering my effort from the day before. 
The side of the road is littered with riders with mechanicals, mostly cut tires and flats. My crew was spread out; I tossed my bottles at their feet as I pedaled by. They held up fresh ones, perfect handoffs! I continued, diving back into the tree line. The fast flowy section of the trail is pure joy. Fast, good grip, smooth, and once again, I didn't have to pedal. That didn't last long as the road pitched upwards. A section of dreaded trail. Nearly two miles in length, very steep, loose, and super chunky. The hike-a-bike technique was quickly the preferred way to climb. With a few sections that ease off just enough, remounting the bike required skill, balance, and an "I can do this!" attitude. Otherwise, continue to push your bike. Even with dead legs, I preferred to pedal. I got my fill of "left foot right foot" yesterday. 
The summit was a welcomed sight as the next descent was long and very fast. Soon I was rolling into the aid station. "Halfway home, I thought," as I approached my crew. Making a planned, deliberate stop, I reloaded on Endurance Fuel and took down some additional calories. My next task was the long climb back up to 12,000 feet. Clicking through the gears as the road pitched up, my legs were already empty. I continued to eat and drink, "no one else is going to do this for you!" I thought. I pressed on. Finally reaching the summit, my mind switched from my bad legs to the ugly descent. I just hiked my bike up an hour before. This descent is ugly, no other way to say it. VERY steep, loose, and chunky. It's not for the faint of heart. It doesn't help that I am on a hardtail either. I pressed into the descent thinking "go fast and don't die." By the grace of God, I exited that section without issue. Whew! Back to having some fun, I offered myself.
Soon I found myself climbing back into Printer Boy Aid Station, once again joined by Mr. Dave Mackey. "Hey, Dave," I offered. As he came around me, I followed his wheel into the aid station. This was a planned ride-through with my crew. However, I stopped. I needed a minute or two as my gas tank was nearly empty, and my power meter agreed with how I felt. The crew quickly swapped out my empties, shoved a few rice cakes in my mouth, and I remounted for the final time. "See you at the finish!" I mumbled with a mouth full of food. Well into the final climb, my legs had no life. "Can you have a leg mechanical?" I joked with myself. I crawled up to a few other riders, both on full suspension MTBs. We chat briefly before reaching the final summit. "You're on a hardtail, respect!" one of them offered to raise my spirits ever so slightly. 
The initial part of this final descent is sketchy. Wet, slippery, with loose rocks. Mindfully I picked my way through. Once on favorable terrain, I suddenly felt energetic. Unsure if it was the speed of the descent or the magnetic pull of the finish line, I felt like I had legs again. "Gently rage, take advantage of this," I thought. Pass rider after rider, my momentum kept building, and soon, I found myself within earshot of the finishing line. Dropping into the finishing straight, I was so happy to see that red carpet. Vanquisher, you are Silver King, I thought to myself meekly. Soon, I found myself all cleaned up, pondering the next task.
Leadville Trail 100 MTB: August 14th
Distance: 104 miles – Elev. Gain: 12,000 feet – Max Altitude: 12,500 feet
Time: 9h 40m 12s – Place: 331 of 1417 – Age Group: 108 of 431 – Leadman: 14 of 71
Calories: 5,300 Tailwind Endurance Fuel: Naked
Arriving at White Star campground at Twin Lakes was a welcomed sight. The business end of the Leadman competition. Two iconic 100-mile races and a 10k thrown in between in just eight days. On previous trips to Leadville, I spent time training on key parts of the course. I felt ready to take on this historic race. Staying at Twin Lakes meant we had a 25-minute drive into  Leadville on race morning. The starting corrals opened a little after 5 am, which meant we had a 3 am alarm.
We arrived at the corrals a few minutes before they opened. I was the first into the corral with my bike, which gave me a front-row start once again. If there is a "pro-tip" for the 100 MTB starting corral, it's that you do NOT leave your bike unattended. It will get moved off to the side. Amber and I took turns babysitting the MTB, ensuring our spot. After a few minutes, we found ourselves flanked by other athletes. Instantly friendly conversations ensued. As the clock ticked closer to the start, the conversations became more race focused. It's a long race, and having some friends to work with goes a long way, and boy did it ever. 
This year the race implemented a rolling start by corral color with a few minutes separation between each corral. This was a great decision as serious traffic jams happened on the first climb up St. Kevin's. As our corral was called forward to the starting inline, the energy and excitement were very high. I maintained my position on the front line. The energy was very high; my mind was focused on getting a clean, fast start. I forgot about how cold it was. "10 seconds!" The announcer boomed loudly above the music of ACDCs Thunderstruck. I could hear the beeping sound of everyone's bike computers as they initiated the launch. 5-4-3-2-1, bang! We were off. 
A clean start for me as I lead the corral down 6th away from Leadville. The first several miles are very fast, mostly on pavement. I eased slightly, allowing a few riders to pass. I knew getting on a few wheels was the best place to be from my road racing days, shielding me from the wind. The tempo was high, my cadence fast. Surfing a few wheels, I settled into the 5th position or so. As we approached the first right-hand turn onto gravel, positioning would be key into that turn. I could feel the swarm behind me. I manage to press just hard enough, leading the peloton onto the first gravel section of the race. The gradient gradual now, I slipped back a few wheels, seeking some relief from the wind. We continued to press hard, rushing towards the first big climb of the day, St. Kevins. Working hard at the front I take a glance back, and we have a sizable gap on the rest of the peloton. "Are we stupid right now" I thought. We pressed on together; we were catching the back end of the corral who started minutes in front of us. Approaching the foot of the climb, we were well into the next corral of riders. Zooming past dozens, our pace was quick.
St Kevin's revealed itself to us, lined heavily with riders, clicking through the gear searching for something manageable. I found the wheel of the guy who started the race next to me. As the road pitched steeply, I referenced my computer; My power number said I was pushing the threshold. I felt great. I pressed. Reaching the summit of St Kevin's with a small group, some from the original pack. The summit gave way to a steep descent winding through the woods. Spitting us out onto a jeep road, we whizzed into the St Kevin's aid station. My race plan did not include taking anything from them at this point, roughly 45-50 minutes into the race. On to the pavement we go. We must have passed over a hundred riders; I thought to myself as I got into the "super-tuck" position behind my handlebars. A 45+ mile per hour descent we zoomed.
Soon the paved road began to climb again, and we found ourselves back on a gravel road leading to Hagerman Pass. Another sharp left-hand turn on a jeep road, and I pressed into the rocky climb. On this climb, the views of the valley below started to reveal themselves. Spectacular! Soon the business part of the climb was down, and the power lines were in view. The famous powerline descent was the next task. 
A very steep jeep road that offers plenty of hazards and dangers, at times only one line to select from through the chunky, loose, rocky sections. Line selection through the upper sections of the powerline descent is critical. Fortunately, I had a few good wheels to follow. Just over three miles long, we ripped, plunging downward, losing 2,000 feet of altitude. Nearing the bottom, my hands, forearms, and shoulders were on fire from the intensity of the descent. Powerline spits me back out on a paved section of road; there, we were greeted with hundreds of people, cheering, waving, offering hand-ups to any willing takers. I pressed forward, feeling strong. Looking for a few wheels to work with, this next part is generally flat. Working alone here is foolish. 
Four of us formed a small paceline; working together well, we buzzed along, wheels humming on the paved road. The Pipeline is now coming into view, time for the first crew interaction of the race. A long gravel road lined with pop-up tents, cars of every type, crews cheering, ringing cowbells, trying to pick out my wife and son in the mix may be hard. Fortunately, we had a plan for standing out in the crowd, and my eye easily found them. First, my wife, holding up a fresh bottle of Tailwind with a couple of Maurten gels attached. Next, my son is proudly holding his bottle up. Two perfectly executed exchanges. I pressed on, still feeling strong. 
This next section of the course features undulating fire roads, jeep roads, single track, and eventually some pavement. Working with a small group, we pressed forward, eating, drinking, enjoying the spectacular views on full display towering above us. Soon the cabins of Twin Lakes were coming into view and the Twin Lakes aid station. A bustling aid station just like Pipeline, but this one was situated atop the Twin Lakes land bridge at the foot of our next challenge, Columbine Mine climb. Pressing through the crowds, the noise and excitement soon gave way to the sound of wheels turning on the gravel beneath and rhythmic breathing pressing skyward. Columbine. A 10 mile, lung-searing, 3,000 foot, out-of-category climb that presses into the clouds to 12,500. Gradients pressing well into the double digits, finding a comfortable tempo was key. 
Hearing the recognizable sound of a moto, my eyes flicked up. Beep – Beep – Beep, he zoomed in the opposite direction. High above, I could hear the helicopter following the pointy end of the race. Soon the three leaders appeared, the second of which was a personal favorite of mine, in Hi-Viz pink, EF-Pro cycling legend Lachlan Morton. His ultra-endurance bike adventures are incredible. On the day, his effort was good enough for second place overall. 
I found my groove and climbed skyward. My power meter is helping me manage the effort; soon, I was out of the tree line. Just a few more miles to the top, I thought to myself. The upper section of the climb has a few punchy technical parts that are very narrow, at times only providing one preferred line for two-way traffic. Sketchy for sure as you have racers pressing hard in both directions. Reaching the top of Columbine, I quickly topped off my bottles. Pausing for a moment to take in the incredible view. "Top of the world," I thought to myself. Tipping into the descent, I leaned in. Carefully picking my way down, my hardtail was working hard at staying underneath me, bucking like an unhappy bull. Exiting the rough upper section without a crash or serious mistake, I pressed hard on the pedals, accelerating the bike downward. Whizzing by the endless line of riders still fighting upwards. Noticing a few faces, I could see the effort that I felt just miles before. 
Returning from the stratus-sphere, I made my way back into the Twin Lakes aid station, still feeling reasonably strong, but I knew the business end of the race was still in front of me. Finding my crew, I made a full stop. Taking a moment to take down some extra calories and take a sip of something cold. With my Tailwind reloaded, I put Twin Lakes in the rear-view.
The roads were not closed; even though we were racing, rules of the road still applied, and we had to be mindful of our surroundings. I could see some commotion at the bend with the familiar flashing lights of emergency vehicles up the road. "Oh boy," I thought with worry. With the medical vehicles blocking most of the road, we squeezed by. My eyes found the bloody scene of someone's destroyed MTB and a big red mess about the ground. "Geeze, Lord be with that person!" I prayed. A stark reminder that we need to pay attention to the road. We pressed on through the undulating mix of gravel and paved roads, eventually returning us to the Pipeline aid station. The last time that I will see my crew. 
Feeling strong considering the distance, I kept to the base plan, non-stop, roll through, on-the-go service! Again, two perfectly executed handoffs. Onward to the belly of the beast—Powerline Climb. Landing at the foot of this climb 80 miles into the race, I was no stranger to its difficulty. This section of the course is shared with the 100-mile Run course, plus I had made a few training efforts on this section; however, not with 80 miles in my legs. This 4-mile climb features two ultra-steep sections that challenge even the most powerful professional cyclist to stay on their bikes, most famously, Lance Armstrong. Being a mere mortal, I remained mounted for as long as I could before a slight slip of the front wheel, and I quickly stepped off. "Hike-a-bike," I thought. Everyone I could see was off and pushing at a pace that was as fast as riding it. The climb eases slightly in a few sections offering either a chance to rest or remount. I remounted, in my biggest gear, on a steep, loose over hardpack, is always a formidable challenge. Pointing the bike at a diagonal to ease the gradient, I found my pedals quickly and pressed. "Whew!" I thought I was back on. Up, Up, Up cresting 11,000 feet. It was time to descend again. 
A bone-shaking descent, I was back on the bucking bull. My shoulders were screaming, "come on, Jay!" I thought, "you've got this, focus, almost to the bottom!" Finding the bottom, I quickly shook my arms out; relief! Back onto the pavement, I pressed into the final stretch of the race. Climbing back up St Kevin's. Fourteen miles to go, my energy was decent, but I was starting to feel hot. Up the road, I could make out the familiar logo of Garmin imprinted into a tent. Team Garmin was providing on-the-go refills. A guy greeted me while I pedaled uphill; jogging next to me; he took my bottle, ran ahead to the aid station, and had it ready to go for me. A handoff and a big push I was off. "Thank you, fellas!" I yelled. 
Finding the upper section of the climb, I was back on the gravel. I felt the pull of the finish line. One more mile of climbing left. Finally reaching the summit of St Kevin's, maybe with a slight smile. The descent is steep, loose over hardpack, and heavily wooded on each side. Some corners were sharper than others; line selection mattered for optimal grip. Hard to remember every twist and turn, I proceed quickly but deliberately cautious. A few riders passed traveling much faster than I. Impressive the level of skill and confidence some have. The jeep road steepens, straight ahead for a football field, then abruptly turns, without warning. My cautious behavior had me set up well for the turn. Then my eyes caution some motion on the exit of the turn in the woods. 
Three riders got off their bikes, one of which lying face up, motionless. Still, in the quick descent, I continued. Soon an emergency vehicle approached at a frantic pace, hoping to save a life. A family lost a husband, father, and son that day. A heartbreaking tragedy of unimaginable pain. My prayers are with that family. 
At the bottom of the descent, a few of us came together. "Did you see that? Wow? I hope he is okay. Looked bad." We pressed on. Working together in the closing miles. Leadville coming into view again, my heart was full, and my legs were tired. Turning onto 6th street, I could finally see the finish. Grateful for the moment, I smiled as I rolled up the red carpet – Vanquisher! 
Leadville Trail 10k: August 15th
Distance: 6.2 miles Elev. Gain: 500 feet Max Altitude: 10,200 feet
Time: 47m 55s Place: 34 of 301 Age Group: 11 of 64 Leadman: 11 of 68
Calories: 510 Tailwind Endurance Fuel: Naked (prerace)
Waking up to an earlier than desired alarm, it was apparent that I had taken myself to the sword the day prior. As I eased out of my sleeping bag and towards a hot cup of coffee, I was greeted with a spectacular sunrise over Twin Lakes. "Thank you!" I said, looking skyward. With camp packed up, we had early showtime before the 10k. The 100 MTB awards ceremony was the day's first task, followed quickly by the 10k check-in. 
After the awards ceremony, we found our way into the heart of Leadville for some more coffee, and my family indulged in a delicious breakfast from "City on a Hill" café. A top-rated stop for morning eats. I kept my breakfast lite, limited to sports nutrition as I wanted to feel light and energetic for the 10k. I meandered down to check-in, dawning my team gear. A few other teammates wearing the same, we connected, sharing a similar bond. A love for running. After some chit-chat and pictures for Instagram, bib number in hand, I began to think about warming up. My body is tired from the previous day's 9+ hour effort. I knew a solid warm-up was needed and required as the 10k attempt would require a hot engine from the gun.
I elected for some leg openers then some straightforward strides with my son. He, too, was going to race, taking on the kid's dash. We were ready. Deep down, I was unsure how my legs would respond to this effort, but I was eager to find out. Once in the start corral, I was greeted by some very familiar Leadman and Leadwoman faces. We congratulated each other on reaching this moment in the competition. Silenced by the National anthem, I stood tall, placing my hand on my heart. My mind was calm; I reflected on the moment with gratefulness and humility. 30 seconds! Glancing down at my watch, ensuring it was cued up, I was ready to gently rage. 10 seconds! 5-4-3-2-1 BANG! Opening into a sprint, the field of nearly 300 strong were off. Starting on the second row, I was well placed.
The course is an out and back, downhill outbound, uphill inbound. Like every race in Leadville, it's notably the highest 10k in the US. I knew a hard tempo effort was required outbound for the entire return trip was a red-line threshold, fire breathing effort inbound. After the first kilometer, I settled into an uncomfortable-comfortable rhythm. Like the Leadville Trail Marathon, this was my first official 10k. A funny thought considering my running resume at this point. I did not take the "normal" path to run, skipping right to 100 miles for my first. 
I elected to run with no water and a singular Maurten gel in my pocket. Pre-race, I downed a whole serving of Tailwind to ensure my glycogen was topped off. I felt strong at the turn; not far from the front end of the race, I began to rage uphill gently. Legs now entirely online and settled into the effort, I leaned hard into the hill. Pulling back a few runners in front of me, my breathing was heavy. "Everything is fine—rage!" I told myself. Like a laboring horse, I accepted the feeling I was demanding.
Soon the gravel gave way to the pavement, and the finishing straight was in sight. "Press!" I proclaimed, opening my stride wider. Approaching the finishing corral and red carpet, I was greeted by my son, fresh off his kid's dash victory; he was ready to enjoy the spoils of the red carpet, a tradition he is rather fond of. Vanquisher! The spoils of victory, we celebrated the effort together. Time to get to a lower altitude for the week (Boulder) to aid in recovery. In 6 days, we gently rage once again into the Colorado Rockies for the Leadville Trail 100 run. 
Leadville Trail 100 Run: August 21st 
Distance: 100 miles – Elev. Gain: 15,400 feet – Max Altitude: 12,550 feet
Time: 26h 25m 20s – Place: 87 of 680 – Age Group: 23 of 175 – Leadman: 15 of 43
Calories: 15,400 Tailwind Endurance Fuel: Naked, Colorado Cola, Green Tea Buzz, Raspberry Buzz
After several days of recovery at a lower altitude, we returned to the campground at Twin Lakes, readying ourselves for the toughest test of them all. A 100-mile run. The final race in the Leadman & Leadwoman competition. A true test of guts, grit, and determination. No one escapes the grip of pain during a 100-mile effort. At high altitudes, you cannot hide a lack of preparedness nor fitness. 
The goal is to arrive happy, healthy, fit, and full of fight! I was ready to pin on my Leadman bib 172 one more time. Arriving at the corral 15 minutes before the start, the energy in the cold air. Quickly distracted by the loud music and anxious athletes, I forgot about the cold. My mind was focused on the task at hand. Starting on the third row, I was positioned for a fast start. The National Anthem boomed; I stared up at the huge flag proudly displayed high above the Leadville Trail 100 banner. My mind eased as a calmness came over me, accompanied by goosebumps. I stood tall, humbly reflecting on my journey to this moment. Presently, I said a small prayer quietly. "30 seconds!" glancing down at my COROS watch, it was time to gently rage into the dark. I flicked my headlamp on. "Ready!" I thought to myself. BANG! 
The early miles clicked by. The sounds of shuffling feet and gravel reverbing in the crisp morning air. Onto the single-track trail that hugs the shoreline of Turquoise Lake. A single line of 680 headlamps flickering in the tree line. Approaching the first aid station of the race, May Queen. Pressing past the aid station tent, I entered the gauntlet of crews eagerly awaiting their runner. Quickly scanning the faces through all the commotion, my eyes quickly jerking back and forth as I pressed forward in a slow jog. Approaching the spot near the end of the gauntlet where I met my crew in 2019, my eyes did not connect with a familiar face. I continued, soon greeted by an empty road, vacant of any other crews. No more faces, no more cheers. "Shoot, did I miss them? Did they even make it in time? Did they have a vehicle problem?" These thoughts raced through my mind in seconds. Taking inventory of my hydration and nutrition, I continued. The cool temperatures and early miles resulted in a large portion of fluids still available for consumption. Without hesitation or breaking stride, I continued confidently. "I hope they are okay." Passing mile 13, my next opportunity for replenishment would come around mile 24.
Easing through the woods, I moved with the terrain. If the gradient pitched up abruptly for more than 50 feet, I'd power hike; if it felt easy to continue to run, I did just that. Climbing towards 11,000 feet and the sun now fully above the horizon, I began to warm up. Like the MTB race just a week prior, the sunrise views atop Sugarloaf are stunning. Descending Powerline is fearless, more exciting on two feet than it was just a week prior with a MTB descent that tests your courage. Back on the pavement for the few final miles to the aid station, Outward Bound, I noticed a water station set up by a local. "Awesome!" I proclaimed, topping off a critically low hand held. "Thank you!" I shouted to the man perched on his porch. Acknowledging me with a nod and wave.
Arriving at Outward bound, a bustling aid station situated in a pasture, my wife immediately greeted me. "Sorry!" she belted. "No big deal, babe, all good." I replied kindly. Jogging quickly, she guided me to the spot where the rest of the crew was waiting. Unexpectedly, my two pacers were there, dressed warm, sipping their morning coffee. "Hey Jay, looking strong!" they said. "Hey boys, nice surprise!" I replied. I quickly reload Tailwind and some snacks. I was off again, pressing across the unruly pasture. For me, I think the 1-mile trek across this flat piece of earth is the most troublesome part of the course. Tallgrass, deep cuts in the earth, lurking knee-deep holes just big enough to put your foot in, you had better watch your step. Annoying at best. "This will be fun tonight!" I remember. A short section of pavement quickly turns back to gravel as the course enters the tree line, following jeep roads. 
Now situated in the Shadow of Mt. Massive and Mt. Elbert, I rolled easily, arriving at Pipeline's next un-crewed aid station. A massive aid station nestled in the tree line offering the full complements of service. Shortly after that aid station came my first low of the race. Moving well, my legs started to bark at me for the first time as I passed the 30-mile mark. "Everything is fine," I reminded myself. Plucking two Ibuprofen from my pocket. A few miles later, I climbed back out of my low and started my long descent into Twin Lakes. 
Moving fast again and feeling energetic, I made good time as I approached the mega aid station that is Twin Lakes. The Queen aid station where dreams come to die for hundreds of runners. The race is an out and back, so this can either be a blessing or curse location. I blitzed through the crowds of people. Catching a few cheers, "Go, Leadman! Looking strong 172! Yeah, DAD FAST!" An amazing feeling, pressing forward with encouragement. My eyes connected with my wife. She picks up a fast jog with me again, guiding me into place. I exchange my handhelds for my running vest and poles. The crew had my vest already loaded up. "How is the weather looking around the Summit?" I asked. "You are going to get wet; your jacket is in your vest." Perfect, I thought. "See you soon!" I said with authority as I pressed forward. Departing the aid station, I am flanked by a young girl, her parents standing not far away. "Mr, can I ask you a question?" I graciously accepted. "Sure." With a smile, she asked, "how do you make a tissue dance?" instantly; I recalled this joke as I am a father of a young boy. "You put a little boogie in it!" I proclaimed with a laugh. Impressed by my response, I received cheers from her parents standing within earshot of the exchange. 
Pressing forward, I forded Lake Creek. Knee deep and ice cold from glacier runoff from the nearby towering 14,000-foot mountains, my body jolted from the shock of the cold. Moments later I feel a welcomed sensation on my legs and feet. Now well on the approach to a single-track trail leading to the summit of Hope Pass, I readied my trekking poles. Roughly a 5 mile and nearly 3,000-foot effort to the summit from Twin Lakes, I pressed. Climbing back into the now gloomy sky to 12,500 feet, I found myself approaching tree line. Moving well, I rolled into the Hope Pass aid station. A small aid station that is packed in days prior by a Lama Team. In and out, I continued to the summit. The wind at the top is stiff, crisp. Pausing just long enough to stow my poles and take a glance back down into the valley below, I began my descent to Winfield. 
This initial section of descent is very steep before it eases off to rolling terrain. I could hear the commotion of Winfield below. Remembering from years past, the course takes you well past the aid station before turning back to it. "Be patient, don't get anxious," I reminded myself. I still had a few more miles to go. Remembering my 2019 effort through these parts, I found myself out of water. This time I still had a half-full soft flask of Tailwind as I approached the aid station where I had a well-stocked aid bag waiting for me. Having announced my arrival a few hundred yards away, the volunteers were greeted by a smiling, energetic volunteer holding my bag near a folding chair. I quickly went to work, "what did I put in here, I thought," with a grin. I was pleased to find single-serve packets of Naked Endurance Fuel and lots of additional calorie items. Handing my empty flasks to a volunteer who whisked them away for care, quickly returning them full of cold water. I stood to my feet with a fully stocked vest, reloaded soft flask, and entered the aid station tent prowling the offerings. I settled on a cup of broth and noodles. Within a few seconds, the cup was emptied, and I was on the move again. "You guys rock, thank you!" I announced. "Looking very strong, Leadman, keep it going!" 
Back into the tree line, I disappeared, turning my attention back to Hope Pass. Off in the distance, Thunder boomed. I still had 40 minutes until I'd reached an altitude above the tree line I pressed on towards the summit. Teaming up with another energetic runner, the miles just zipped by. We chatted about all things ultra and future adventures. Together we kept our minds busy on other interesting things and away from the fatigue building in our legs as the gradient maxed out. Nearing the top, I found myself alone as my new trail friend held her own pace into this steep gradient. A smart move on her part. 
Just above the tree line now, the sky was grumpy. I was alone as I neared the summit. Pea-sized hail and high winds greeted me with open arms. I smiled, pulled my GORETEX shell jacket from my vest, and dawned it over my vest. Just enough protection to cut down the wind precipitation. I needed a sturdy shield to block the severe impacts of the hail accelerated by the high winds. I smiled and began my descent. Down in the Valley, I could see Twin Lakes and the final resting place, Leadville. Rolling into the Hope Pass aid station, the volunteers were scrambling to hold down the tarps and tents from the very high winds. I shot a glance over at the team of llamas, laying down just off-trail. They did not look amused. 
Still moving strong, I leaned into the descent. Now in the protection of the tree line, I shimmied out of my jacket and quickly stuffed it into my vest. Soon my feet found the creek crossing, again a refreshing sensation. Rolling into Twin Lakes with hours of daylight remaining, I was feeling strong. Meeting my crew, I sat down for the first time. A preplanned pit-stop of shoe and sock change. In and out quickly, I was back on my feet with my Pacer Tim at my side. Armed with a few additional layers of warm clothes and headlamps, we pressed on. Running strong out of the aid station to cheers of the on-looking crew, "Strong 172! Let's go, Leadman!" All amazing cheers. Crossing the timing mat and the familiar and oddly satisfying buzz sound, we pushed skyward. Slowing to a power-hike, we joyfully chatted. Chewing up the trail, passing small groups, we were intentional with our pace, still well with the coveted sub 25 hour pace. Tim, my pacer, keeps my nutrition and hydration cues ready as he steadies our pace for the next hour. 
Now under cover of darkness, we rolled into the Pipeline aid station all smiles. We are moving strong. "172 in! 172 out!" we pressed on. The terrain was giving way to very runnable terrain. Rolling into outward bound at mile 80, temperatures cooling, the hardest part of the race lurked just on the horizon. The final 20 miles of a hundred miler is the business end of the race. Tim handed the reins over to Vic; coming off a successful Western States run, we disappeared into the darkness. A pavement runway is offering us up to the iconic Powerline climb. A 3.7-mile climb with gradients surpassing 20%. Setting a steady effort, Vic and I kept things moving. Keeping me mentally focused on the important items, Vic continually kept his voice present in the darkness. 
Arriving at the top of the Powerline climb, we were greeted by a ruckus unofficial aid station. A bumping party scene at 11,000 feet, a sight to see! Reloaded, we returned to the darkness guided by the flow from our headlamps. Descending the technical Hagerman pass, the sky opened up, and rain began to fall, kicking up strong winds. The groan of the storm was abrupt and short-lived. Dipping off the gravel road, we found our way to a single-track trail. Twisting a bending around the trees and my energy was running low. "Hey Vic, I'm starting to feel a little tired!" I softly said. "Okay, take this." Reaching deep into his vest, he pulls a Maurten CAF gel. We continued to move, now slightly behind our goal sub 25 hour pace. Arriving at the pavement of May Queen, we are greeted by the crew. All bundled up for the cold temperatures, I could see the fatigue on their faces. Crewing is a selfless, tireless, endurance event itself. Taking some time here, I hammered a warm Cup-O-Noodle. 13 miles to the finish. All the hard climbing is done. 
Now, all that is left is the undulating single-track trail, some gravel, pavement, and more gravel. If you're moving well at this point, a 3-hour effort. I was determined to move well. Vic and I again pressed into the dark. "See you at the finish!" the crew yelled. For the next 6 miles, we enjoyed the single-track trail that hugs Turquoise Lake shoreline. The moon was out; the starlight views were spectacular. The water shimmered, the stars twinkled, and we gently raged towards our homecoming. Each little kick up in the trail started to feel like small mountains; the miles that were behind me were alive and well, taking full refuge now in my legs and feet. My pace was slow, but we steadily made forward progress. Guided by small lights, we made our way quietly past sleepy campgrounds. Our feet found pavement and gravel roads once more. "5k, just a 5k," I told myself. Vic was still at the helm, guiding me towards home. We were racing at the sunrise. 
The sky colors slowly changing made the uphill grind back to Leadville a welcomed task, "almost home!" Saying goodbye to the last few feet of gravel road, my heart began to swell. The high school was in view, and with one more turn and a short climb up soon, the finish line too. Cresting the final climb, really a short rise in the road, my eyes connected with the lights of the finishing line. All smiles we pressed towards home. Under a dimly lit sky, I was greeted by my entire crew. Together we finished the final meters, enjoying the spoils of the red carpet one last time. Together, we were Vanquishers! Greeted by Cole, he warmly welcomed me home to Leadville, "Welcome home, Leadman, well done!" he said. We memorialized the moment with a few pictures with a medal around my neck and lots of hugs. While it was just a moment in time that will forever be unseen by most, for us, it was our moment of feeling on top of the world. Invincible but for just a moment. For the final time, "Jay Hagan, you are a Leadman!" 
Leadman & Leadwoman: Official Results
Distance: 286.4 miles – Elev. Gain: 41,500 feet – Avg. Altitude: 10,600 feet
Time: 47h 26m 14s – Place: 18 of 109 – Leadman & Leadwoman Finishers: 43 of 109
Calories: 30,200 Tailwind Endurance Fuel: Naked, Colorado Cola, Green Tea Buzz, Raspberry Buzz, and Rebuild Recovery.
Just a handful of hours after the race, a quick shower, and a nap, we were back at the high school football field for the awards ceremony. Calling the Leadmen & Leadwomen to the stage, all of us moving rather slowly, we assembled one last time. Now just 43 strong, a mining ax in hand as our reward, we all stood proud—each of us with stories of the battle to tell for the rest of eternity. 
An experience none of us will forget, accomplishing the most demanding endurance challenge Leadville has ever crafted. 
To the city of Leadville, thank you for embracing us all like family. Thank you to the Leadville Race Series and its many volunteers for hosting a world-class event and creating memories for people that will never be forgotten. 
To my crew, I do not have words that can adequately describe just how grateful for the level of encouragement, support, and love you provided. I am humbled by your selfless investment in me and the dream of becoming a Leadman. I am so proud to have shared each mile with you on this journey, an accomplishment that simply could not have been done without you!