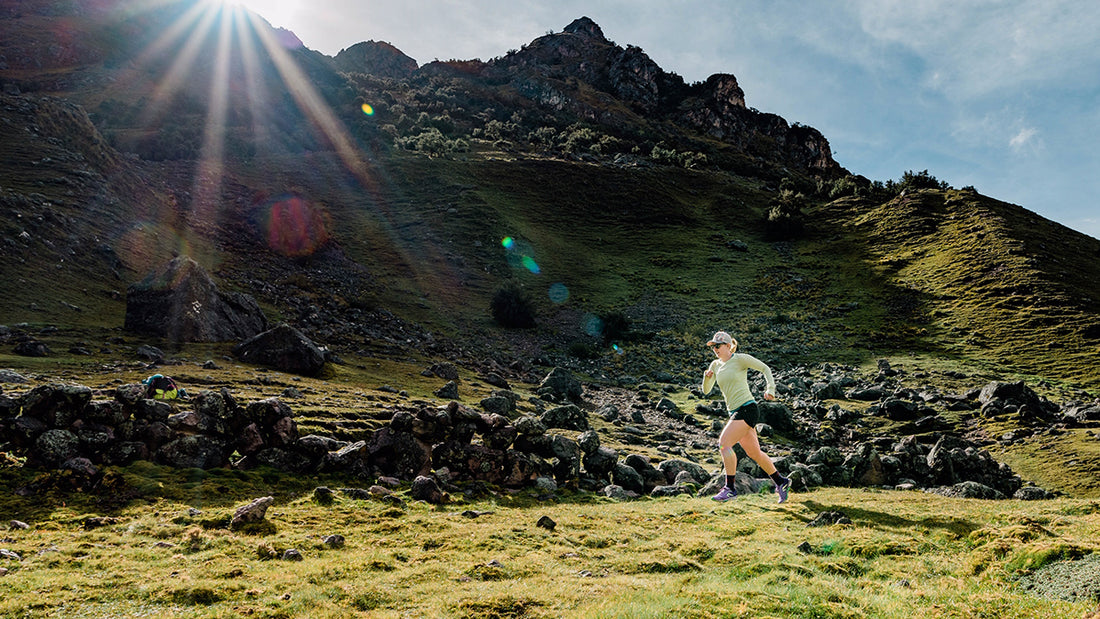 With the Ironman World Championship in Kona on the horizon, we teamed up with triathlete and Tailwind Trailblazer, Brittany Balcar, for a Q&A about her training, fueling, race day, and recovery tips...
Meet the Ironman Expert
My name is Brittany Balcar and I'm a triathlete from Fort Worth, Texas training for the Ironman World Championship in Kona, Hawaii this October. When I'm not swimming, biking, or running you can find me working as a physical therapist at a local hospital or scouting out the best ice cream shops in town.
There are many reasons I love triathlons and endurance sports, but my absolute favorite part is the community. I love being part of a group of like-minded people who support each other. I truly believe that endurance sports are a reflection of how you pursue your goals in life - nothing is impossible when you dream big, remain focused on your journey and make the decision to show up for yourself every single day!
Q&A with Brittany Balcar
Tailwind: We are so pumped for your upcoming Ironman! What does your training look like leading into Kona?
Brittany: I'm currently finishing up my final build into Kona and ready to head into taper. Over the last few weeks I have been training six days per week and have been using Monday as my rest day. During peak training I typically have two swims, two bikes, two runs, and a strength and/or a yoga session during the week. On Saturdays I do a long bike on the hilliest loop I can find within twenty miles of my house. On Sundays I do my long run and a recovery swim to end the week. If I'm feeling extra motivated I will add in a Yin style yoga class after my training sessions for the week, which are completed to work on mobility and optimize recovery. My total training time during peak is around 16-17 hours per week. The last two years I've been loving my interval days on the bike and strength training sessions - they are my absolute favorite!
Tailwind: What is your fueling plan on race day, specifically bike and run?
Brittany: I try to keep fueling on race day as simple as possible. I've learned through trial and error that about 200 calories per hour on the bike and run is my sweet spot for optimizing performance as well as feeling satisfied from a hunger standpoint.
My fueling for an Ironman begins before the swim starts. I drink a 200 calorie bottle of Tailwind Endurance Fuel the morning of the race as I set up my bike and transition area. I also create a Tailwind concentrate to take with me on the bike. I make two 24 ounce bottles with 600 calories of Endurance Fuel in each bottle and every time I take a sip of the concentrate I also take a drink of water. For Kona, I'm mixing a 50/50 ratio of Naked and Colorado Cola for my first bottle and Naked and Tropical Buzz for my second bottle. Pro tip: Freeze the bottles the night before so your Tailwind tastes like a slushie! On the run I carry a handheld water bottle with 2 stick packs, or 400 calories, of concentrated Endurance Fuel. I carry two additional stick packs in the back pocket of my kit to mix into my bottle for the second half of the marathon.
I'm planning on using Colorado Cola for the run in Kona because I'm obsessed with the new flavor and I always crave cola on the back half of an Ironman run course. I typically don't consume any solid food when I am racing an Ironman and rely solely on Tailwind as I know I won't have gut issues and I can use my energy to swim, bike and run faster instead of digesting food.
Tailwind: We're so happy you love Cola! We do too (wink, wink). Can you tell us what you include in your transition bags?
Brittany: Absolutely!
Swim to Bike: extra pair of contacts, sunglasses, helmet, bike shoes, a small towel to get all the sand off my feet, a fun pair of socks, and two additional stick packs of Endurance Fuel to carry in the back pocket of my race kit.

Bike Special Needs: extra flat kit, empty 24 oz bottle, 3 stick packs (600 calories) of Endurance Fuel.

Bike to Run: fresh pair of socks, running shoes, race belt, trucker hat, handheld water bottle, two stick packs of Endurance Fuel just in case I used my spare two on the bike.

Run Special Needs: extra pair of socks, 2 stick packs (400 calories) of Endurance Fuel, a special snack if everything in my race is going wrong and I want to eat something fun (in the past this has ranged from a Snickers bar to Oreo cookies or salt and vinegar chips, although I usually forget I have these things packed).
Tailwind: What are your race day recovery tips?
Brittany: My three best race recovery tips are:
Begin refueling your body as soon as possible! My recovery always begins with a stick pack of Chocolate Rebuild as soon as I cross the finish line, followed shortly thereafter by a real Coke as it's the one thing I always crave during the run. It's important to replenish your body with the proper ratio of calories, protein and electrolytes as soon as possible following a race to expedite recovery and allow your muscles to begin rebuilding themselves after a hard effort.

Don't be the person who finishes the race and flops on the ground and lays around for awhile. Keep walking around leisurely after you finish to let your body cool down and give your muscles a chance to flush out waste products. You'll feel so much better the next day if you resist the urge to sit or lay down for the initial 30 minutes following your race.

The next day, do your best to get out and do some active recovery. An easy swim, bike, or walk around town will help with soreness and make your body feel so much better. Also, eat ice cream, I hear it's the best kept secret to recovery!
Tailwind: Good luck in Kona! We'll be cheering for you and can't wait to follow along as you crush your Ironman.
Have more questions about your fueling strategy? Shoot us an email at supportcrew@tailwindnutrition.com. We're happy to help you dial in your nutrition so you can crush your goals!