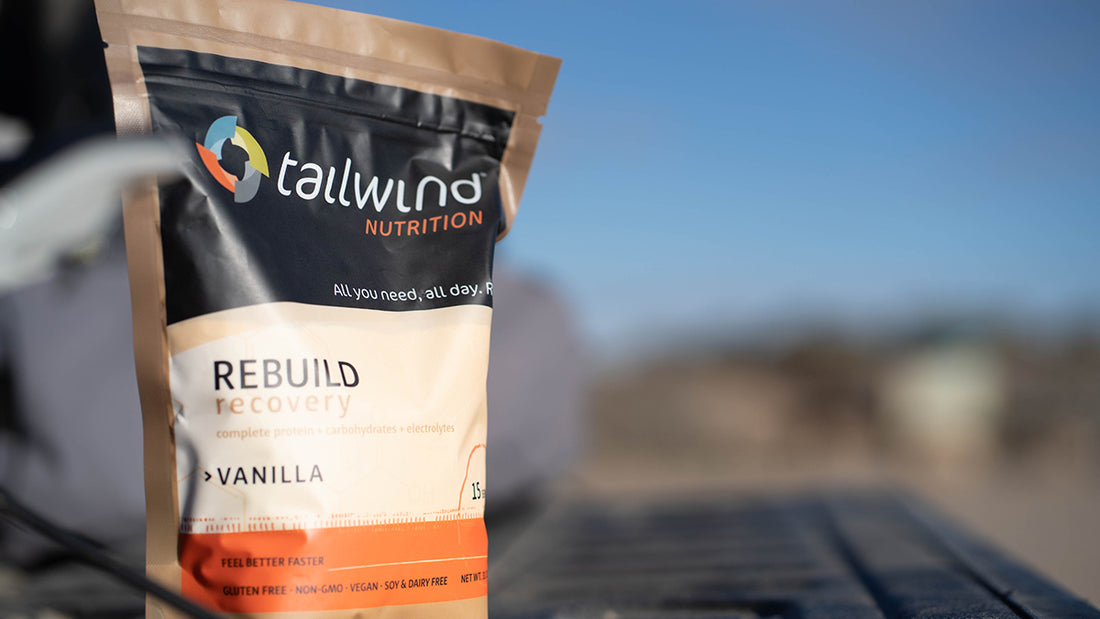 What is Tailwind Rebuild?
Tailwind Nutrition Rebuild is a sports recovery drink based on a patent-pending perfectly complete protein. We start with organic rice protein and supplement it with amino acids to make the protein complete. Then we add carbohydrates, some healthy fats from coconut milk, and just the right amount of electrolytes. Rebuild is also non-GMO, gluten free, vegan, and soy and dairy free!
Replenish, Rebuild & Restore
You might be wondering, "What makes Rebuild different from other recovery drinks?" We specially formulated Rebuild to do the following:
1) Replenish glycogen stores - Rebuild contains the right kinds and amounts of carbohydrates to restore your energy after a hard workout. We use simple sugars, dextrose and sucrose, that are easy to digest and go straight to your bloodstream to take advantage of your body's ability to efficiently replenish glycogen stores within 30-60 minutes after exercise. Many products use maltodextrin or starches, complex chains of sugar that are difficult for your body to digest.
2) Rebuild muscles - Rebuild contains a perfectly complete protein based on a patent-pending mathematical model to rebuild damaged muscle tissue and mitochondrial protein. We start with organic rice protein and add the nine essential amino acids (L-Leucine, LLysine, L-Valine, L-lsoleucine, L-Phenylalanine, L-Threonine, L-Methionine, L-Histidine, L-Tryptophan) to make it a complete protein. Complete protein is the only kind of protein that actually rebuilds your muscles after exercise. You'd have to consume a much larger quantity of other protein-based products to get the same results as a complete protein.

3) Rehydrate and restore electrolytes - Rebuild contains sodium, potassium, calcium, and magnesium to restore electrolyte balance and replace what you sweat out during your exercise.
Don't just take our word for it…
Athletes love the healthy vegan ingredients, great taste and amazing results of using Rebuild! Here's what some of our customers have to say:
"I do most of my runs in the morning and Tailwind Rebuild is the perfect post-workout breakfast to keep me satisfied throughout the day. I'm an avid user of Tailwind during my races and have loved the addition of Rebuild to the product line." - Erica
"This is the best recovery drink that I've ever tried. It actually tastes great, plus it helps you to refuel properly to speed recovery. I've noticed decreased muscle soreness while using this product even though I haven't made any other changes. It mixes well, so there is no gritty or chalky texture. Tastes just like chocolate milk without the gut bombs that you experience from soy or dairy products. Love it!" - Joseph
"I use the Rebuild Recovery on long training days, where I'll PT for an hour or two, drink rebuild on the go and then do a second training session with my crew an hour or two later. It's easy on the stomach, gives me a caloric boost and helps me keep up with the youngsters on my hotshot crew." - Marcus Cornwell
"During the 2018 ski season I used Rebuild after skiing and was able to ski stronger and more powerfully on subsequent days. In January of 2019, at 72 years of age, I dislocated my prosthetic femur from its prosthetic hip cup while skiing. Twenty-five days later I had the hip surgically revised and my surgeon agreed that I could consider skiing 12 weeks post-op so long as I followed a rigorous rehab plan. During post-op rehab there was only one day when I did not consume Rebuild. My rationale was that if Rebuild worked for exercise recovery, then it would assist in rebuilding surgically repaired tissue. From the results thus far, I firmly believe it worked. And I am not done yet!" - Chuck Ferris, Ph.D. Physiologist
"Finding a drink that tastes good, settles well and works has been hard. This drink works instantly and I always feel great after I drink it. The vanilla and chocolate both taste great and mix nicely with water. If you are a fan of their Endurance Fuel - you will love their recovery fuel." - Lisa Shamaly
What are you waiting for?
Nothing repairs your muscles more efficiently, restores your energy faster or makes you feel better sooner.
Our stick packs make Rebuild easy to have on hand right after your exercise - super convenient when you're on the go or far from your kitchen. No stick packs? No problem! Buy a large bag and portion out your serving into a small container or baggie.
Give Rebuild a try and get ready for your next adventure!