Cycling Holiday Gift Guide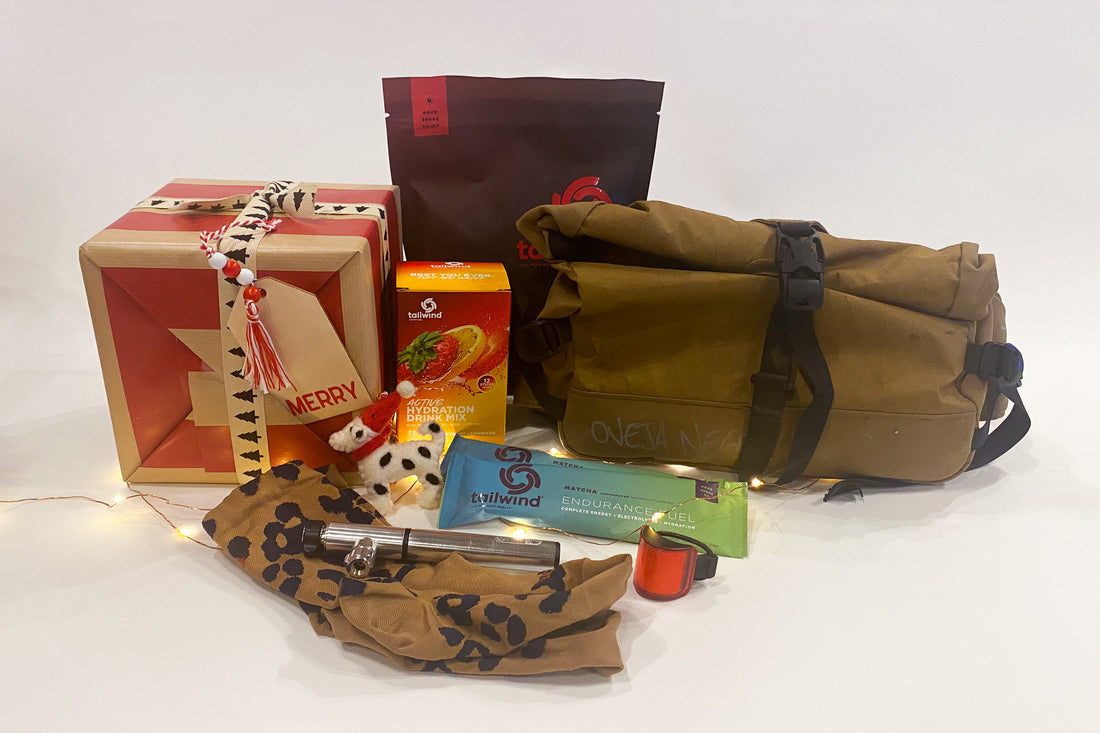 Our team at Tailwind did a round-up of our favorite items to make every ride that much better and your holiday season just a little easier. These can make a great gift for the cyclist in your life or yourself!
Low Cost
Tailwind! 
Starter Kit. The Tailwind Starter Kit is a great way to try our Endurance Fuel and Recovery Mix and find your favorite flavor. 
Endurance Fuel. Whether your friend or family member is a first-time user or a long-time Tailwind lover, Endurance Fuel is a great way to support your friends on all their adventures.
Recovery Mix. The gift of fast recovery… who would turn that down? 
Floor pump with gauge 
When it comes to flood pumps there is no need to break the bank most of the time. Just make sure it works with their tire valve system (Presta is most common these days for the majority of bikes). Another thing to look for is an easy-to-read tire pressure gauge so they can have the perfect psi for any bike they like to ride!
Water Bottle Cleaning Tablets
Say goodbye to gross bike bottles! Even if they are an avid Endurance Fuel drinker (thankful for clear mixes in your bike bottle!), it can be nice to deep clean those bottles every now and again. These make a perfect stocking stuffer!
Bike socks
Socks are a great gift for anyone in your life but even more fun for the cyclist in your life to highlight a little bit of personality out on the trails or road while keeping their feet happy.
Hand pump
Ah, the item we all hope we have in our bags, jerseys, etc. Give them peace of mind by having more than one of these hand pumps, so they are always prepared. Even if they already have one, this is a great gift to get more than once.
Mid Range
Hip pack
We love these hip packs from Oveja Negra for the mountain biker in your life. They expand to fit a lot more than you think and are perfect when you want to shed layers on the climb and add them back for long descents. Plus, they are a great place to keep your backup Endurance Fuel single servings.
Custom frame protector
The perfect gift to keep that bike scratch free for its lifetime, these can work with any bike, be it gravel, road, or mountain bike but most importantly, for anyone interested in bikepacking. Our Marketing Manager designed a custom one for her bike so she can look at her preferred art and memories while out on long bikepacking trips.
Bike lights
Nothing says you love and care for someone quite like the gift of safety while out riding. Bike lights come in a range of prices and capabilities, look for a red rear light and a white front light combination purchase so you can rest easy that they will be seen.
Our favorite front light and rear light.
Bike cleaning kit
Muc-Off does a great job of keeping our bikes clean and ready for their next ride. They have a variety of bundled kits, so you can buy with certainty that it will have everything you need and nothing you don't, all stored in a convenient way.
High Price
Indoor trainer
Keep them fit all year long with an indoor trainer. A standard trainer will get them started but if you are looking for an upgrade from their standard, go for a smart trainer that will give them all the data and the workout.
Bike travel bag
Get them ready for their next big adventure with a bike travel bag. We love soft sided bags rather than rigid bags for packing ease and protection. 
Hopefully you found something on this list to gift to the cyclist in your life! Happy Holidays!