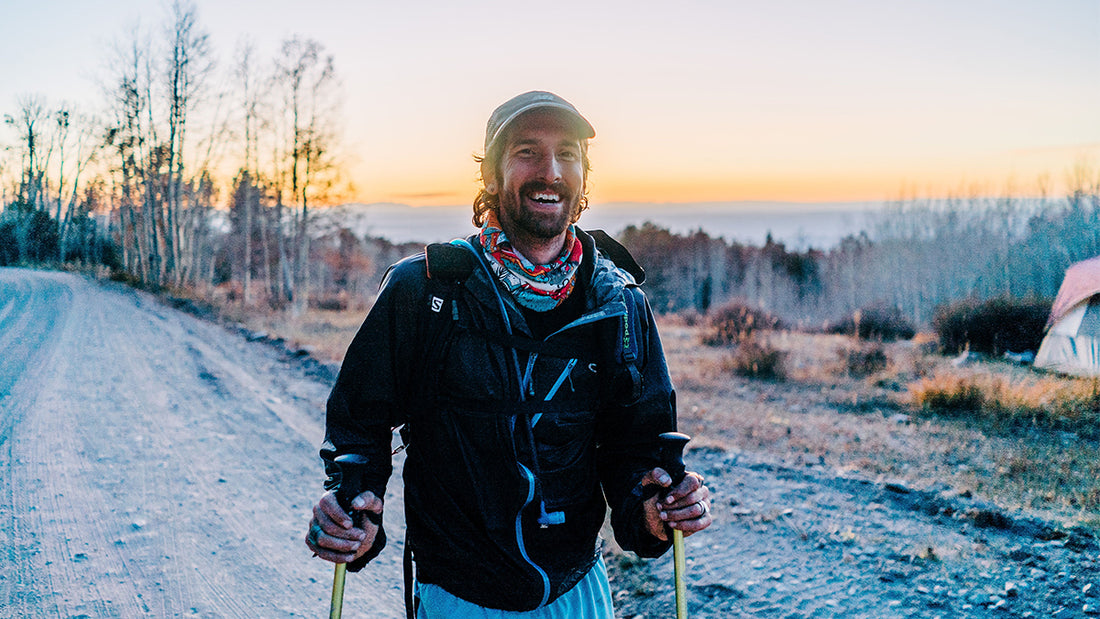 Photos and video by Mark Pasternack / @markpasternack
Set Your Goals
There's nothing quite like the optimism and excitement of New Years goals; it's a great opportunity to dream a little, train a lot, and push yourself out of your comfort zone. For many, this could be a first half marathon, a first full marathon, a first ultra, a PR, or a new racing location.
For Cameron Williams, it was a 240 mile race through Southeast Utah. In October 2019, with a lot of grit, determination, support, and Tailwind, Cam ran/hiked 98 hours to show us what two feet can accomplish. Read his race report below.
Cam's Story
Twelve months ago, I first heard about people competing in races over 100 miles. The elite, the 'runners' who dedicate their lives to it, not me. Not me, the JV Cross Country runner, the 4 hour marathoner, the casual runner that hits the trail just to see how it feels to push through pain. I couldn't compete in a race over 100 miles, the furthest I had run was a 50k.
I run to push my limits, to reach my personal distance record, then run a little further to see what happens. Over time I learned that the finish line didn't have to end when the sun went down. Running further and further brought me to run from Los Angeles to New York City this summer, 3,000 miles over the course of 91 days. It was the biggest physical accomplishment of my life. The road became my teacher; it gifted me with pure exhaustion, allowed me to feel the intricacies of my muscles, joints, and nutrition.
A few months after completing the transcontinental run - to test out my legs and to allow my mind to feel exhausted again - I found myself at the starting line of Destination Trail's Moab 240, a 240-mile adventure through the vast landscape of Eastern Utah. At the starting line, I felt the most mentally tough I ever have and my legs were machines. I thought "I'm going to win this thing."
I've never won a race in my life. Well, not since the playground in 4th grade. But this was my race. This was what I have been unknowingly preparing for over the last three months of running Route 66. I'm going to keep my slow pace and win, just like the tortoise.
Race Nutrition
Since I saw the movie "What the Health", I have primarily consumed plants for my nutrition. I love eating real, whole food that comes straight from the Earth. Sometimes this habit supports my ultra endurance adventures, other times it leaves room for fatigue. In those moments, I need an extra boost to keep my muscles loose and energy consistent.
In order to maintain steady energy throughout Moab, I consumed Endurance Fuel. I chose to drink Tailwind in place of water, and mixed it straight into my 2.5L Camelbak. It got me from one aid station to the next, up to 15 miles apart. Tailwind gave me extra calories and electrolytes throughout the day without having to remind myself to consume more. Each moonlit, 20 degree Fahrenheit night, my crew warmed me up with hot Chocolate Rebuild Recovery; it quickly became my motivation to move faster. Throughout the 98 hour journey I didn't bonk once - I had no stomach bombs and felt like my body was being taken care of.
The Gritty Side
It wasn't all beautiful red rocks and hot chocolate. This was the most excruciatingly exhausting race of my life. By the end of night one I knew I would not be the top finisher and I was questioning my ability to continue at all. Each night it felt like I was falling asleep at the wheel without the opportunity to pull over - my nightmare. Each night I was just praying for the sun to rise, to start a new day, to wake up from this horror. I was dragging on 2.5 total hours of sleep over three days.
The Finish
On the fourth night, I finally found my groove. I gained energy from the full moon (and of course Tailwind), howling like the animal I am while cruising past seemingly dead bodies taking naps on the side of the road. It's strange how the mind can find that last burst of motivation. Those last 30 miles were some of the most joyous miles of my life. The sun rose as I sprinted through the finish line with tears streaming past my smiling teeth. Ah, thank goodness I don't need to run anymore. Thankful and proud to reach the end of a beautiful race that I will never do again.