Tailwind's Response to COVID-19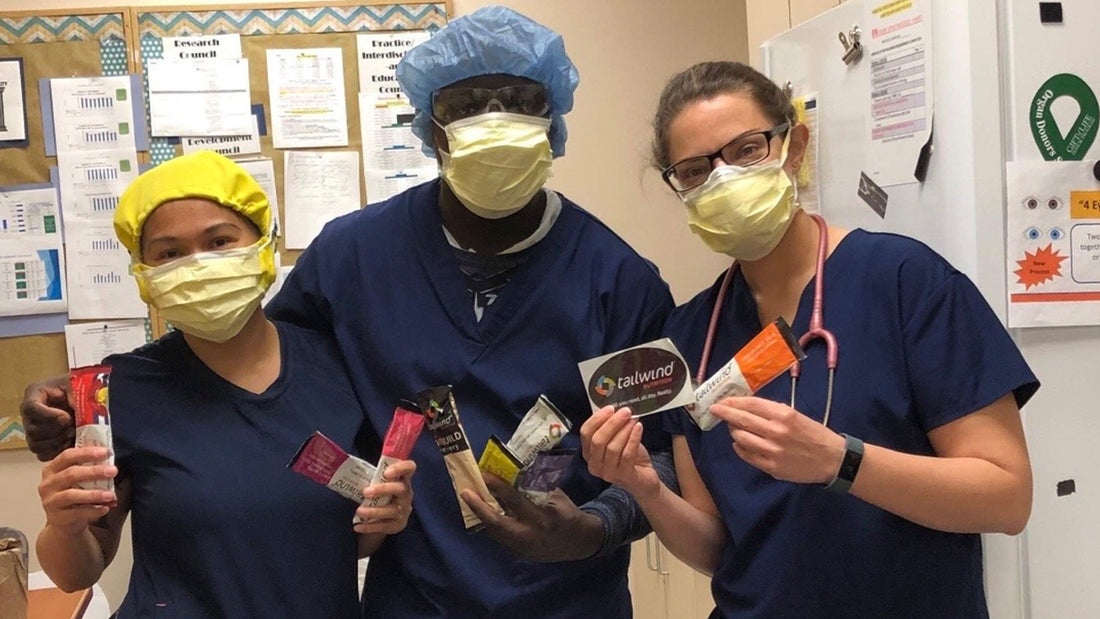 We'd like to take a moment to share what Tailwind is doing during this difficult time for everyone and to thank you for your continuing support. Our hearts go out to you if you or a loved one are dealing with COVID-19 and to all of you who are facing challenges with layoffs and upheaval. Our health care professionals and everyone on the front lines are also foremost in our thoughts - we are grateful for all you are doing!
When we started Tailwind, it was with the idea of being a support crew for our customers, helping you achieve your goals by simplifying nutrition and offering education and encouragement. We've heard from many of you that staying active during this time and continuing to train has been grounding, both physically and mentally. To make it easier for all of our customers to remain active, we've lowered our prices for the month of April, on both Endurance Fuel and Rebuild Recovery on our website.
We also recognize that staying hydrated and consuming enough calories during rigorous activities isn't just for athletes. We've heard from a number of you about healthcare workers working long hours and finding it hard to get the nutrients and calories they need to stay energized and mentally sharp while serving on the front lines against COVID-19. In recent conversations with Medical Directors, we've learned that in an effort to reduce risks of contamination, many hospitals are limiting what people can bring in and out of the facility. Doctors and nurses are working 12+ hour shifts with little more than a water bottle, and access to food can be limited. We've already donated thousands of Tailwind single-serve packets to NYC Presbyterian Hospital, Children's National Hospital in D.C., and Mercy Regional Medical Center in Durango. We are busy reaching out to the many (over 100!) hospitals you've referred to us in the last few days and hope that Tailwind's products can help support our health care professionals across the country.
To that end, if you are a healthcare professional or know of a hospital in need, we've created a form HERE to let us know how we can help and who to contact. We've heard from many of you that you'd like to help, so we've launched a "Hospital Product Donation" campaign. This campaign allows customers to join our efforts by purchasing single serving packets of Endurance Fuel in which we will donate to a hospital in need. Click HERE to donate.
On a personal note, our daughters (and a beagle pup) are back from college and adjusting to online learning while we work from home. We feel fortunate to have the beautiful surroundings of Durango outside our door! We are as committed as ever to maintaining Tailwind as a community asset and keeping our team employed through this. Whether it's fuel to keep you going on long shifts or just trying to maintain a bit of normalcy with workouts at home, we want to support our community the best we can during these tough times. Thank you for being a part of the Tailwind family and sticking together!
- Jeff & Jenny Vierling, Tailwind Nutrition Founders
Cover Photo from Tim Hackett
Current Hospital Donations:
Mercy Regional Medical Center, CO

New York Presbyterian, NY

Children's Hospital, Washington DC

San Juan Regional Medical Center, NM

UCHealth, CO

Sky Ridge Medical Center, CO

Highland Hospital, NY

Community Hospital, CO

Cayuga Medical Center, NY

Long Island Jewish Medical Center, NY

Northwestern Memorial Hospital, IL

Stony Brook University Hospital, NY

Kaiser Permanente, Emergency Room, CA
Grandview Hospital, CO
PeaceHealth Southwest Medical Center, WA
John Muir Health, CA
UCSF Medical Center, CA
UCLA, CA
NYU Langone Brooklyn, NY
Ohio State University Wexner Medical Center, OH
UCHealth Southern Region, CO
North Colorado Medical Center, CO
PeaceHealth St. Joseph Medical Center, WA
University of California San Francisco Mission Bay (UCSF), CA
Children's Hospital Colorado, CO
Sharp Memorial Hospital, CO
Swedish First Hill Emergency, WA
Dartmouth-Hitchcock Manchester, NH
Maine General, ME
Catholic Medical Center, NH
Dartmouth-Hitchcock Medical Center, NH
Griffin Hospital, CT
Good Samaritan Hospital, IL
Dana Farber Cancer Institute Boston, MA
St. Joseph Warren Hospital, OH
Lancaster General Hospital, PA
Geisinger Medical Center, PA
Geisinger Wyoming Valley, PA
Penn State Milton S. Hershey Medical Center, PA
Metro Health, OH
Chester County Hospital, PA
Mercy, IA
Paoli Hospital, PA
South County Hospital, RI
Kaiser Permanente, CA
Rhode Island Hospital, RI
NewYork-Presbyterian/Weill Cornell Med Center, NY
Good Samaritan , IN
UCSF Benioff Children's Hospital, CA
Cleveland Clinic, OH
Tufts Medical Center, MA
Danbury Hospital, CT
UCLA Santa Monica, CA
Sterling Surgical Hospital, LA
Wellspan/York Hospital, PA
North Memorial Health Hospital, MN
Honor Health John C Lincoln North Mountain, AZ
Saint Joseph Hospital Bruner Family Medicine Clinic, CO
North Shore Medical Center, MA
Berkley Manor Care Center, CO
Magic Valley Paramedics, ID
Stewart Memorial Community Hospital, IA
St Luke's, ID
Children's Hospital and Medical Center, NE
Saint Luke's Hospital of Kansas City, MO
University of New Mexico Hospital, NM
Oklahoma Heart Hospital , OK
Partnership Health Center, MT
Holy Name Medical Center, NJ
Erlanger Health System, TN
St. Elizabeth Hospital, WI
Regional One Hospital, Department of OBGYN, TN
St Charles, OR
Baptist Medical Center East, AL
Hilo Medical Center, HI
Northwest Medical Center, AR
Wentworth-Douglass Hospital, NH
Baptist Regional Cancer Network, TX
Avera McKennan Hospital, SD
Mid Columbia Medical Center, OR
Mercy Hospital St Louis, MO
Vanderbilt Medical Center, TN
Physicians Premier Emergency Room, TX
Forrest General Hospital, MI
Aurora West Allis Medical Center, WI
Hca Houston Healthcare Conroe, TX
Avon Lake Animal Clinic, OH
Flagstaff Medical Center, AZ
Southeast Health, MO
Northern Navajo Medical Center, NM
University of New Mexico, NM
Froedtert Lutheran Memorial, WI
Tulane Medical Center, LA
United Hospital, MN
Loyola University Hospital, IL