Athlete Highlight: Martina Valmassoi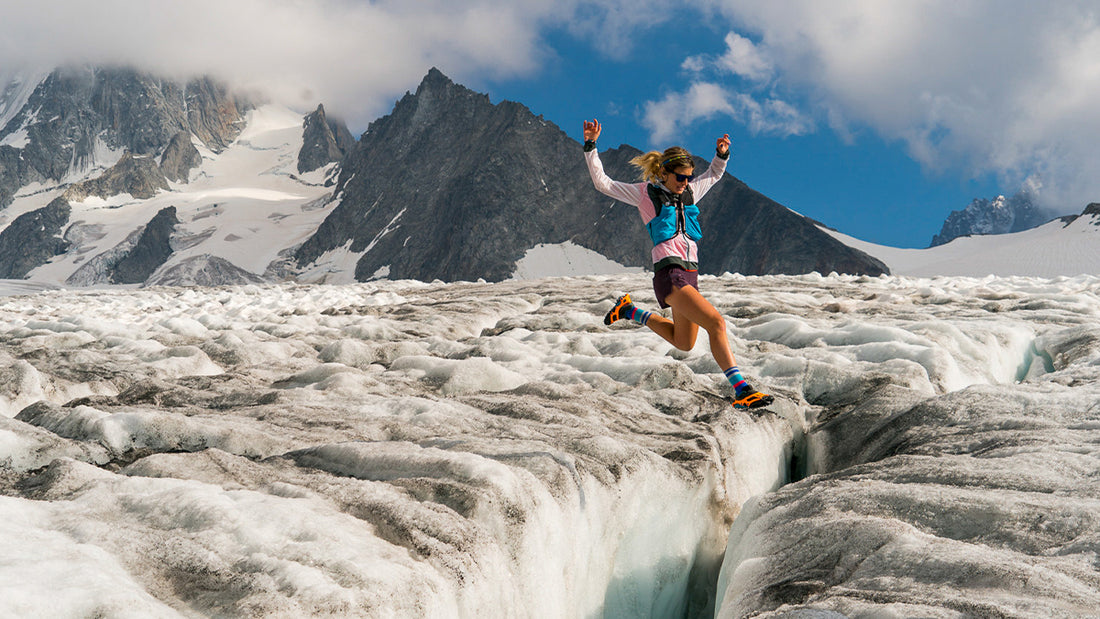 Meet Martina Valmassoi! Martina is one of our Italian athletes that works with our French partner: Tailwind France. We are so stoked to have her a part of the Tailwind team, even if she is 5,500 miles away. Martina is a humble and phenomenal athlete who never fails to amaze us on skis, a bike, or her own two feet. Continue reading to get the 4-1-1 on Martina and her accomplishments.
Tailwind: How and when did you discover your sport? And/or describe your background and progression in the sport.
Martina: I grew up practicing nordic skiing, then when I was 17 years old I wanted to try something different, so I started ski mountaineering which was way more adventurous for me. I've always gone into the mountains in the summer, first with my parents then often alone or with friends. To train for Skimo I had to run and hike in the summer, so eventually I entered some trail races and skyraces. I fell in love with running too. I also enjoyed doing longer races. Now I'm doing just a bit of everything.

Tailwind: 
Name some of your favorite races and/or accomplishments you are proud of.
Martina: 
Last year's 24-hour Female Uphill Ski record was one of my proudest moments, not for the record itself, it wasn't my main goal. I was proud of how I managed the whole project, and how I involved my friends and hometown was really special. It was also the first time I was doing such a long push. Before that my longest effort was 13 hours of running at the Mont Blanc 90km of Chamonix where I finished second, another great result for me.
I've been competing for many years in the Skimo world cup and I had good races and bad races, but honestly I don't remember them all. I think I'm more of an adventurer than a racer, haha.
The record at the Sellaronda Skimarathon with Laetitia Roux, and the 3 podiums (silver\bronze\bronze) at the Pierra Menta are results I am really proud of. The double bronze for the team race and the relay at the Skimo World Championships in Alpago, Italy in 2017 have also been really important for my career.
Tailwind: How long have you been a Tailwind athlete?
Martina: I started using Tailwind in the summer of 2020 and I've been using it regularly since last winter.
Tailwind: How did you first discover Tailwind? How has it helped you in your athletic endeavors? 
Martina: It has helped keep me fueled right whilst not dealing with stomach issues, especially while running. It's also great because you can mix different flavors so it's even more customizable.
Tailwind: What are your hopes and dreams in life, racing, exploring?
Martina: Next summer I will be working a lot behind the scenes of the Golden Trail World Series as photographer and social media manager for Salomon. The goal will still be to do personal projects and some races in between. I love having goals and I love doing different activities.
I look forward to some bikepacking adventures, long runs and cool projects on skis.
Rapid Fire Questions
Hometown:
Pozzale di Cadore Dolomites, Italy
Where you live now:
In my hometown
Favorite Tailwind flavor:
Green Tea Endurance Fuel
Do you have any nicknames?
Martiskka
(for social 😉)
Do you have any pets?
Yes, one fluffy Cat named Cartufola.
Besides running, riding and skiing, what do you like to do in your spare time?
I like drawing, taking pictures, and watching movies.
Where is your favorite place to adventure?
The Dolomites are great for riding, running and skiing.
If you could create any flavor of Tailwind, what would it be?
I'd go for a mix of strawberries & mango for Endurance Fuel and dark chocolate Recovery Mix.