Athlete Highlight: Leah Fair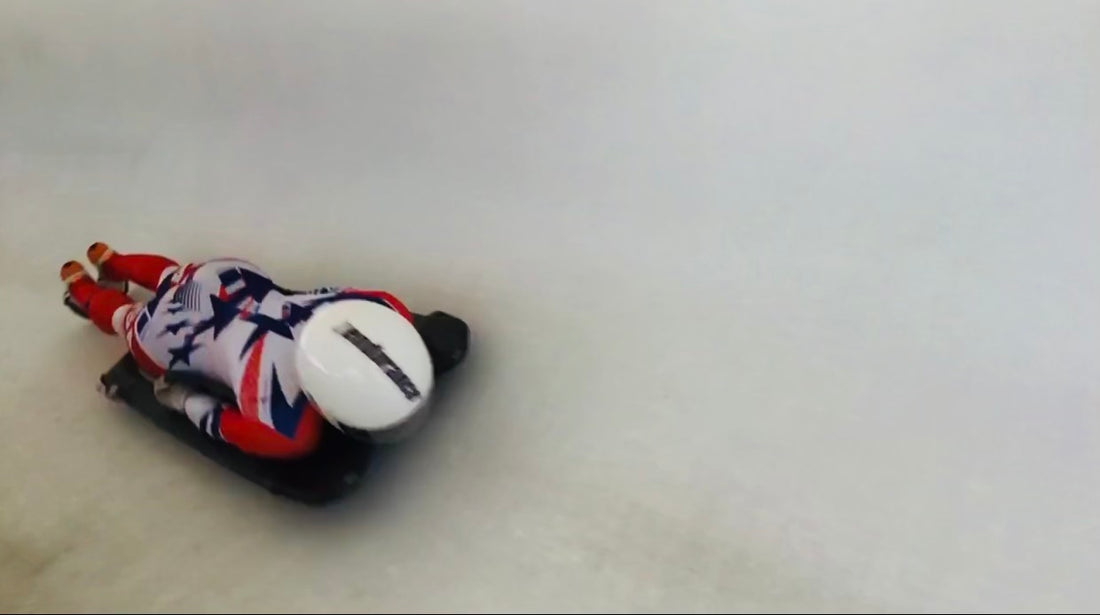 This week we are highlighting a new Tailwind athlete, Leah Fair. Leah is one of our multifaceted athletes who competes in Skeleton and Track & Field! For those of you that don't know, skeleton is similar to luge but the athlete rides a skeleton bobsled down a frozen track headfirst laying on their stomach. We are so stoked to welcome Leah onto the Tailwind Team!
Tailwind:
How and when did you discover your sport? And/or describe your background and progression in the sport.
Leah:
I discovered Bobsled and Skeleton on the NBC TV Series 'Next Olympic Hopeful' in 2020. This was a reality TV show created by the United States Olympic Committee to pipeline American athletes into Olympic Sports. Before competing on the show, I'd never heard about the sport Skeleton in specific before. Prior to competing in the series, I had never even competed in a Winter Sport before! After being selected by the governing body of 'Bobsled and Skeleton' for the sport of Skeleton, I began my journey on ice. I picked up the sport rather quickly, and began competing in International races only a year later. I qualified for my first Skeleton Olympic Trials in 2020, and placed 7th. My current goal is to make my first Olympic Team in the sport of Skeleton by 2026.
Tailwind:
 What are some of your favorite races and/or accomplishments you are proud of?
Leah:
One of my favorite accomplishments dates back to 2021, I competed in my first Skeleton race and placed 1st in Western Regionals. Although Western Regionals is considered a low profile race in the North Americas, I was ecstatic to see my progression in the sport and gain my first 'W.' The head of development Matt Antonine, Olympic Bronze Medalist, told me that I had every quality to make it to the Olympic Games with persistence and grit.
My second most recent accomplishment was placing in the final at the 2022 Indoor Track and Field National Championships. This event was special, I'd taken 3 years off of Track and Field and never thought I would return. Within 6 weeks of training, and only 3 races, I was competing on ESPN with the fastest women in the country. The events happened so quickly I could not believe it!
Tailwind:
How long have you been a Tailwind athlete?
Leah:
I am new to the Tailwind Team and I could not be more excited! This brand represents all the qualities I value in supplements and athletics. The Tailwind family is extremely personable, kind, and dedicated to recovery. I have never been more invested in working with a brand who is focusing on the craft behind closed doors to gain the results in public.
Tailwind:
How did you first discover Tailwind?
Leah:
I discovered Tailwind through my acupuncturist Dr. Perry located in Seattle, Washington. Originally I was having issues with my energy levels during high intensity workouts, no product or amount of sleep was fixing the issue. He suggested that my nutrition had the largest impact on my recovery, especially during workouts. Dr. Perry recommended Tailwind, and sent me a few items. I tried one serving of Endurance Fuel during my running session and I have been hooked ever since! I reached out to the Tailwind Family to tell the team about my experience and we have been connected ever since.
Tailwind:
How has Tailwind helped you in your athletic endeavors?
Leah:
Tailwind has not only helped my athletic endeavors by allowing me to tackle my workouts head on with more energy and strength but it has also helped me medically. Since I have been using Tailwind, I feel a change in my mood. I can easily maintain the calorie levels I need without eating or drinking supplements/food that will not contribute to my performance. Tailwind has the nutrition that is scientifically proven to help the muscles recover more quickly and build properly. I have yet to find a product with cleaner ingredients that do not contain lactose, gluten, preservatives, or any other harsh chemicals.
Tailwind:
What are your hopes and dreams in life?
Leah:
My hope and dream is to become the best "Leah" I can be to this world. I want to accomplish the impossible by becoming my best self to give to others. My talent just happens to be in sports. I hope that through all the struggles, losses, and wins I've encountered, I can use those experiences to teach strength and gratitude to the up and coming generation. I do hope to achieve my life long dream of becoming an Olympic Athlete and share that journey with the world.
Rapid Fire Questions
Favorite Tailwind flavor:
Vanilla Recovery Mix 100%
Do you have any pets? 
I have an adorable Toy Poodle named Bella. Bella travels with me everywhere even to competitions in the snow!
Besides Skeleton what else do you like to do in your spare time? 
I am probably the laziest athlete you will ever meet. I enjoy napping and fine dining when I am not doing my sport. I love to cook different recipes and host friends for dinner.
Do you drink coffee? 
No no, only in emergency situations like If I can't stay up on the road!
On average how many hours of sleep do you get a night?
I sleep about 10 hours a night. It's a MUST.
Where is your favorite place to Skeleton? 
Park City Utah is one of the most beautiful places on earth, I highly suggest a visit if you have not been. The USA Bobsled and Skeleton Team has one of the two mile long ice tracks located in this area.
If you could create any flavor of Tailwind, what would it be? 
I would definitely do a Watermelon Flavor!