Athlete Highlight: Duncan Hamilton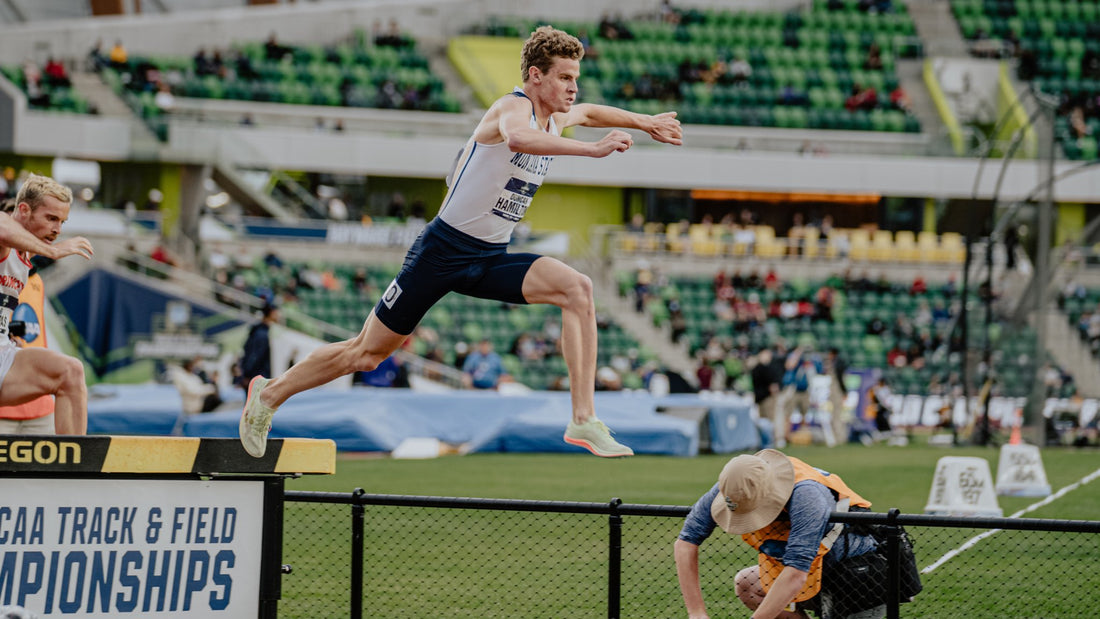 This week we are highlighting one of Tailwind's NCAA athletes, Duncan Hamilton. Duncan runs for Montana State University in Bozeman, MT and has quite the list of collegiate running accomplishments. We are stoked to support a promising collegiate athlete. Keep reading to get to know Duncan.
Tailwind: How and when did you discover your sport? And/or describe your background and progression in the sport.
Duncan: I first discovered running in middle school! My friend asked me to join him at a Bozeman Track Club, and my running career began with water balloon runs and orange slices brought by my parents. In high school cross country, our team goals quickly evolved from winning state to winning nationals. My coaches exposed me to the highest form of high school competition. I made it to the national meet three times: twice with my team and once individually. It was at these meets that my motivation grew. Each time I saw people faster than me, I did everything I could to be at that level the next year.
Once it was time, I decided to stay in Bozeman and run for Montana State University, making a team out of all my rivals from high school. My new coach, Lyle Weese, introduced me to the steeplechase, a 3000m race with five barriers each lap. After my freshman year, the coronavirus pandemic allowed me to put everything I had into training. I trained as hard as I could for about a year, and afterward, I qualified for every NCAA championship and every USA championship.
In 2021, when the NCAA allowed athletes to use their name, image, and likeness for sponsorships, I reached out to Tailwind because I loved their nutrition products. Since then, I have been blessed with delicious protein powder after my runs and perfect Endurance Fuel for long runs and long tempos.

Tailwind: What are some of your favorite races and/or accomplishments you are proud of?
Duncan: Some key races for me are my NCAA races, as well as my junior year conference meet, and the North America Central America Caribbean (NACAC) Championships in the Bahamas this past summer.

In 2021, the Outdoor track conference meet was a big meet for me. I won the steeplechase, placed 2nd and ran a school record in the 1500m, and then tripled back to score in the 5k. I was running against competitors that have since gone on to the Olympics, which made me realize that I could do more. Later that season, prelims for NCAAs were one of my most memorable races. The qualification time for the Olympic Trials was 8:32.00, and when I finished, I looked up at the scoreboard and saw 8:31.99. It was one of my happiest moments. The next year, I would place second and run an American Collegiate record at NCAAs in the steeplechase, and I placed 4th at USAs, missing the World Championships by one place. Both of these races were a bit bittersweet because I was so close to achieving my biggest goal, but they are very happy memories nonetheless.

Lastly, my first senior international competition this summer was an amazing experience. It was my first time wearing USA across my chest, and it was just surreal.

Tailwind: How has helped you in your athletic endeavors?

Duncan: Tailwind has been an amazing sponsor because it helps me fuel and recover properly! Amid 100-mile weeks and lots of workouts, recovery becomes the most important aspect of training. When I can always have protein waiting for me right when I finish a workout, I know I will recover faster before the next big session. I have also recently started fueling during runs more often. I have started taking nutrition on long runs and drinking some Endurance Fuel during a 10-mile tempo. Professional athletes say that when they fuel themselves during workouts, they work out better and recover faster! I also love adding a couple of scoops of Recovery Mix to my smoothies!

Tailwind: What are your hopes and dreams in life, racing, exploring?

Duncan: My goals for my career change every season. At the end of the day, I want to make a career out of running for as long as I can. I want to sign a professional contract and move to a town where I can be on a pro team. I also want to make more World Championship teams, including the Olympics. I have had my eye on Paris 2024 for a while now and would love to wear that USA jersey for years to come.
Rapid Fire:
What is your favorite Tailwind flavor?
 Chocolate Recovery Mix
Besides running, what else do you like to do in your spare time? I like to ice climb, camp, cook new meals, and explore Forest Service cabins around Montana.
Do you drink coffee?
Never!
On average, how many hours of sleep do you get a night?
9
Where is your favorite place to run?
Sourdough Canyon, Bozeman, MT
If you could create any flavor of Tailwind, what would it be?
Horchata Recovery Mix
What is your favorite food?
Ramen bowl with hardboiled eggs, tofu, enoki mushrooms, etc...
What is your favorite season?
 Early Fall ... perfect running temperature but can still climb and camp