Athlete Highlight: Brittany Charboneau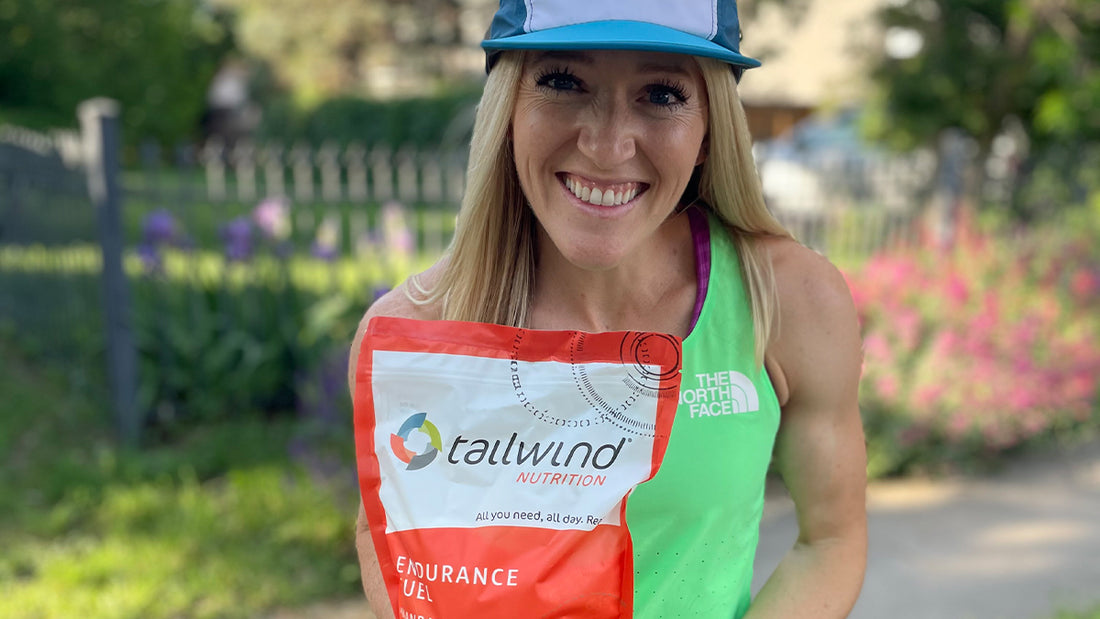 Get to know Tailwind athlete Brittany Charboneau, road runner, trail runner, and overall very speedy gal!  
How and when did you discover your sport?
Brittany: I've been running since I was 13 when track was the social thing to do. Throughout high school and college, I ran for the love of the sport rather than for the accolades. As I've been in my professional career since 2017, I still run for the love of the sport even more so than when I started! I've traditionally been a road marathoner, but when the pandemic hit in 2020, I turned to trail running and have never looked back. The important thing for me is continuing to be fast on the roads and strong on the trails, which is why I love keeping both in my training and racing schedule. I'm a big fan of keeping running fun, artistic, playful and full of Hamilton singing! 
What are some of the favorite races and accomplishments you are proud of?
Brittany: On the road, I'm incredibly proud of my 13th place finish at the 2020 Olympic Marathon Trials performance with a 2:33 finish, because I let myself believe I could train and perform at this level while keeping the joy in it all! 
On the trails, I'm proud of my 2020 wins at the Silverton Marathon and Pike's Peak Marathon, my FKT's of the Boulder Skyline Traverse and Maroon Bells Four Pass Loop, 2nd place finish at the US Trail Nationals -- what a year! In 2021, I've been super proud of my 37-minute course record and win at my first 50k at the Desert Rats race and of my win at the Leadville Marathon. I'm proud of the Mountain Shark (my self-proclaimed trail name) that I've become!  
How long have you been a Tailwind athlete?
Brittany: I've been using Tailwind since the end of 2020 when I was given a bag in my race swag kit at the US National Trail Championships and have been a loyal user ever since! It was love at first sip of Mandarin Orange Endurance Fuel!
How has it helped you in your athletic endeavors? 
Brittany: Tailwind has helped me stay fueled on my epic trail adventures often lasting hours on end and also on my speed workouts on road. I don't bonk, I don't get tired of the flavors, and my fueling stays as peaked as the mountains I climb!  
What are your hopes and dreams in life, racing, exploration?
Brittany: My number one goal is to represent Team USA on both the trail and the road with my eyes on the 2021 World Mountain Championships and the 2024 Olympics for the marathon. My biggest goal on this journey is to enjoy every single step in the process, remembering that play must be incorporated! When I retire from running, my dream is to be a Disney voiceover actress, a Broadway singer, and an Irish step-dancer.
Rapid Fire Questions
Where are you from? Denver, CO
Favorite Tailwind flavor: Colorado Cola Endurance Fuel
Do you have any nicknames? The Funny Runner, Mountain Shark
Do you have any pets? Snacks and Bill Clinton (because he has grey hair and is known for loving snacks during his presidency)
Besides running, what else do you like to do in your spare time? I am a running coach, I take Broadway/Disney singing lessons weekly, I eat my Jusband's custom sugar cookies, I love to read.
If you could create any flavor of Tailwind (Rebuild or Endurance Fuel), what would it be? Sprinkled Donut, Funny Runner Funfetti, or Blueberry Banana!
When you were little, what did you want to be when you grew up? Desperately wanted to be an Olympic gymnast and a horse jockey
What is your favorite food? Mac and cheese!