Athlete Highlight: Annie Hughes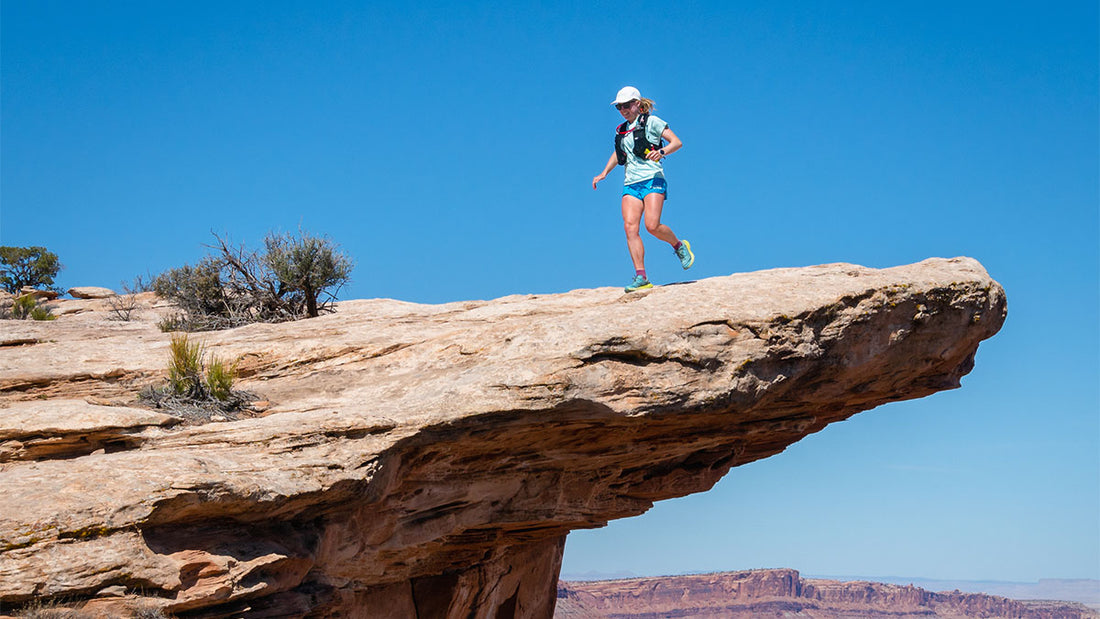 Meet Annie Hughes! Annie is a recent addition to the Tailwind athlete crew, and we are so stoked to have her. At the young age of 23, Annie won Leadville 100 and Moab 240. Yes, you heard that right. Impressive, huh? Annie is such a rad human and we are stoked for you to get to know her!

Tailwind: How and when did you discover your sport?
Annie: I've been fascinated by ultra running since I first started running cross country and track in 6th grade. I remember my dad explaining the different distances road runners race when I was just starting to become interested in the sport. He said, "there's a 5K, 10K, half marathon, marathon, and then there are crazy people called "ultra runners" who run up to 100 miles, and beyond!" That really made an impression on me as a young girl, and I was instantly curious as to what it would be like to run 100 miles.
I always ran the longest distance possible in track growing up. I was one of the few athletes on my track team whose' favorite event was the 2-mile, and I loved what was considered a "hilly" cross country course for Wisconsin standards. I always performed better at the longer distances, and couldn't wait for my chance to run a 10K on the track in college, marathons after college, and eventually work my way up ultras and complete my childhood dream of running 100 miles.  
I moved from Wisconsin to the small mountain town of Buena Vista, Colorado for my senior year of high school, and went on to run for Adams State University in Alamosa, Colorado for two years. Adams State has a fantastic running program and a great tradition that I was thrilled to be a part of. I was very intense about my training and dedicated to the team the first year I was there. However, I soon found myself fascinated by the beautiful Colorado mountains with an interest in trail running. Moving to Colorado was really what gave me that spark to get into ultra running sooner than I thought I would because I was surrounded by all of the amazing mountains and trails that Colorado has to offer.
I made the tough decision to leave the Adams State cross country/track team after my sophomore cross country season and jumped right into a 55K trail race in Moab, UT shortly after.
Once I completed the 55K, I spent the next summer climbing all 58 of the 14,000-foot peaks in Colorado and ran two 50-mile races. By the next spring, about a year after making the move over to trail/mountain running, I felt ready to give my first 100-miler a go! 
I completed the Bryce Canyon 100 in the spring of 2020 and learned lots of lessons as many ultra runners do during their first 100-mile experience. It was amazing to be able to complete my middle school dream of running 100-miles, and it made me curious to see if I could run even further than that 100-mile mark. In the fall of 2020, I planned and completed a 160-mile FKT on the Collegiate Loop in Colorado. Once I realized that it was possible to run 160 miles, I decided to see if I could run a 200-mile race. I love that ultra running allows me to push the limits of what is physically and mentally possible. I want to continue to pursue my curiosity and test those distance boundaries. 
Tailwind: What are some of your favorite races and/or accomplishments you are proud of?
Annie: The two performances that have stood out to me so far in my ultra running career are my first-place finishes at the 2021 Leadville 100 and Moab 240. At 23 years old, I became the youngest woman to ever win the Leadville 100. Living in Leadville made my Leadville 100 win extra special to me. It was so meaningful to have a good performance at that iconic race right in front of my whole community and my family.  
Completing and winning the Moab 240 was a dream come true. 200s are such a wild adventure and experience, and it takes so much perseverance and attrition to make it to the finish line of a multi-day foot race. Completing a race distance that was longer than I had ever run before made it a very special accomplishment for me.  

Tailwind: How long have you been a Tailwind athlete?
Annie: I'm a fairly new athlete on the Tailwind team. However, I have been using Tailwind since the very beginning of my ultra career in 2019. I was a Tailwind Trailblazer starting in the winter of 2021 and became a Tailwind athlete in August of 2021. 

Tailwind: How did you first discover Tailwind?
Annie: I first discovered Tailwind from reading ultra running magazine articles, as well as researching what types of nutrition ultra runners use when I was first getting into the sport. I decided to try Tailwind because it seemed like I could get calories, salt, electrolytes, etc. just from one little drink packet. That seemed easy enough! I have been using Tailwind as my main source of nutrition for all of my long training runs and races, and it has never once upset my stomach. I also always look forward to my chocolate Tailwind recovery smoothie after long runs! I blend up the Chocolate Recovery Mix with frozen banana, a little cocoa powder, honey, almond butter, oat milk, and ice. It is absolutely delicious and helps kick-start the recovery process. 
 
Tailwind: What are your hopes and dreams in life, racing, and exploring?
Annie: My hopes and dreams for the future are to continue to test my limits through the sport of ultra running. I have been able to explore some amazing places, and travel hundreds of miles through beautiful mountain and desert landscapes all with the power of my feet. I hope to travel all over the world and experience incredible scenery, as well as push myself mentally and physically through ultra running. I'm excited to see where my feet take me! 
Rapid Fire Questions
Hometown:
Oconomowoc, Wisconsin 
Where you live now:
Leadville, Colorado 
Favorite Tailwind flavors:
Lemon EF and Chocolate RM
Besides running what else do you like to do in your spare time?
I love to bake! 
On average how many hours of sleep do you get a night?
9 hours
Where is your favorite place to run?
Moab, Utah
If you could create any flavor of Tailwind (Rebuild or Endurance Fuel), what would it be?
Strawberry Lemon
What is your favorite food?
Ice cream!
Bubbles or no bubbles?
Bubbles! That's always what I crave when I'm running in the heat. 
Favorite season:
Fall! I love the golden Aspen trees in the mountains in the fall, and it's also a nice time to go spend some time in the desert.