Athlete Highlight: Amanda Coker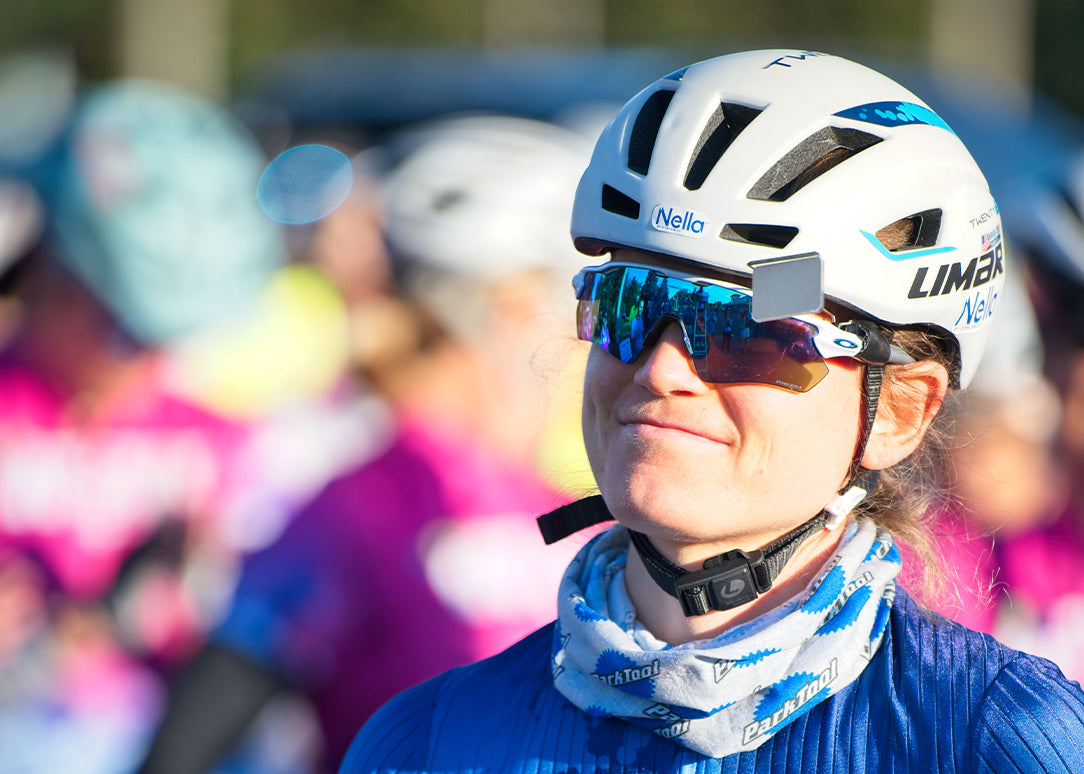 There is not much we can say about Tailwind Athlete Amanda Coker that her world records don't already demonstrate. Amanda never fails to amaze us with her incredible feats, goals, and perseverance. She was kind enough to share some personal anecdotes, her fueling strategy, and more!
Tailwind: How and when did you discover your sport?
Amanda: Growing up my dad was consistently training for and racing in triathlons, so I was immersed in swimming, cycling, and running all throughout my life. I started swimming in a league at the age of four, and competed until I was thirteen, doing well in the regional competitions. Once I began high school I started running actual miles (more than a short jog), and joined the cross country and track team.

On my 15th birthday my parents gifted me my first road bike, it was a beautiful blue 10 speed aluminum frame with a carbon fork. That day it felt like I was getting the cream of the crop. I was so excited to just be getting a real bicycle to ride! I wanted to race a triathlon since I started running my freshman year of high school, so my dad taught me how to train for all three disciplines at once. In 2007, I competed in my first triathlon and was hooked!

Over the next couple of years I raced in several triathlons, but started seeing my growth on the bike, especially when I started riding with friends at higher levels of fitness. In 2009, I raced in my first cycling race and fell in love. From that moment on I continued to compete in more local races, gaining experience along the way.

In 2010, I made it to the Junior Road National Championships in Bend, Oregon where I placed 6th on my beautiful blue bike, with no aero equipment or coaching. Since 2010, I've had litanies of health problems and a severe life-altering cycling accident in 2011. However, I believe everything happens for a reason. If it weren't for those unfortunate events, I wouldn't be on Twenty24 Women's Professional Cycling Team, a 17-Time World Record Holder, and USA Cycling Coach!

Tailwind: What are some of your favorite races and/or accomplishments you are proud of?
Amanda: There's definitely too many races that I enjoy attending to list, all ranging in different lengths and difficulty! Some of the most memorable races are The Cheaha UCI Gran Fondo, Kristin Armstrong Chrono TT, Florida State TT & Road Race Championships, and Florida500.

I'm humbly proud of my 17 Guinness World Records:
Most Miles Ridden in a Year (365 Days) Female & Overall: 86,573.2 miles (5/15/16-5/14/17)
Most Miles Ridden in a Month (30 Days): 8,012 miles (4/1/17-4/30/17)
Fastest Completion of 100,000 Miles - Female & Overall: 423 Days (5/15/16-7/11/17)
Jacksonville, Florida to Key West, Florida: 533 miles in 27 Hours & 27 Minutes (February 26, 2021)
First woman in history to break 500 miles in 24 Hours, with 512.5 miles (10/23/2021). Over the duration of the 24 hours, I also acquired ten other world records ranging between 100K-500 miles.

Tailwind: How long have you been a Tailwind athlete?
Amanda: I've been using Tailwind as my main source of training/race fuel since early 2016. Between the HAM'R (Highest Annual Mileage Record) and my most recent 24 hour record, I've been through countless bags!

Tailwind: How did you first discover Tailwind?
Amanda: Prior to starting the HAM'R, while hanging out at a local bike shop, my good friend Derek introduced me to Tailwind. We were discussing how on Earth I was going to fuel my daily rides and he said Tailwind was the best in the business. Reading over the ingredients label I was happy to see that there were no dyes, artificial flavors or sugars, just real high quality ingredients. After my first ride using Tailwind I was instantly hooked. I instantly felt the difference in my performance compared to when I used other sports drinks. Not to mention Tailwind is easy to mix and doesn't leave residue in your bottles.

Tailwind: How has it helped you in your athletic endeavors?
Amanda: Thanks to the continued support I've received from Tailwind over the past five years, I never worry about the nutritional aspect of my athletic career. Consuming roughly 12 bottles a day for 423 days straight, I honestly never once had a gastric issue, flavor fatigue (especially with the great selection of flavors), or waver in my performance. Ultimately, I set multiple world records and can honestly say my success wouldn't be the same without Tailwind as my fuel!

During my most recent world record 24 hours I consumed nearly two bags of Tailwind Endurance Fuel. Tailwind kept my glucose and caffeine levels steady the entire time. Just like during my HAM'R, I had zero digestion issues, flavor fatigue, or cramping! Tailwind helped me reach my ultimate goal of becoming the first woman in history to break 500 miles in 24 hours. It absolutely holds up to it's label of Endurance Fuel. My success with Tailwind Nutrition truly proves that Tailwind is all you need.

Tailwind: What are your hopes and dreams in life, racing, and exploring?
Amanda: Last year I became a USA Cycling certified coach and have been genuinely enjoying coaching athletes from all around the world. It is so rewarding to be a part of an athlete's achievements and I am always open to bringing on new clients. It has also been great to see my athlete's succeed while using Tailwind as their fuel!

As for my future plans, there are many more world records I am going to attempt and am currently planning out. There are several races on my bucket list that I hope to compete at in 2022, such as Unbound and some ultracycling races. I'm always open to attending events as a guest rider too. Getting the opportunity to speak to and meet people from all over the world at events inspires me. I would love to travel around and share my story to continue to motivate others. Inspiration is contagious!
Rapid Fire Questions
Favorite Tailwind flavor: Cola Endurance Fuel is my favorite all around flavor. I really like to mix Mandarin with Cola, it tastes just like Orange Coca Cola and has the perfect amount of caffeine for that little boost (since Orange is caffeine free and Cola is caffeinated).

Do you have any nicknames? HAM'R Girl

Besides cycling, what else do you like to do in your spare time? I love working on my bikes, especially building them up part by part. It's relaxing and a nice feeling of accomplishment. Non-cycling related activities I like to do are going to British car shows with my dad (he once had a 1977 MGB), as well as working on the vehicles in my family. It's great taking on the role as the family mechanic!

Do you drink coffee? Yes, at least one cup of black coffee in the morning to get my day rolling.

If you could create any flavor of Tailwind (Recovery Mix or Endurance Fuel), what would it be? I think a fun flavor of Endurance Fuel for the Fall/Winter would be Apple Cider. As for a flavor of Recovery Mix, Eggnog would be a delicious addition for the Fall/Winter season. Both would make me workout harder for the flavor rewards!

Favorite season: The summer! I love training in the heat. Any day above 70 degrees you can find me outside enjoying the sunshine.