2021 Western States Recap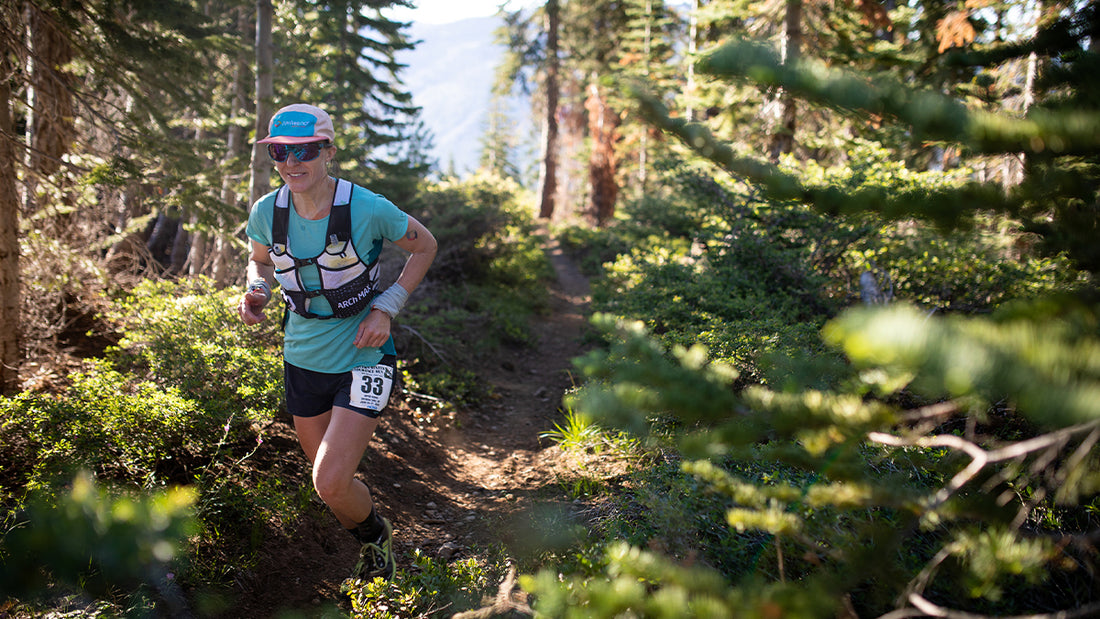 It's been a little over a week of resting and recuperating, so we followed up with our 2021 Western States finishers Sarah Keyes and Kyle Curtin for a race recap.
Was this your first time at Western States and how did you obtain entry?
Kyle: I started applying for the WSER entry lottery seven years ago after my first qualifying race at Kettle Moraine 100 miler. Each year I doubled my number of entries until finally getting picked in 2020, for the waitlist. Then the race was cancelled due to Covid. So I finally got off the waitlist and into this iconic race just a couple months ago.
Could you start by giving us a summary of your training and lead-up to the race? 
Sarah: Having done WSER once before with a less than desirable outcome it'd been in the back of my mind for several years to try to get back to this race. Over the winter I had signed up for the Black Canyon 100k waitlist, which I promptly forgot about until receiving an email five weeks before race day that I was in. At this point I'd been training for a road marathon which I think helped me gain a Golden Ticket against some other speedsters. After a short recovery, I jumped back into training here in March, mainly running dirt roads. I had an on again off again injury in my lower leg that kept creeping up when my volume would increase so I had a bit of a limiting factor in how much mileage I could do leading up to WSER. I certainly didn't go in over-trained :). We left NY at the beginning of June with the hopes of getting a bit more acclimated to both the heat and altitude. 
Kyle: Throughout the winter I did a fair amount of cross training in addition to some road running and speed workouts with the Durango Running Club. I had something like 60 days of backcountry skiing and reached some personal bests in the weight-room that set a solid foundation for more focused trail running in the spring. In May, went down to the heat in AZ to crew and pace Maggie in her Cocodona 250 win, and seeing how the field dealt with the heat was great to see as I started to develop my own race day plan. 
Then as the race got closer, I did more flat and faster trail runs, but actually had the fewest ultra distance (26 miles+) long runs since my first ultra back in 2012. The longest run in preparation was this awesome point to point up La Plata Canyon, across the snowfields on Kennebec Pass to the Colorado Trail, all the way along Junction Creek, and finished up and down Hogsback to round out the 40 miler. In general, I was more worried about the speed than the distance, so I focused my training on that aspect. 
Talk a bit more about your training. What were some of your key pieces of training, workouts, long runs? 
Sarah: Leading up to States, my key week was around 100 miles with a 50k self supported effort followed the next day by a more technical mountain day. That week gave me the confidence I needed to feel like I could put in the work required to be ready for a race like States, even if I would've liked to have done more. I also think a key event leading up to States was doing a race like Black Canyon which shook off the nerves of not having raced in two years. 
What were some of your main goals in the race? Did you have a B goal? And a C goal?
Sarah: Before race day I created a projection chart with three goals; The Perfect Day, The Realist and The Oh Shit. Each time table had splits for my crew of where I'd like to be when. It became apparent after the first 20 miles that I wasn't having The Perfect Day and for a while I thought The Realist was possible until it wasn't. I did however achieve my Oh Shit goal and earned myself a silver buckle!
Kyle: I had a time goal of 16:30 in my head as a possible best case scenario that I thought I could run on this course, but very early on I realized this was going to be the hot, difficult day the weathermen predicted. The real goal was to finish in the top ten, and I had to adjust my pace to run the best race I could on that day and hope it would be enough. I've never dropped from a 100 miler, so I wasn't worried about finishing, just making sure I had my best day possible out there.
What was your favorite part of the course? 
Sarah: I really enjoyed being able to run the smooth single track after Foresthill. In 2017 my pacer Matt and I had to walk almost all the way to the river, I remember having quite the pity party there. This year Matt was back for this same section and we rejoiced in how nice it was to actually run! 
Kyle: On the very first climb up the ski area in Olympic Valley, I looked back and had an amazing view of the sunrise over Lake Tahoe and the Tahoe Rim Trail that has been such an important trail to me over the last few years. Nothing beats high country running with those sunrise views!
My favorite part of the race was coming into Green Gate aid station. I was 11th male at that point and ultrarunning superstar Max King was still in the aid station representing the M10 spot. My crew outlined the situation in whispers and encouraged me to move quickly through this aid station. I chugged a Green Tea Buzz Endurance Fuel and ran the uphill out of the aid station with my headlamp and pacer. I like to think that getting in and out quickly and running out broke his will to catch up.
What surprised you at States that you may not have expected? Especially from Kyle as a first timer.
Sarah: I'm always surprised at how steep yet runnable this race is! I was pleasantly surprised that this year's race didn't feel any different in regards to spectators or race atmosphere - the hype was bigger than ever! 
Kyle: The course has some amazingly fast times, so I thought it would be much more runnable, but the climbs and descents are much more punchy than I anticipated and I had to hike way more of them than I thought beforehand. I was expecting and hoping for it, but the atmosphere and crowds at my first race in 22 months was truly amazing. I was really energized seeing the ultra running community show out for this race.
What would you do differently if you run again?
Sarah: If I were to do this race again I'd attempt to be better heat acclimated and avoid using much ice. I found that as the ice melted it soaked my feet creating conditions conducive to blisters. I'd also probably wear gaiters. Early on in the race I started to feel nauseous and light headed. I attribute this to being at the end of my luteal or high hormone phase. Unfortunately there's not much more I could do to offset those symptoms except be a bit more prepared for altitude. 
Kyle: I'd run faster. Hopefully. 
What did you do right that you wouldn't change?
Sarah: I'd run a similar race effort wise. After almost quitting at mile 62, I was able to turn it around and run well; over the last 30 miles I was able to pass five women. Being able to run small hills near the end of an event can really gain you a lot of time. It's amazing what can happen if you give yourself the opportunity to try. I had to remind myself that even with 70 miles left to go there's 70 miles to turn things around for the better. 
Kyle: I'm actually pretty happy with how I approached the race this year. It's not my strength, nor my style to go out with the leaders. I don't have the top end speed of some elite runners, but I can grind out miles with the best of em, so my strategy banked on having running legs for the less technical back-end of the race where I hoped to make up time and places. I was really on the ball with putting ice in everything on the scorching day. Who knows if next year will be as hot, but it would have been a very different day if I wasn't able to stay cool.
Sarah, will you try for a Golden Ticket again?  Kyle, are you going back??
Sarah: I haven't decided if I'll be trying for another Golden Ticket. Maybe? I said I wasn't going back the day after but ultra amnesia has set in at this point!
Kyle: Absolutely. With a top ten finish I get an invitation back next year. And between all the competition that shows out for WSER, it really is the Superbowl of ultrarunning.
What is next for you both this year? 
Sarah: Next up Run Rabbit Run 100! I will take any and all advice on being better acclimated for altitude!
Kyle: After a nice rest, it's time for me to shift gears to the steeps. I'm running a race called Tor de Geants in Italy in September that has some staggering stats. 210 miles, 80,000 feet of gain and the winners often finish in over 3 days. For you Durango locals, that's the equivalent of 26 laps on Haflin, plus an additional 10,000 feet of vert.
Where can we follow your training and adventures on social?
Sarah: Instagram @sarahkeyesruns | Coaching Website: www.easternmountainendurance.com
Kyle: I'm most active on Instagram @curtin103, but also post most of my training on Strava.