Athlete Highlight: Ultra Runner Pam Reed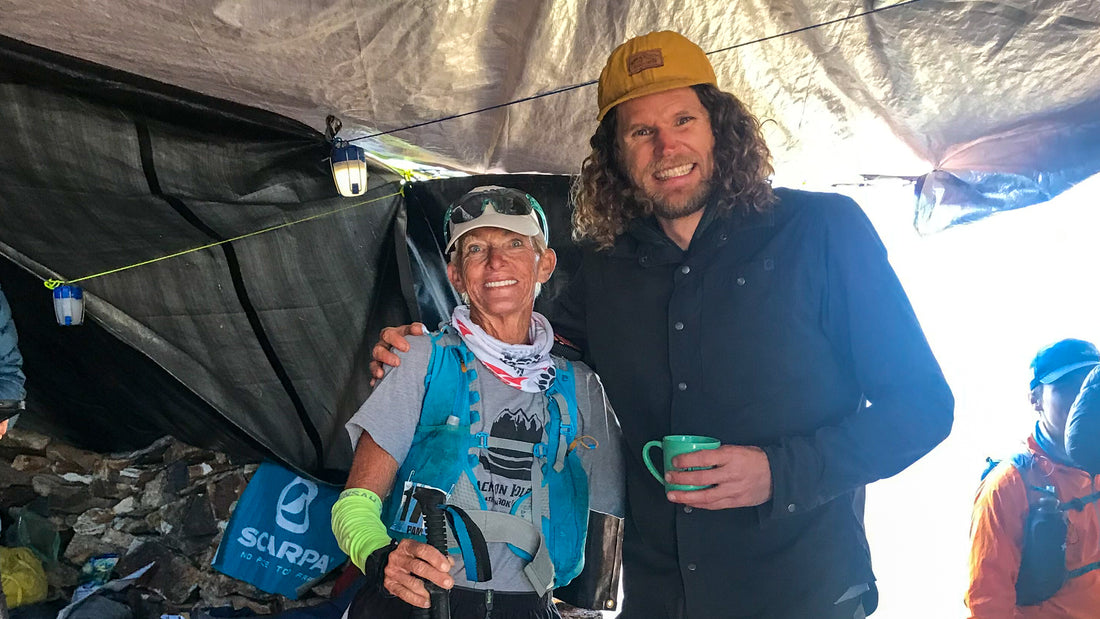 Stick around to learn about one of our amazing Tailwind athletes, Pam Reed! She is an ultra runner that never fails to impress. 
How and when did you discover your sport?
Pam: I have been ultra running since I was 28 years old. I am now 60. My husband's client was 60 years old and he told us he was running the Leadville 100. I thought he was crazy. I started going on runs with him and he showed me how he would walk the uphill. Then I learned how to do a slow jog uphill. I found I could never control my breathing walking uphill. Of course now I can, but it took me a while to figure that out. My first ultra was Elkhorn 100k. My husband Jim and I did it together. We were dead last.
What are some of your favorite races and accomplishments you are proud of? 
Pam:
These accomplishments are especially cool because the races are so opposite. 
Favorite races
How long have you been a Tailwind athlete?
Pam: I have been drinking Tailwind for the last 3 years. Before that I would throw up in most of my 100s. Since using Tailwind I have not thrown up. I can't believe it. I am so excited to use it for Ironman. The last time I did an Ironman was in 2019. I used Tailwind Endurance Fuel and qualified for Kona. I have been to Kona 8 times. The single serving packs have been really great for the Ironman on my bike and run!
How did you first discover Tailwind?
Pam: My friend Ernie Floyd.  He gave me some and I have been using it ever since.
How has it helped you in your athletic endeavors? 
Pam: As I said, it has solved my stomach problems. I still get an upset stomach sometimes but I have not thrown up, which is huge. I have used it exclusively in my last fourteen 100's. No throwing up. I ran fourteen 100 milers in 2020, and then Hardrock in 2021. That is the most 100s that I've ever run in one year since I first began running 100s (I just turned 60 in Feb).
What are your hopes and dreams in life, racing, and exploring?
Pam: I would like to run across America. I don't know if it will happen. I was supposed to do it when I turned 50. We almost had it and then it fell through. I would also like to continue doing hot yoga, running 100s and qualify for Kona. I want to run an ultra in New Zealand and Australia, or even the Ironman's there.
Rapid Fire Questions
Where do you live now? Jackson Hole, Wyoming
Favorite Tailwind flavor? Green Tea Endurance Fuel
Do you have any nicknames? Motor Mouth
Do you have any pets? Two Old English Sheepdogs - Kona and Maggie
What is your favorite food? Cotton Candy
On average how many hours of sleep do you get a night? 5 to 8. I really like 7.
Favorite childhood memory? Taking Saunas and jumping in the lake. I grew up in the Upper Peninsula of Michigan.
Do you have kids? How many? I have 3 of my own and 2 step.
When you were little, what did you want to be when you grew up? I don't remember, but I will tell you that I am the most blessed person I know. I get to swim, bike, run and do hot yoga everyday.
Do you have a favorite race in common with Pam? Comment down below your favorite race and watch this clip of Pam when she was on David Letterman.